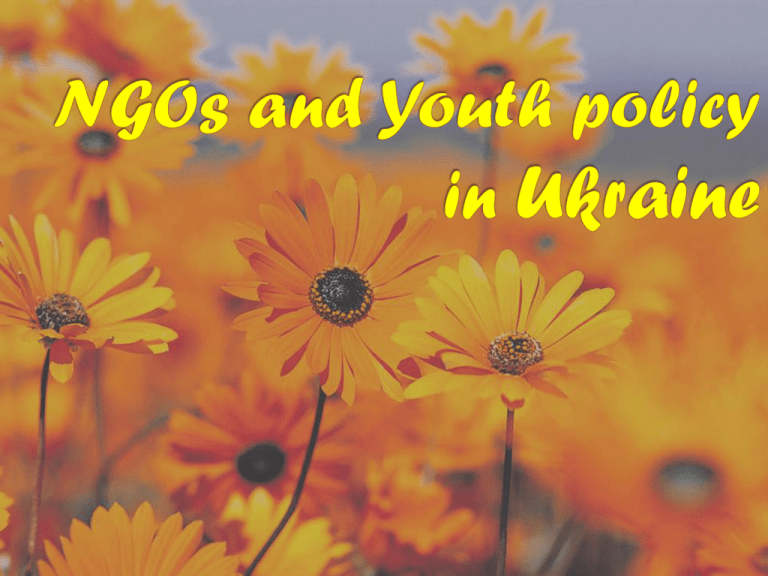 Governmental
organization
(public social
service for
children and
youth)
NGO

Net of social service for children and youth
(79 centers in Ukraine);

Social hostels (18);

Centers of social-psychologist help (23);

Centers for people who infected by AID (7);

Centers of social-psychologist rehabilitation
children and youth with physiology
restriction (15).

Organize, nurture and educate youth in the
spirit invoked by the ideals harmonious
development of person;

Forming patriotic values as well as sound
individuality;

Promote positive, healthy lifestyle;

Improving mental and physic health and
avoiding drugs;

Education ,training and mobility.
youth
members of NGO
children
students
population as a whole
14%
32%
15%
19%
20%
Providing policy recomendation
Providing legal aid
Charity
Analysis and research
Provision of social services
Information dissemination
Educational activities
Protecting interests
0
10
20
30
40
50
• Most of NGOs work with children
and youth on civil-education
projects
• Only a small number solve social
problems
• Large number of NGOs work in politics,
legislation, state –building, human rights
• reason: more technical assistance is
available, better opportunities to
influence third-sector development
• Mostly represented by NGOs seeking to
solve social problems
• It can be explained by the historical
role, which NGOs have played in the
region
business
organs of executive
power
physical person
other NGOs
charity and donors
Sources
members
contributons
donors
sponsor's sources
international funds
states sources
sources of political
organization
income from selfservice
member contributions;
 donations;
 incomes from self-sacrifice;
 interests;
 incomes from capital;
 incomes from property.

There is a concomitant increase in the
growth rate of associations for youth. But
The Democratic Initiatives
Foundation
opinion polls show that third-sector
membership
in
Ukraine
remained
constant: in 1994, 82% stated they not
members of any civic, political, youth
organization and in 2000, 83%. Because
Ukrainian citizens are not fully aware of
the third sector's role in a civil society
they are reluctant to participate in the
non-government,
and
voluntary
structures.