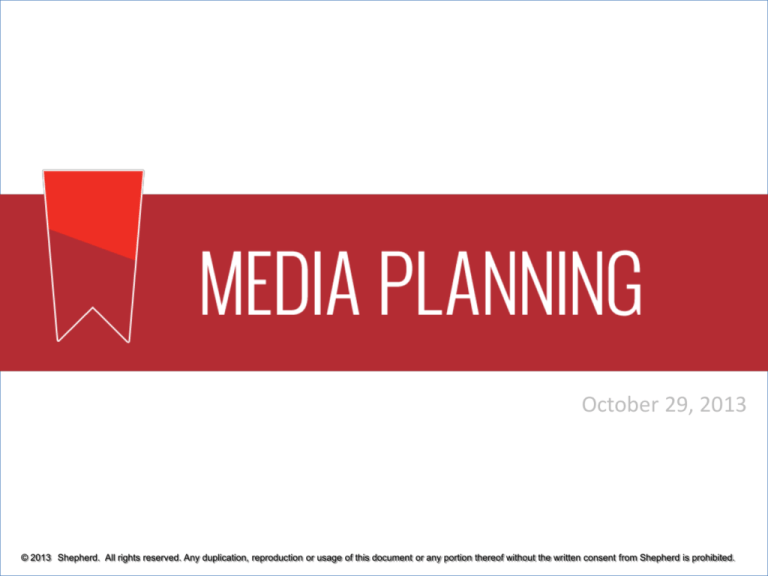 October 29, 2013
© 2013 Shepherd. All rights reserved. Any duplication, reproduction or usage of this document or any portion thereof without the written consent from Shepherd is prohibited.
What is media planning?
• Getting the right message…
...in front of the right person…
…at the right time…
…with the right amount of money…
…to generate the right response.
Planning Process
Media
Objectives
Marketing
Input
• Business
model,
marketing
strategy,
research,
industry trends
• Business / sales
objectives &
strategies for
upcoming year,
new product
launches, major
initiatives to
focus on, etc.
•
Translate
business
objectives
into media
goals
Media
Strategies
• Translate media
goals into
strategic media
planning
guidelines
Media Plan Components
Target Analysis
• To determine the right target audience
• To understand audience behaviors and
media consumption habits
• Ensures efficiency, avoids waste,
prevents overexposure
Media Math
• Reach
- Size of audience
- Number of actual audience members exposed to your
message at least once during advertising period (ex: 60%
of A 18-25)
• Frequency
Number of times each audience member sees/hears your
message during advertising period (ex: 3x)
• Gross Impressions
Reach x Frequency
Number of people reached (x) number of times they saw an
ad across media vehicles
Media Channel Analysis
Criteria
TV
RAD
NPR
MAG
OOH
.COM
POP
Email
Mass
coverage /
High Reach
High
Frequency /
Sales Driver
Favorable
Image /
Creative
Potential
Information
Sharing
Cost Efficient
Message
Shelf-Life
Measurability
FSIs,
coupons
Media Consumption: Quintiles
• Amount of time target spends using
different media guides media selection
• Usage measured at 5 levels:
Heavy, Heavy-Medium, Medium,
Medium-Light, Light
Mass Traditional Media
Questions for Market Selection
• Where do the majority of your sales come from?
Is there natural need for your product in certain regions?
• What is the opportunity for growth? Are there
markets where the category has potential but it
remains underdeveloped?
• Where is the competition strong? Do we want to compete?
• What is your budget?
Answer = National, Regional, Local, or Zip Code
Scheduling Analysis
• Related to consumer decision-making times
• When should we promote our product to maximize
purchase?
- Time of year (seasonally)
- Time of month (purchase windows, sales, and promotions)
- Time of day (day parts)
• Strategies
- Continuity
- Flighting
- Pulsing
Any questions about
Media Planning?