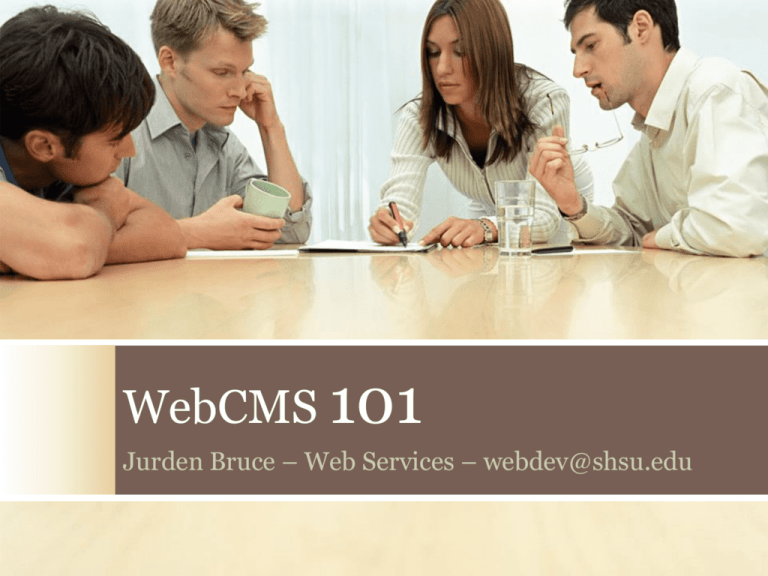 WebCMS 101
Jurden Bruce – Web Services – webdev@shsu.edu
Introduction

Who Am I?
 Web
Enthusiast/Techie
 Problem Solver
 Always learning new things.
 Contact me:
Jurden Bruce
Web Services Manager
936-294-4495
jeb017@shsu.edu
http://www.shsu.edu/~jeb017
What is a CMS?
Allows publishing,
editing, modifying
content and site
maintenance from a
central location.
Content Contributors Organization
Publisher/Owner
Editor
Writer
Editor
Writer
Writer
Why do you need content writers?



The people that know the area and audience.
They can create quality web content that
provides useful information.
Keep it short and too the point.
Reasons for Training





To help them help you create web content
Make it as easy as possible to contribute
Establish standards that create consistency
Increase efficiency
Get the greatest impact out of each
contribution
Important things to teach








Understanding the audience
Writing content for the online medium
Writing web content with great headings and
summaries
Keeping content simple, to the point and easy to
read
Building links to create a network
Including useful examples
Rewriting or commenting on existing content to
keep events alive, FAQ's current and news viral
Web writing for search engines and people
Why is ADA important?

ADA?
 The
Americans with Disabilities Act (ADA) and,
if the government entities receive Federal
funding, the Rehabilitation Act of 1973, generally
require that State and local governments provide
qualified individuals with disabilities equal
access to their programs, services, or activities
unless doing so would fundamentally alter the
nature of their programs, services, or activities or
would impose an undue burden.
Meaning?

Accessible


Alternate methods


A web page that can be used in a variety of ways and that
does not depend on a single sense or ability.
Different means of providing information, including
product documentation, to people with disabilities.
Alternate methods may include, but are not limited to,
voice, fax, relay service, TTY, Internet posting, captioning,
text-to-speech synthesis, and audio description.
Exception

A justified, documented non-conformance with one or
more standards or specifications of Chapter 206 and/or
Chapter 213 of this title, which has been approved by the
agency head.
What's Wrong?

Please select the red button to earn your
reward:
Captions on video
YouTube can help!
If the video's in English,
YouTube can use speech
processing algorithms to
determine when the words in a
transcript should be displayed.
Not on Youtube:
Provide captions or transcript, or link to a
page with comparable information.
Real life Examples Jan 2011-Mar


An individual with a disability complained that a Florida
resort attempted to charge him a pet fee because of his
service animal. The resort adopted a policy welcoming
service animals, modified its website and reservation
materials to state that there is no charge for service animals,
and posted signage regarding the new policy.
An individual who is blind complained that a company's
secure website log-in process was inaccessible to individuals
with vision disabilities because of a captcha, a string of
irregularly-shaped letters intended to verify that the
individual accessing the website is a person, not a computer.
The company agreed to add an audio captcha option.
http://www.ada.gov
Learn about ADA on your own

Web Accessibility Initiative


A customizable quick reference to Web Content
Accessibility Guidelines 2.0 requirements
(success criteria) and techniques


http://www.w3.org/WAI/Resources/
http://www.w3.org/WAI/WCAG20/quickref/
Texas Administrative Code

http://info.sos.state.tx.us/pls/pub/readtac$ext.View
TAC?tac_view=5&ti=1&pt=10&ch=206&sch=C&rl=Y
Demo




Connecting to WebCMS
Previewing your content
Editing your site
Adding other peoples content
Questions?