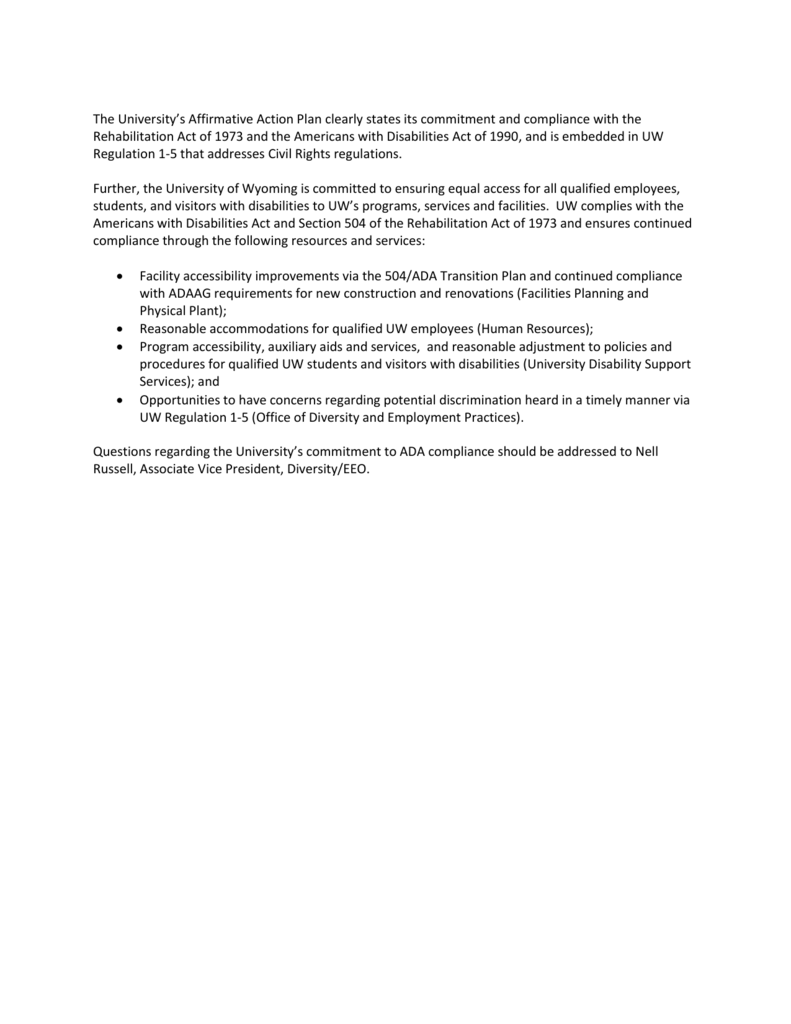 The University's Affirmative Action Plan clearly states its commitment and compliance with the
Rehabilitation Act of 1973 and the Americans with Disabilities Act of 1990, and is embedded in UW
Regulation 1-5 that addresses Civil Rights regulations.
Further, the University of Wyoming is committed to ensuring equal access for all qualified employees,
students, and visitors with disabilities to UW's programs, services and facilities. UW complies with the
Americans with Disabilities Act and Section 504 of the Rehabilitation Act of 1973 and ensures continued
compliance through the following resources and services:




Facility accessibility improvements via the 504/ADA Transition Plan and continued compliance
with ADAAG requirements for new construction and renovations (Facilities Planning and
Physical Plant);
Reasonable accommodations for qualified UW employees (Human Resources);
Program accessibility, auxiliary aids and services, and reasonable adjustment to policies and
procedures for qualified UW students and visitors with disabilities (University Disability Support
Services); and
Opportunities to have concerns regarding potential discrimination heard in a timely manner via
UW Regulation 1-5 (Office of Diversity and Employment Practices).
Questions regarding the University's commitment to ADA compliance should be addressed to Nell
Russell, Associate Vice President, Diversity/EEO.