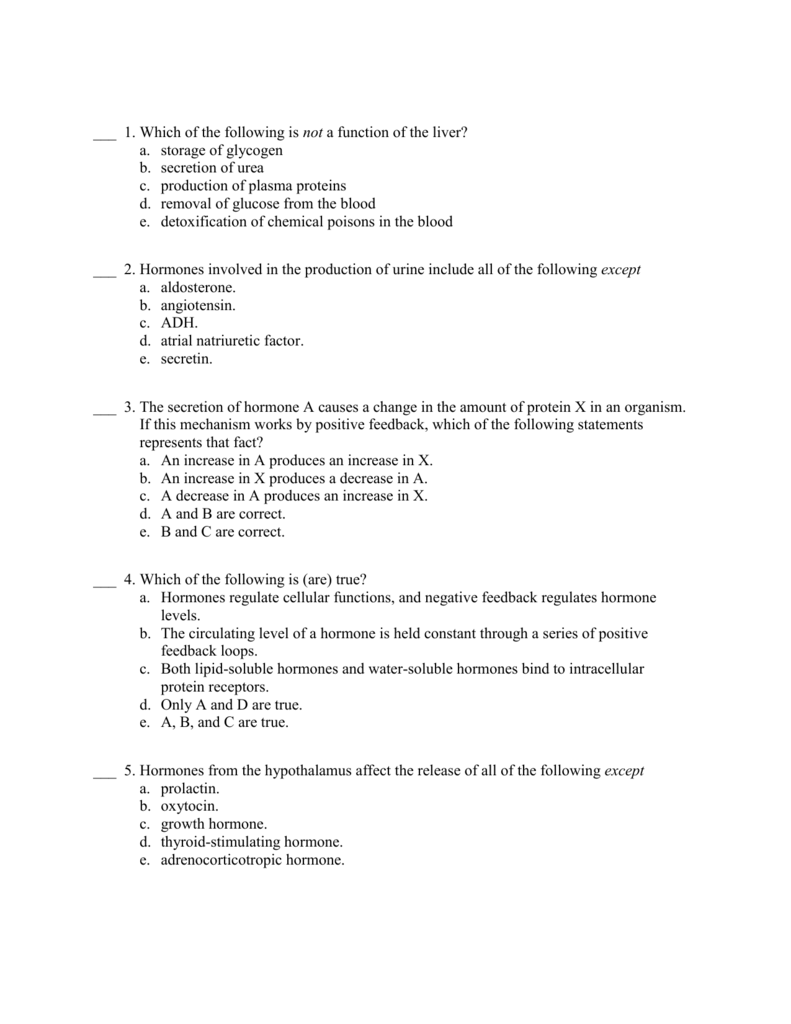 ___ 1. Which of the following is not a function of the liver?
a. storage of glycogen
b. secretion of urea
c. production of plasma proteins
d. removal of glucose from the blood
e. detoxification of chemical poisons in the blood
___ 2. Hormones involved in the production of urine include all of the following except
a. aldosterone.
b. angiotensin.
c. ADH.
d. atrial natriuretic factor.
e. secretin.
___ 3. The secretion of hormone A causes a change in the amount of protein X in an organism.
If this mechanism works by positive feedback, which of the following statements
represents that fact?
a. An increase in A produces an increase in X.
b. An increase in X produces a decrease in A.
c. A decrease in A produces an increase in X.
d. A and B are correct.
e. B and C are correct.
___ 4. Which of the following is (are) true?
a. Hormones regulate cellular functions, and negative feedback regulates hormone
levels.
b. The circulating level of a hormone is held constant through a series of positive
feedback loops.
c. Both lipid-soluble hormones and water-soluble hormones bind to intracellular
protein receptors.
d. Only A and D are true.
e. A, B, and C are true.
___ 5. Hormones from the hypothalamus affect the release of all of the following except
a. prolactin.
b. oxytocin.
c. growth hormone.
d. thyroid-stimulating hormone.
e. adrenocorticotropic hormone.
___ 6. The hypothalamus controls the anterior pituitary by means of
a. releasing hormones.
b. second messengers.
c. third messengers.
d. antibodies.
e. pyrogens.
___ 7. If a person drinks a large amount of water in a short period of time, he or she may die
from water toxicity. ADH can help prevent water retention through interaction with target
cells in the
a. anterior pituitary.
b. posterior pituitary.
c. adrenal gland.
d. bladder.
e. kidney.
___ 8. Iodine is added to commercially-prepared table salt to help prevent deficiencies of this
essential mineral. Which gland(s) require(s) iodine to function properly?
a. parathyroids
b. adrenal
c. thyroid
d. pancreas
e. ovaries and testes
___ 9. Which of the following statements about endocrine glands is incorrect?
a. The parathyroids regulate metabolic rate.
b. The thyroid participates in blood calcium regulation.
c. The pituitary participates in the regulation of the gonads.
d. The adrenal medulla produces "fight-or-flight" responses.
e. The pancreas helps to regulate blood sugar concentration.
___ 10. Blood samples taken from an individual who had been fasting for 24 hours would have
which of the following?
a. high levels of insulin
b. high levels of glucagon
c. low levels of insulin
d. low levels of glucagon
e. both B and C
___ 11. What happens when beta cells of the pancreas release insulin into the blood?
a. Blood glucose levels rise to a set point and stimulate glucagon release.
b. Body cells take up more glucose.
c. The liver breaks down glycogen to glucose.
d. Alpha cells are stimulated to release glucose into the blood.
e. Both B and D are correct.
___ 12. Which of the following glands is controlled directly by the hypothalamus or central
nervous system but not the anterior pituitary?
a. ovary
b. adrenal medulla
c. adrenal cortex
d. testis
e. thyroid
___ 13. Which of the following statements about the adrenal gland is correct?
a. During stress, TSH stimulates the adrenal cortex and medulla to secrete
acetylcholine.
b. During stress, the alpha cells of islets secrete insulin and simultaneously the
beta cells of the islets secrete glucagon.
c. During stress, ACTH stimulates the adrenal cortex, and neurons of the
sympathetic nervous system stimulate the adrenal medulla.
d. At all times, the anterior portion secretes ACTH, while the posterior portion
secretes oxytocin.
e. At all times, the adrenal gland monitors calcium levels in the blood and
regulates calcium by secreting the two antagonistic hormones, epinephrine and
norepinephrine.
Refer to the list of hormones below to answer the following questions. Each hormone
may be used once, more than once, or not at all.
A.
Ecdysone
B.
Glucagon
C.
Thyroxine
D.
Oxytocin
E.
Growth hormone
14. Secreted by the pancreas
a. A
b. B
c. C
d. D
e. E
15. Stimulates and maintains metabolic processes
a. A
b. B
c. C
d. D
e. E
16. Stimulates the contraction of uterine muscle
a. A
b. B
c. C
d. D
e. E
17. Secreted by the anterior pituitary
a. A
b. B
c. C
d. D
e. E
Answers
1.
2.
3.
4.
5.
6.
7.
8.
9.
10.
11.
12.
13.
14.
15.
16.
17.
B.
E.
A.
A.
B.
A.
E.
C.
A.
E.
B.
B.
C.
B.
C.
D.
E.