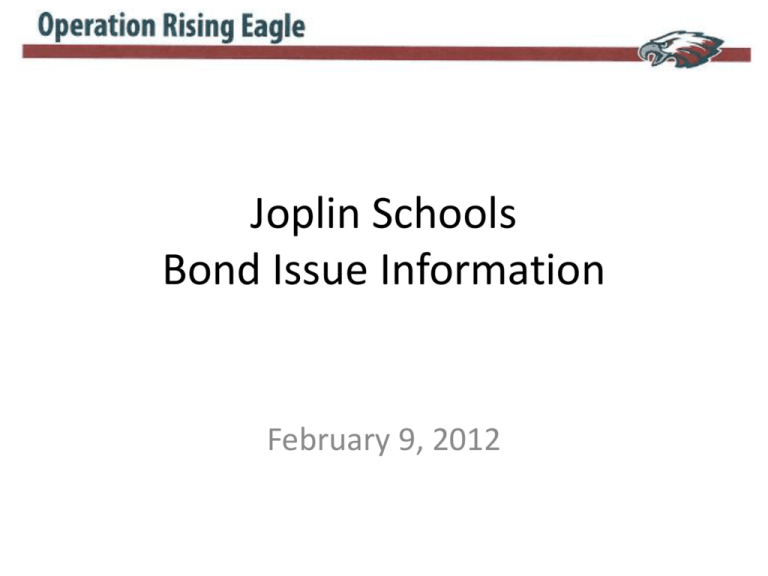 Joplin Schools
Bond Issue Information
February 9, 2012
Why these projects?
•Joplin High School and FTC were both overcrowded prior to the storm. Rebuilding both
schools using the previous square footage would mean cutting a ribbon in August 2014 on
a new school that is overcrowded the day we open the doors.
•The new Irving Elementary School is a storm replacement school. It is needed to alleviate
overcrowding at both Stapleton and Cecil Floyd as well as provide room for growth in the
southern part of the school district.
•The new East Middle School is needed to replace the middle school that was lost.
•The new elementary on the East Middle School site is a storm replacement school. It is
needed to address the projected growth in that part of town and alleviate overcrowding at
other buildings that has occurred due to the storm related student population shift.
•Safe room construction will provide peace of mind to students and parents. Additionally,
these safe rooms will be available 24/7 for community use.
•School repairs are needed at a number of sites. Qualified Zone Academy Bonds (QZAB) are
zero interest bonds available for renovation of existing schools.
Why now?
•First and foremost, we have over 3,200 students and staff in temporary facilities including
dozens of trailers.
•We are currently paying annual leases for temporary schools in excess of $2 million.
•As a result of the storm, we are eligible for state and federal funds to support our rebuild
efforts. These funds are available now to offset some of our rebuild costs.
•Interest rates are at an all-time low. Likewise, we know that construction costs are only
going to go up.
•The attention on Joplin will lessen over time. Thus, making it more difficult to garner
donations for reconstruction.
•We can only move into schools in the summer or over the winter break. Timing is of the
essence and the current construction schedule is critical.
•We need to get the storm shelters built. Waiting means we go an additional spring without
the extra protection for our students, staff, and community.
What happens if it doesn't pass?
•We will be unable to meet the required 25% match needed to access $35.4 million in
federal/state aide to help in the rebuild of our schools. We will not be able to access $35.4
million in federal/state aide until we have the 25% match.
•No community safe rooms will be built because of the loss of state aide.
•$7 million in zero interest QZAB bonds will be lost for renovation. Given the hit our fund
balances took, we need these funds to take care of undamaged buildings for a few years.
•Joplin High School and Franklin Technical School will remain in their temporary locations at
North Park Mall and Memorial.
OR
•We rebuild JHS/FTC using insurance funds alone and build a brand new school that is
already overcrowded on ribbon cutting day.
•We will attempt to build East Middle School, Irving Elementary , and Elementary 2 using
insurance proceeds and donations.
April 3, 2012 Bond Language
QUESTION
Shall Joplin Schools issue its general obligation bonds in the
amount not exceeding $62,000,000 for the purpose of
acquiring, constructing, repairing, improving, furnishing
and equipping school facilities, including:
–
–
–
–
A new Joplin High School/Franklin Technical Center
A new East Middle School
Two new elementary schools
Repairs and improvements to existing schools to include areas
that will serve as community safe rooms (tornado shelters)?
Property Tax Impact
• If this question is approved, the District's debt
service tax levy is estimated to increase by
$0.35 from $0.56 to $0.91 per one hundred
dollars of assessed valuation of real and
personal property.
• On a $75,000 home 35 cents represents a
little less than $50 per year.
Strategy to Procure Additional Funding
• Continue to seek State/Federal Aide.
• 2008 CDBG Funding
– Offset safe room funding
– Provide assistance for demolition of lots purchased
• New CDBG Funding
– There is little available at the State level.
– The City of Joplin was given $45.3 million. We are an eligible entity
for those funds.
» Storm related costs
» Safe room funding
• Economic Development Administration Funding
– $200 million available to our 10 state region.
» Potential funding for FTC as a workforce development project.
• Maximize FEMA/SEMA Funding Sources
– We have dozens of project worksheets in the system
• Donations
– Continue efforts to raise funds
If we are successful in our efforts to
find additional funding sources…
• First, we will need to look at Columbia and
West Central as possible projects for
completion.
• Second, the administration will recommend to
the Board of Education the district NOT issue
bonds in $x amount if it is not needed.
Irving Elementary
East Middle School &
Elementary School
East Middle School &
Elementary School
JHS / FTC – site plan
Questions?