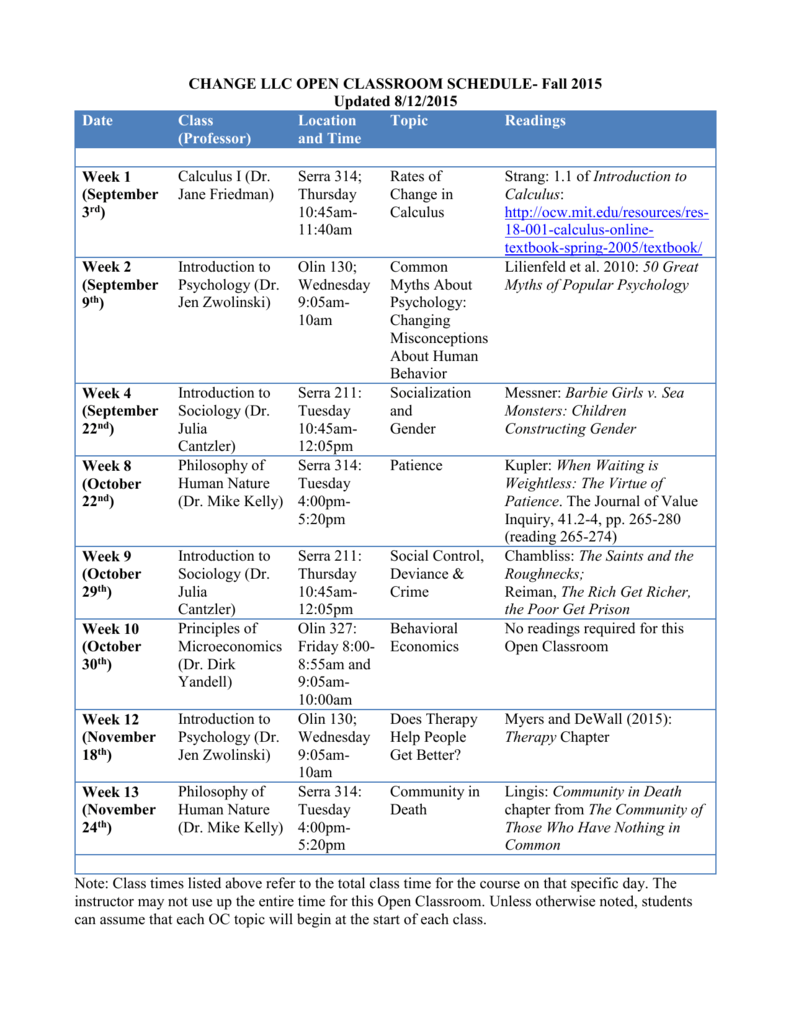 Date
CHANGE LLC OPEN CLASSROOM SCHEDULE- Fall 2015
Updated 8/12/2015
Class
Location
Topic
Readings
(Professor)
and Time
Week 1
(September
3rd)
Calculus I (Dr.
Jane Friedman)
Serra 314;
Thursday
10:45am11:40am
Rates of
Change in
Calculus
Week 2
(September
9th)
Introduction to
Psychology (Dr.
Jen Zwolinski)
Olin 130;
Wednesday
9:05am10am
Week 4
(September
22nd)
Introduction to
Sociology (Dr.
Julia
Cantzler)
Philosophy of
Human Nature
(Dr. Mike Kelly)
Serra 211:
Tuesday
10:45am12:05pm
Serra 314:
Tuesday
4:00pm5:20pm
Common
Myths About
Psychology:
Changing
Misconceptions
About Human
Behavior
Socialization
and
Gender
Week 8
(October
22nd)
Week 9
(October
29th)
Week 10
(October
30th)
Week 12
(November
18th)
Week 13
(November
24th)
Introduction to
Sociology (Dr.
Julia
Cantzler)
Principles of
Microeconomics
(Dr. Dirk
Yandell)
Serra 211:
Thursday
10:45am12:05pm
Olin 327:
Friday 8:008:55am and
9:05am10:00am
Introduction to
Olin 130;
Psychology (Dr. Wednesday
Jen Zwolinski)
9:05am10am
Philosophy of
Serra 314:
Human Nature
Tuesday
(Dr. Mike Kelly) 4:00pm5:20pm
Patience
Social Control,
Deviance &
Crime
Behavioral
Economics
Strang: 1.1 of Introduction to
Calculus:
http://ocw.mit.edu/resources/res18-001-calculus-onlinetextbook-spring-2005/textbook/
Lilienfeld et al. 2010: 50 Great
Myths of Popular Psychology
Messner: Barbie Girls v. Sea
Monsters: Children
Constructing Gender
Kupler: When Waiting is
Weightless: The Virtue of
Patience. The Journal of Value
Inquiry, 41.2-4, pp. 265-280
(reading 265-274)
Chambliss: The Saints and the
Roughnecks;
Reiman, The Rich Get Richer,
the Poor Get Prison
No readings required for this
Open Classroom
Does Therapy
Help People
Get Better?
Myers and DeWall (2015):
Therapy Chapter
Community in
Death
Lingis: Community in Death
chapter from The Community of
Those Who Have Nothing in
Common
Note: Class times listed above refer to the total class time for the course on that specific day. The
instructor may not use up the entire time for this Open Classroom. Unless otherwise noted, students
can assume that each OC topic will begin at the start of each class.