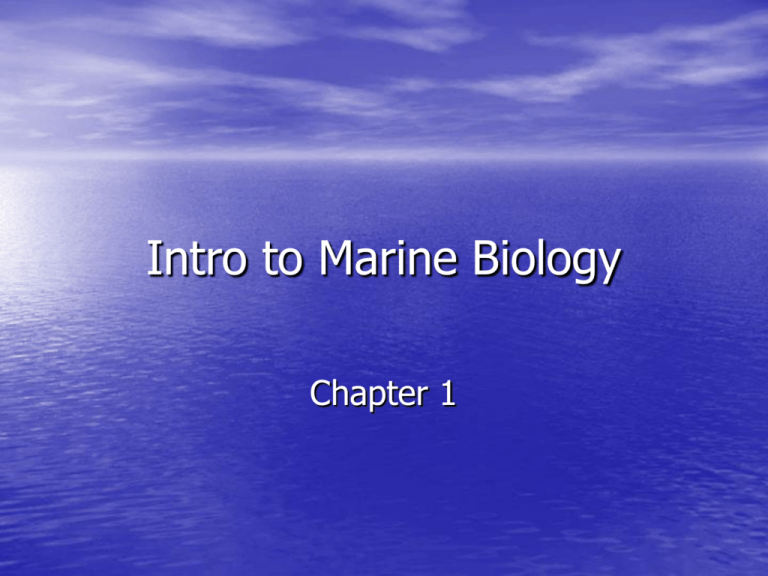 Intro to Marine Biology
Chapter 1
Salinity
•
•
•
•
•
Salinity - total amount of salt dissolved in water.
3.5% "salt" and 96.5% water by mass.
1000g of water evaporate = 35 g of salt
We express salinity in parts per thousand (35
p.p.t.)
Salinity follows the rule of constant proportions –
the proportions of the ions in sea water remain
constant to each other. The reason salinity varies
is because of the addition or removal of pure
water rather than salt.
Sodium Chloride
55%
30%
Sulfer
8%
Magnesium Calcium Potassium Bicarb
.
4%
1%
1%
.5%
Measuring Salinity
• Salinity can be measured using a Niskin
bottle.
What affects surface salinity?
• 1. evaporation
2. thawing
• 3. precipitation
• 5. freezing
4. freshwater run-off
Surface Salinity in the World's Oceans
90 - freezing
– high salinity
90
60
60 – Rain – low salinity
30
30 – deserts –high salinity
0
0 – heavy rain = low salinity
30
60
Salinity Summary
Temperature
Salinity
Density
Warm
Low
Low
Cold
High
High
Challenger Information
• 3 ½ year voyage around the world to collect
•
•
•
•
•
data.
Ship was an old warship modified into a
research vessel. Left one cannon on to
discourage pirates!
Discovered so much information that it took 19
years to publish 50 thick volumes
4,700 new species discovered
Chief scientist was Charles Wyville Thomson
Major importance of the voyage was that the
azoic theory (which states that life could not live
in the deep ocean) was proved wrong!
Major Ocean Basins
• Oceans cover 71% of the planet's surface
• Pacific
Atlantic
Indian
Arctic
Southern Ocean
Sea vs. Gulf
• Sea – a body of salt water smaller than an
ocean that is more or less land locked.
• Gulf – a smaller body of water that is
mostly cut off from the larger ocean by
land formations.
• One of the most
biologically
important properties
of sea water is that
sunlight can
penetrate it. This is
good because
photosynthesis can
occur.
• The ocean reflects
blue light
best….…other colors
are absorbed more
than blue.
• Things that appear
red at the surface
look black at depth
because there is no
red light to reflect
off them.
Transparency
Pressure
• Land organisms are
under 1 atmosphere of
pressure (14.7 pounds
per square inch (p.s.i.)
• Marine organisms are
under much more due to
air pressure and water
pressure (water weighs
more than air).
• Gas filled structures like
air bladders and lungs
are compressed.