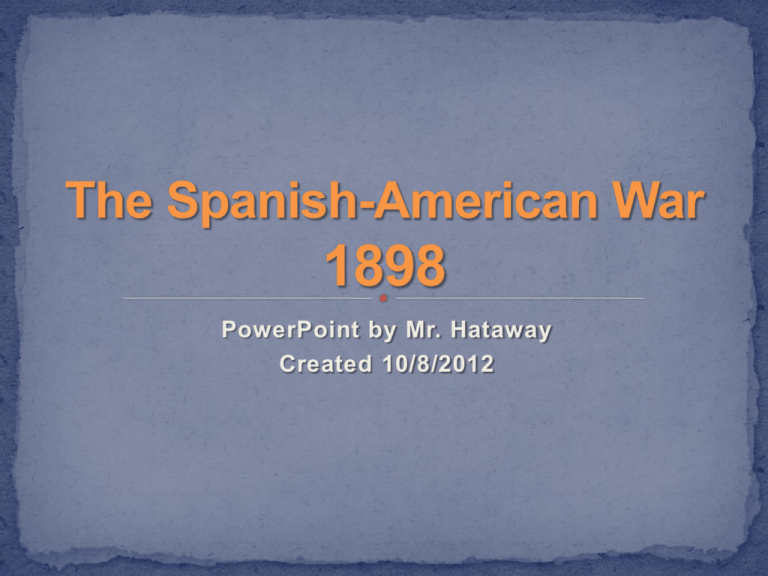 PowerPoint by Mr. Hataway
Created 10/8/2012
 Define the term "sensationalism?"
 How can sensationalism trigger public
reaction? A war?
 What country had sovereignty over
Cuba in the nineteenth century?
CORNELL NOTES: THREE QUESTIONS
Today, I will learn . . .
Students will examine the causes, events, and
outcomes of the Spanish-American War.
I will learn it by . . .
Student will actively listen and write notes
using Cornell Strategies.
I have learned it when I can . . .
Students will construct a graphic organizer that
summarizes the causes, events, and outcomes
of the Spanish-American War.
 Why is the Spanish-American War
considered a turning point in American
history?
 Between 1868 and 1898,
a series of revolted by
Cubans against Spanish
rule.
 Latest uprising began by
Cuban exile, José martí
 New Spanish Governor,
General Weyler
 established concentration
camps
 200,000 Cubans died of
starvation or disease
 nickname El Carnicero
("The Butcher").
 Rival newspapers exaggerated brutality
of Spanish treatment of Cubans.
 New York Journal – by William Randolph
Hearst
 New York World – by Joseph Pulitzer
 Sensationalized stories became
known as yellow journalism.
Joseph
PULITZER
William
Randolph
HEARST
 Spanish Ambassador
wrote letter describe Pres.
McKinley as weak.
 Cuban agents intercepted
letter; delivered New York
Journal.
 Pres. McKinley sent
battleship to Havana
harbor "to protect
American lives and
property."
ALL THAT WAS NEEDED TO START A WAR WAS A
SPARK AND THIS CAME ON FEBRUARY 15TH,
1898, IN HAVANA HARBOR.
USS MAINE IN HAVANA, CUBA HARBOR
12
13
 Ship exploded February 15, 1898.
 Killed 260 officers and crew.
 Cause unknown; newspapers blamed
Spain.
Yellow journalists were quick to blame the
Spanish
WHAT DOES THIS CARTOON
SUGGEST IS THE SITUATION FOR
THE CUBANS?
 America's Interest in Cuba
 Cuban sugar exported to U.S.
 American's owned $50 million in Cuban
property.
 The Philippines
 Spanish colony for 300
years; numerous
rebellions
 May 1, 1898, U.S.
Commodore George
Dewey defeats the
Spanish fleet at Manila
Bay in the Philippines.
US DESTROYS THE SPANISH FLEET AT MANILA BAY
20
21
22
 Voluntary cavalry unit
comprised of former
cowboys, miners, law
officer, Ivy League
athletes, and American
Indians.
 Created and led by
Theodore Roosevelt,
former Secretary of the
Navy.
THEODORE ROOSEVELT AND THE
"ROUGH RIDERS" IN CUBA
 July 1, after
seizing Kettle Hill
outside Santiago,
assists the army
in capturing San
Juan Hill.
BATTLE SCENE WITH TEDDY
ROOSEVELT ON THE HORSE
26
 In the Treaty of Paris, Spain agree to:
 Cede Guam and Puerto Rico to the U.S.
 Sell the Philippines to the U.S. for $20
million
 Cubans gained independence from
Spain
 However, forced to adopt the Platt
Amendment, which gave the U.S. the
right to intervene to protect Cuba's
independence.
 Spanish rule ends in the Western
Hemisphere.