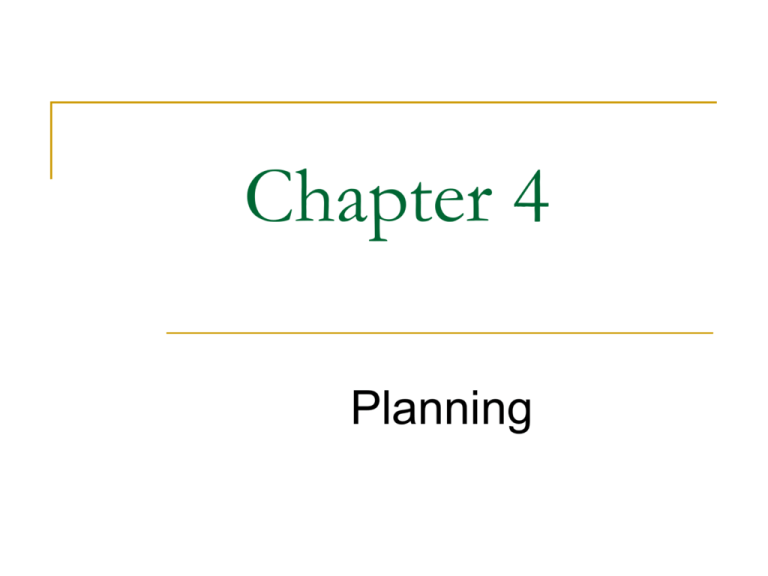 Chapter 4
Planning
What Would You Do?




Consortium created to compete with
Boeing
Slow progress, with potential
How do you take more business away from
Boeing
What is your plan?
Learning Objectives
Planning
After discussing this section
you should be able to:
1.
2.
discuss the costs and benefits of planning.
describe how to make a plan that works.
Costs and Benefits of Planning


The Benefits
The Pitfalls of Planning
The Benefits
Persistence
Intensified
Effort
Direction
It Works!
Creation
of Task
Strategies
Planning Pitfalls
Impede
Change &
Prevent
Adaptation
Create a
False
Sense of
Certainty
Detachmen
t of
Planners
Blast From The Past
Pericles and Planning



Leaders must have a vision
Planners must be close to events
Plans must be flexible
How to Make a Plan That Works
Maintain
Flexibility in
Planning
Set Goals
Develop
Commitment
to Goals
Adapted from Exhibit 4.1
Develop
Effective Action
Plans
Track Progress
Toward Goal
Achievement
Setting Goals
Specific
Measurable
Attainable
Realistic
Timely
Goal Commitment


The determination to achieve a goal
Increased by:




Setting goals through participation
Making goals reasonable
Making goals public
Obtaining top management support
Developing Effective Action Plans

For accomplishing a goal, these list the:




specific steps
people
resources
time period
Tracking Progress

One method, setting:



proximal goals - short-term
distal goals - long-term
Second method:


gather and provide performance feedback
make adjustments in:



effort
direction
strategies
Maintaining Flexibility

Option-based planning



keep options open through simultaneous
investment
invest more in promising options
Learning-based planning


plans need to be continuously adjusted
encourages frequent reassessment and revision
of goals
Learning Objectives
Kinds of Plans
After discussing this section
you should be able to:
3.
4.
discuss how companies can use plans at all
management levels, from top to bottom,
describe the different kinds of specialpurpose plans that companies use for
change, contingencies, and product
development.
Planning from Top to Bottom
Vision
Adapted from Exhibit 4.3
Planning from Top to Bottom (cont'd)
Vision
Top
Managers
Middle
Managers
Mission
Tactical
Plans
First-Level Operational
Plans
Managers
Adapted from Exhibit 4.4
Management
by
Objectives
Standing
Plans
Single-Use
Plans
Starting at the Top

Vision



statement of purpose
enduring, inspirational, clear, and consistent with
company beliefs and values
Mission


flows from vision
more specific goal statements
Setting Missions

Targeting


Common-Enemy


vow to defeat a rival
Role-Model


set a clear, specific target
emulate a successful company
Internal-Transformation

strive to dramatically change the company
Bending in the Middle

Tactical Plans


specify how a company will use resources,
budgets, and people to accomplish goals
Management by Objectives


develop and carry out tactical plans
four steps




discuss goals
participatively select goals
jointly develop tactical plans
meet to review performance
What Really Works?
Management by Objectives (MBO)
MBO & Production
10% 20% 30% 40% 50% 60% 70% 80% 90% 100%
97%
Probability of success
MBO is based on goals, participation
and feedback. Companies that use
MBO are 97% more68%
likely to
outproduce companies that don't!
Finishing at the Bottom

Operational plans


Single-use plans


day-to-day plans
cover one-time-only events
Standing plans


plans for recurring events
three kinds




policies
procedures
rules & regulations
Budgeting
Special-Purpose Plans
Planning
for
Change
Planning
for
Contingencies
Planning
for
Product
Development
Planning for Change

Stretch goals



extremely ambitious goals
initially employees don't know how to accomplish
Benchmarking


identify outstanding practices in other companies
adapt them to your company
Been There, Done That
Steve Kerr on Stretch Goals at GE



Stretch goals are more than just demanding
more from employees
Give employees the tools to succeed
Don't punish failure
Planning for Contingencies
Scenario Planning




Define the scope of the
scenario
Identify the major
stakeholders
Identify environmental
trends
Identify key
uncertainties and
outcomes of these
trends



Using steps 1-4, create
initial scenarios
Check each scenario
for consistency and
plausibility of facts
Create contingency
plans from each
scenario
Planning for Product Development


Aggregate product plans
Four keys to faster product development




cross-functional teams
internal and external communication
overlapping development phases
frequent testing of product prototypes
Overlapping Product-Development Phases
forBlock
a New
"Supercomputer Server
Diagram
Evolution of System Specification
Simulation
ASIC and Board Design
Hardware Mock-ups & Models
"Bring-up"
Full
System
Prototype
January
July
Conceptualization
Adapted from Figure 4.7
January
July
Simulation
Implementation
Ship
Date
January
July
What Really Happened?




Airbus set specific goals
Built planes that were easier and cheaper to
maintain, used the same cockpit, and were
comfortable for passengers
Used options-based planning
Positioned itself through innovative new
features, functionality, and lower costs.