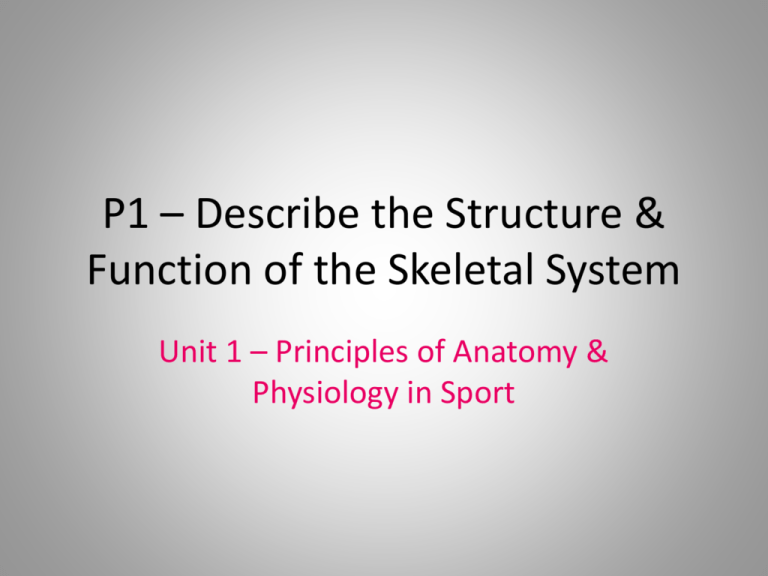 P1 – Describe the Structure &
Function of the Skeletal System
Unit 1 – Principles of Anatomy &
Physiology in Sport
Bone Marrow
• Red Bone Marrow = produces new blood cells
• Yellow Bone Marrow = storage area for fat
cells
Functions of the Skeletal System
B.S.P.A.M.
• B lood Cell Production
• S hape / support
• P rotection
• A ttachment for muscles
• M ineral storage
• Blood Cell Production – bones are not solid, they
would be too heavy
• The centre of your bones has bone marrow in them
and this marrow is fed by blood vessels.
• The marrow of your long bones has a very
important function as they are continually creating
red and white blood cells.
• This function is essential as red blood vessels die all
the time and need to be replaced.
• Support – your skeleton provides the framework for
the soft tissue of your body and therefore also
provides the overall shape of your body.
• Protection – another very important factor of your
skeleton is protection. Your skeleton protects the
vital tissues and organs of the body.
•
•
•
•
Skull protects the brain
Thorax protects the heart and lungs
Vertebral column protects the spinal cord
Pelvis protects your reproductive and abdominal
organs
• Attachment for Skeletal Muscle –
• Tendons, attach muscle to bone,
• allows the muscles to create leverage and this
leverage creates movement,
• the type of joint that the muscles are acting on that
determines the type of movement created.
• Mineral Store –
• bones act as a store for minerals such as calcium and
phosphorus that are essential for bone growth and
good health.
• The bones act as a reservoir for these minerals
which are released into the bloodstream as needed
to maintain a balance of minerals in our body.