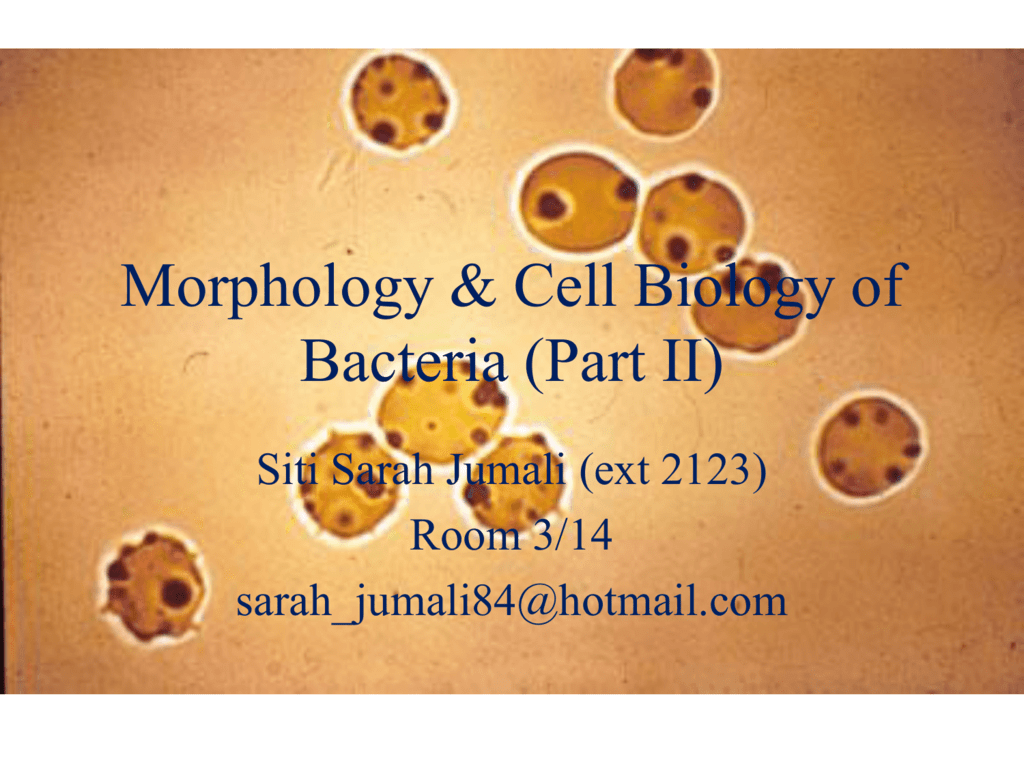 Morphology & Cell Biology of
Bacteria (Part II)
Siti Sarah Jumali (ext 2123)
Room 3/14
[email protected]
Bacterial cell Inclusion Bodies
• Definition: A collective variety of small bodies
within bacterial cytoplasm.
• Some are called vesicles, some are called
vacuoles
• Act as reserve deposits/storage
• Cells may accumulate nutrients and use them
whenever in impermissible condition
May consists of
•
•
•
•
Polyhydroxybutyrate
Polyphosphate
Glycogen
Sulphur
2 types
1. Granules- not bounded by membrane,
substance densely compacted and hard to
dissolve in cytoplasm (glycogen or
polyphosphate)
2. Vesicles- bounded by specialize membrane,
mostly consist of gas, carbon, carbohydrate,
iron, poly-B-hydroxybutyrate (lipid)
Granule
• Densely compacted substances without a membrane
• Each granule contains specific substances:
1. Glycogen (glucose polymer)
2. Polyphosphate (phosphate polymer, supplies energy
to metabolic processes)
• Sulphur bacteria contains reserve granules of sulphur
• Polyphosphate granules- called volutin or
metachromic granules exhibit metachromasia
(metachromic granules exhibit different intensities of
color). These granules are depleted in starvation
Cytoplasmic
bridge
vacuole
Cleavage furrow
Volutin or metachromic granules
Vesicles
• Certain bacteria have specialized membrane
enclosed structure called vesicles or vacuoles.
• Some aquatic photosynthetic bacteria and
cyanobacteria have rigid gas-filled vacuoles and
it helps in floating at certain level
• Some magnetotactic bacterium e.g. Aquaspirillum
magnetotacticum stores magnetite (Ferric oxide).
The presence of such magnetic inclusions enables
these bacteria to respond to magnetic fields.
Common inclusion bodies in Microorganisms
Cytoplasmic inclusions
Where found
Composition
Function
glycogen
many bacteria e.g. E.
coli
polyglucose
reserve carbon and
energy source
polybetahydroxybutyric many bacteria e.g.
acid (PHB)
Pseudomonas
polymerized hydroxy
butyrate
reserve carbon and
energy source
polyphosphate (volutin
granules)
many bacteria e.g.
Corynebacterium
linear or cyclical
polymers of PO4
reserve phosphate;
possibly a reserve of
high energy phosphate
sulfur globules
phototrophic purple
and green sulfur
bacteria and
lithotrophic colorless
sulfur bacteria
elemental sulfur
reserve of electrons
(reducing source) in
phototrophs; reserve
energy source in
lithotrophs
Common inclusion bodies in Microorganisms cont'd
Cytoplasmic inclusions
Where found
Composition
Function
gas vesicles
aquatic bacteria especially protein hulls or shells
cyanobacteria
inflated with gases
buoyancy (floatation) in
the vertical water column
parasporal crystals
endospore-forming bacilli
protein
(genus Bacillus)
unknown but toxic to
certain insects
orienting and migrating
along geo- magnetic field
lines
magnetosomes
certain aquatic bacteria
magnetite (iron oxide)
Fe3O4
carboxysomes
many autotrophic bacteria
enzymes for autotrophic
CO2 fixation
site of CO2 fixation
phycobilisomes
cyanobacteria
phycobiliproteins
light-harvesting pigments
chlorosomes
Green bacteria
lipid and protein and
bacteriochlorophyll
light-harvesting pigments
and antennae
Magnetosome
The bacterial endospore
• Microscopic, highly resistant, nonmotile, non-reproductive structure
produced by few types of bacteria
as a result of tough environmental
conditions to ensure survival
because it allows the bacteria to
remain dormant for extended
amount of time
• Two most common types- Bacillus
and Clostridium
• Helps to survive in impermissible
condition
• Highly resistant to heat, drying,
acids, bases, desiccation, certain
disinfectants and radiation
The bacterial endospore
Component of Endospores
• The heat resistance is due to
-Calcium-dipicolinate: abundant within the endospore, may
stabilize and protect the endospore's DNA
• Specialized DNA-binding proteins saturate the endospore's DNA
and protect it from heat, drying, chemicals and radiation.
• The cortex may osmotically remove water from the interior of the
endospore and the dehydration caused is thought to be very
important in the endospore's resistance to heat and radiation.
• DNA repair enzymes contained within the endospore are able to
repair damage during germination
• The chemical resistance of endospores is due to impermeability
of the sporecoat towards the chemical substance
Component of Endospores
Formation of Endospores
• Sporulation (sporogenesis)
• A process of endospore formation
• The endospore can survive possibly thousands
of years until a variety of environmental
stimuli trigger germination, allowing
outgrowth of a single vegetative bacterium.
Sporulation Process
Sporulation Process
• 1- Vegetative bacterium
about to enter the
endospore cycle
• 2- A spore septum
forms as the
cytoplasmic membrane
invaginates
• 3- Each nucleiod
becomes surrounded by
its own cytoplasmic
membrane
Sporulation Process cont'd
• 4- Cytoplasmic membrane surrounds
the isolated nucleiod, cytoplasm and
membrane from the previous step,
forming a forespore
• 5- Forespore is completed and other
DNA molecule is eventually
degraded
• 6- A thick peptidoglycan (cortex) is
synthesized between the inner and
outer forespore membranes. Calcium
dipicolinate is synthesized and
incorporated in the forming
endospore.
Sporulation Process cont'd
• 7- A second impermeable proteinaceous
protective layer called the spore coat is then
synthesized
• 8- As the vegetative portion of the bacterium is
degraded, the completed endospore is released
• 9- Sometimes, a final layer called the
exosporium may be added
Germination Process
• A process of endospore
returning to their vegetative
state
• With the proper
environmental stimuli. The
endospore germinates. As the
protective layers of the
endospore are enzymatically
broken down, a vegetative
bacterium begins to form and
emerge
Endospore and Infectious Disease
•
•
•
•
Anthrax is caused by Bacillus anthracis;
Tetanus is caused by Clostridium tetani;
Botulism is caused by Clostridium botulinum;
Gas gangrene is caused by Clostridium
perfringens;
• Clostridium difficile causes the most serious
cause of antibiotic-associated diarrhea (AAD)
and can lead to pseudomembranous colitis, a
severe infection of the colon.
Notice anything?
What are the 2 common bacteria that
are associated with endospores?
Prokaryotes vs Eukaryotes
•
•
•
•
Features of Eukaryotes
Eu = "true", karyon =
"nucleus"
Presence of a nucleus, a double
membrane-bound control center
separating DNA from the rest of
the cell.
In addition to the plasma
membrane, eukaryotic cells
contain internal membrane-bound
structures called organelles such
as mitochondria and chloroplasts
Eukaryotic cells can reproduce in
one of several ways, including
meiosis (sexual reproduction) and
mitosis (cell division producing
identical daughter cells).
Features of Prokaryotes
• Pro = "before", karyon =
"nucleus"
• Prokaryotes, the first living
organisms to evolve, they lack a
membrane-bound nucleus. The only
membrane in prokaryotic cells is the
plasma membrane--the outer
boundary of the cell itself. Their
genetic material is naked within the
cytoplasm, ribosomes the only type
of organelle.
• Prokaryotes are most always singlecelled, except when they exist in
colonies.
Announcement
• Your first test will be next week, during
tutorial
• Bring 2B along
• There will be super easy multiple choice
questions and few subjective questions.