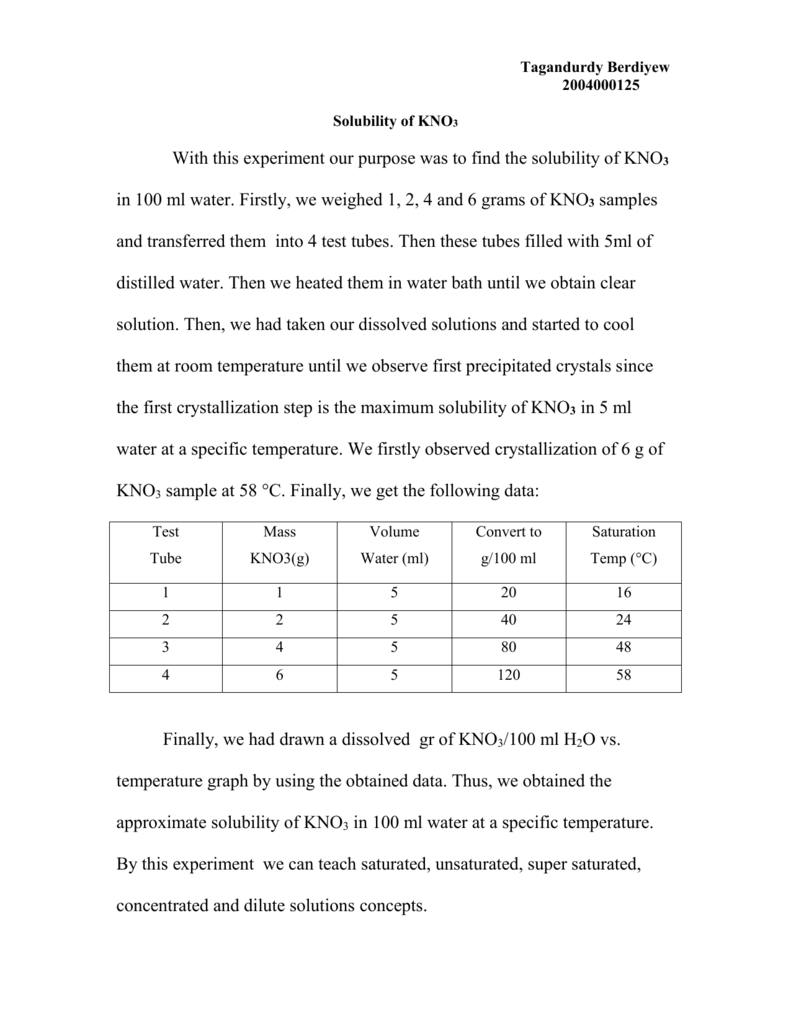 Tagandurdy Berdiyew
2004000125
Solubility of KNO3
With this experiment our purpose was to find the solubility of KNO3
in 100 ml water. Firstly, we weighed 1, 2, 4 and 6 grams of KNO3 samples
and transferred them into 4 test tubes. Then these tubes filled with 5ml of
distilled water. Then we heated them in water bath until we obtain clear
solution. Then, we had taken our dissolved solutions and started to cool
them at room temperature until we observe first precipitated crystals since
the first crystallization step is the maximum solubility of KNO3 in 5 ml
water at a specific temperature. We firstly observed crystallization of 6 g of
KNO3 sample at 58 °C. Finally, we get the following data:
Test
Mass
Volume
Convert to
Saturation
Tube
KNO3(g)
Water (ml)
g/100 ml
Temp (°C)
1
1
5
20
16
2
2
5
40
24
3
4
5
80
48
4
6
5
120
58
Finally, we had drawn a dissolved gr of KNO3/100 ml H2O vs.
temperature graph by using the obtained data. Thus, we obtained the
approximate solubility of KNO3 in 100 ml water at a specific temperature.
By this experiment we can teach saturated, unsaturated, super saturated,
concentrated and dilute solutions concepts.