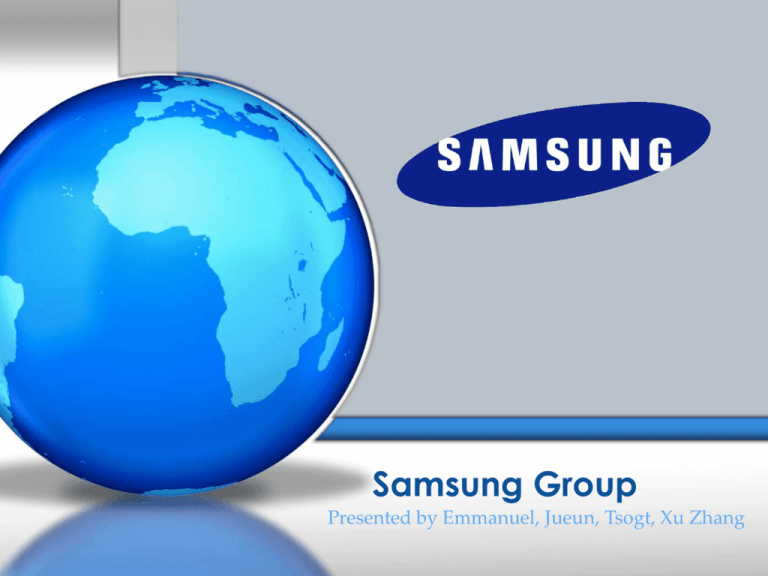 Samsung Group
Presented by Emmanuel, Jueun, Tsogt, Xu Zhang
History
Samsung mobile was formed in 1983
First product was a car phone and introduced in
Korea, 1986
Expanded to North America, Japan, and other
countries since 1996
Global market share stood out at more than 17 percent,
second only to Nokia in 2009
Youtube
History
First time in history, Samsung mobile shipped more
than 50 million handsets in 2008
Samsung mobile enjoyed the agreements with major
cell phone service providers:
T-Mobile
AT&T
Sprint
Verizon
Alltel wireless
Samsung
Electronics
Electronics
100
SDI
90
80
All the
electronic
products
that
produced by
company.
Electro-mechanic
70
60
Corning precision
glass
50
SDS
40
30
Networks
20
Techwin
10
0
Samsung Electronics (Billions)
ETC(mobile display,
digital image)
SWOT Analysis
• Strengths
Strong market position and Consistent R&D
Cell phone Market Share in
USA
Cell phone World Market Share
40.0%
30
35.0%
25
30.0%
25.0%
20
20.0%
15.0%
2009
10.0%
15
10
5.0%
2010
0.0%
5
Mar. 09
Nokia
Motorola
LG
Samsung
Samsung
Jun. 09
Sep. 09
Motorola
Dec. 09
Nokia
Mar. 10
LG
Weaknesses Opportunities
• Declining
margins
• Recall in 2009
• Tactical
alliance
with well
known
companies
• Enter to Indian
cell phone
market
Threats
• Competitive
business
environment
• Government
regulation
Wave II
Galaxy S
Global
Expansion
Samsung
Apps
Galaxy
Beam
Challenges
• Risks of entering to the new market
• New plants that built in developing countries
• Government regulations
• Difficult countries to infiltrate
• Equality of female and male employees
Fun Facts
The first portable phone
invented by Martin Cooper
in 1973. It weigh nearly 30
ounce (0.85kg), and it costs
$3,500 dollars by Motorola.
The most expensive cell
phone in the world is
iPhone 3GS and costs
3,222,918.53 USD
Industry Analysis
Future
• multiple functions 4G
WIMAX
• low cost
standard,
LTE
• high quality
standard in
• unique
2010
First modern
cell phone in
1973
1G
Multiple cell
sites in 1980s
3G
2G
WCDMA
standard in
2001
GSM
standard in
1990s
Competitors
Nokia
Established in 1965
4.318 mil unit sold
2009
44.3% of smart phone
market share
good quality
lower price
unique cell phones
Motorola
Founded in 1928
Went to public in
1943
walkie-talkie , the
most profitable
product
RAZR introduced
and at the highest
marker share
LG
Established in 1947
300 oversea offices
in 171countries and
regions
Market share of
cell phone
Competitors
First quarter of
2010
Motorola
LG
9%
4%
iPhone
3%
Nokia
35%
Samsung
21%
29%
Other
Short
Recommendations
Long
• Worldwide after sales
services
• Independent skills of
• Development of
variety design
• Strategic alliance with
global software
• Inter-direction
advertisement
• Investment in
Research and
Development
core technologies
Conclusion
In contrast, the analysis of the history for
Samsung Group shows us the challenges that
company faced. We have seen both the short and
long-term recommendations in order to progress
and make more money for the company.
Thank you for
your attention!