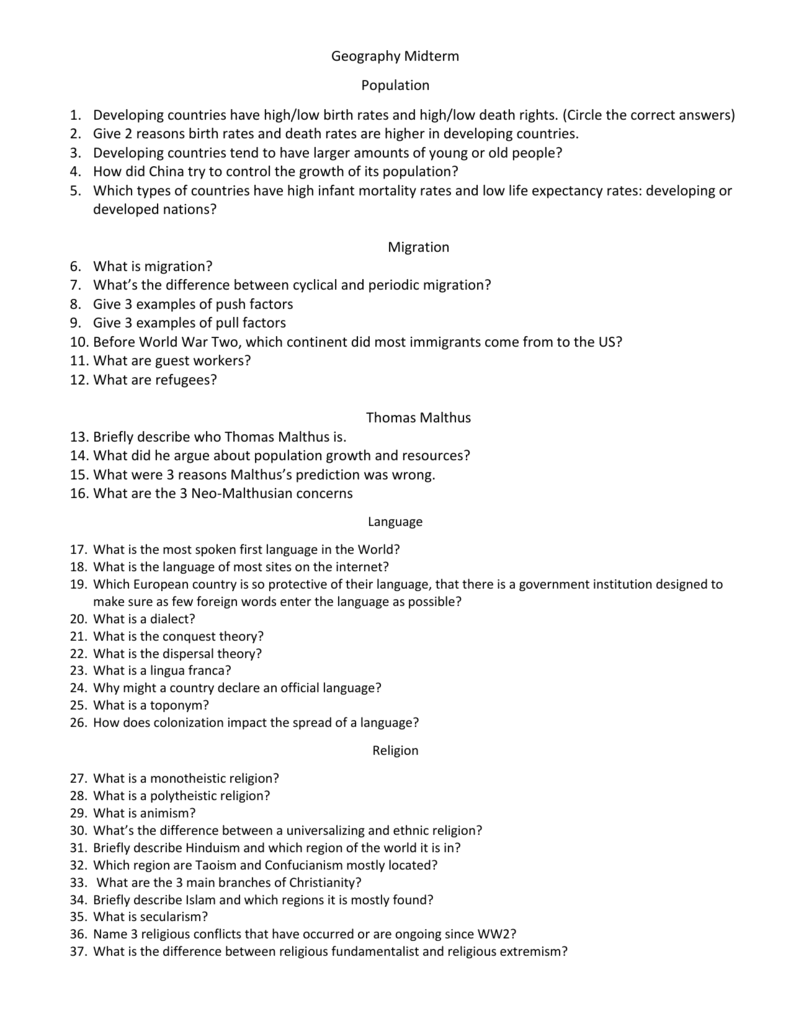 Geography Midterm
Population
1.
2.
3.
4.
5.
Developing countries have high/low birth rates and high/low death rights. (Circle the correct answers)
Give 2 reasons birth rates and death rates are higher in developing countries.
Developing countries tend to have larger amounts of young or old people?
How did China try to control the growth of its population?
Which types of countries have high infant mortality rates and low life expectancy rates: developing or
developed nations?
Migration
6. What is migration?
7. What's the difference between cyclical and periodic migration?
8. Give 3 examples of push factors
9. Give 3 examples of pull factors
10. Before World War Two, which continent did most immigrants come from to the US?
11. What are guest workers?
12. What are refugees?
Thomas Malthus
13. Briefly describe who Thomas Malthus is.
14. What did he argue about population growth and resources?
15. What were 3 reasons Malthus's prediction was wrong.
16. What are the 3 Neo-Malthusian concerns
Language
17. What is the most spoken first language in the World?
18. What is the language of most sites on the internet?
19. Which European country is so protective of their language, that there is a government institution designed to
make sure as few foreign words enter the language as possible?
20. What is a dialect?
21. What is the conquest theory?
22. What is the dispersal theory?
23. What is a lingua franca?
24. Why might a country declare an official language?
25. What is a toponym?
26. How does colonization impact the spread of a language?
Religion
27.
28.
29.
30.
31.
32.
33.
34.
35.
36.
37.
What is a monotheistic religion?
What is a polytheistic religion?
What is animism?
What's the difference between a universalizing and ethnic religion?
Briefly describe Hinduism and which region of the world it is in?
Which region are Taoism and Confucianism mostly located?
What are the 3 main branches of Christianity?
Briefly describe Islam and which regions it is mostly found?
What is secularism?
Name 3 religious conflicts that have occurred or are ongoing since WW2?
What is the difference between religious fundamentalist and religious extremism?
Political Geography
38.
39.
40.
41.
42.
43.
44.
45.
46.
47.
48.
49.
50.
Name 5 European nations who had colonies in Africa.
In what 2 continents did the most countries become independent after 1940?
How do you define a state?
How do you define a nation?
What is a nation-state?
What is a stateless nation?
Name 2 examples of a group of people considered a part of a stateless nation.
What is colonialism?
What are the 3 concepts of the World Systems Theory?
What is a unitary state?
What is a federalist state?
Give 4 examples of supranational organizations
What is the European Union?