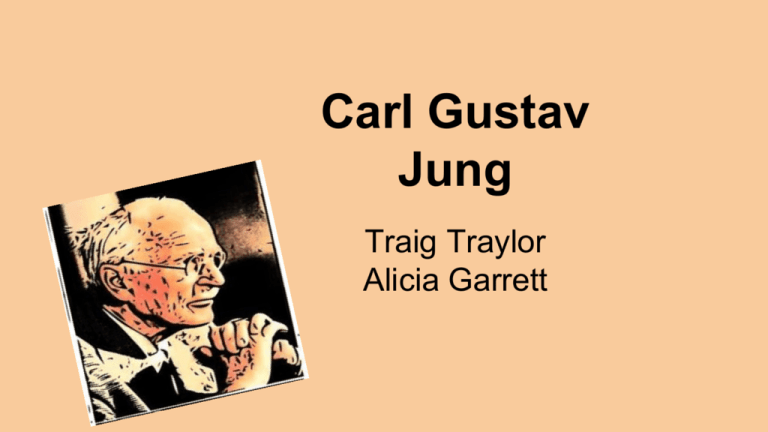 Carl Gustav
Jung
Traig Traylor
Alicia Garrett
Unconscious
Archetypes:
● present in every person
● Studied dreams, visions, paintings, poetry, folk stories, myths, and religion
● cultures share certain myths
● influence our thoughts and feelings
● build the foundation of our personalities
Early Life:
●
●
●
●
●
●
●
●
●
Born July 26, 1875 in Kesswil, Switzerland
Fourth but only surviving child
classmate pushed him to the ground causing him to lose consciousness
later explained as his first encounter with neurosis
1903, married Emma Rauschenbach
while married had multiple relationships
studied medicine
went into field of psychiatry in 1903
graduated from University of Basel with medical degree
Personal life:
● Worked with psychiatric patients at University of Zurich asylum
● became good friends with Sigmund Freud, whom impacted jungs later
theories
● later separated from Freud's theory
● Formed his own theory called Analytical Psychology
● believed human psyche exists in 3 parts: The ego, The personal
unconscious, The collective unconscious
● Jung separated from the freudian theory
● has books that were published and unpublished
● Jung died in his house june 6, 1961 in Zurich
Theory:
● People inherit
instincts and urges
from ancestors known
as the collective
unconscious
● Collective and
personal unconscious
combine to make
personalities
Ego/Personalities
Consciousness
Personal
unconscious
Collective
unconscious
Ancestral memories/information
that will never be made
conscious
Theory:
Archetypes:
● Patterns, images, symbols
that come from our
collective unconscious.
● Shapes perception of
world
● Found in dreams, stories,
images etc….
Theory:
● Collective unconscious:
Inherited instincts &
urges
● ancestral experiences that
are inherited & reflect
experiences in humanity
Theory:
Personal unconscious:
● Information present in
the mind but not easily
accessed by the
conscious mind
(repressed memories)
Theory:
Consciousness:
● ability to react to your
environment, ability to
use your brain to obtain
knowledge or
awareness
Theory:
Ego/Personality:
● self esteem/importance
● feelings and emotions
● extroverted and
introverted personalities
● Temperament and the
environment create the
physical core of
personalities.
Theory:
Ego/Personalities
● (Nature) Heredity: physical
Consciousness
& psychological
characteristics passed from
Personal
unconscious
parents 2 children.
● Genes carry out heredity
Collective
info.
unconscious
● Instincts and urges
Ancestral memories
inherited, present but not conscious
accessable
Theory:
Ego/Personalities
● Establishes appearance of
people
Consciousness
● cultures share beliefs, stories
Personal
told & understood based on
unconscious
recurring past experiences.
Collective
● Temperament and
unconscious
environment = personalityAncestral memories
● Analytic psychology:
conscious
conscious thoughts are
expressions of dreams
Work cited:
"Understanding Psychology"Richard A. Kasschau, PH.D Glencoe 2008
Dr. C. George Boeree "Carl Jung." Carl Jung. Web. Copyright 2006
<http://webspace.ship.edu/cgboer/jung.html>.
Matt Tower "Carl Gustav Jung." Carl Gustav Jung. Web. copyright 2002
Dreamfire production
<http://faculty.frostburg.edu/mbradley/psyography/carljung.html>.
Cherry, Kendra. "Carl Jung Biography." About Education. N.p., 2015. Web. 14 Apr.
2015. <http://psychology.about.com/od/profilesofmajorthinkers/p/jungprofile.htm>.