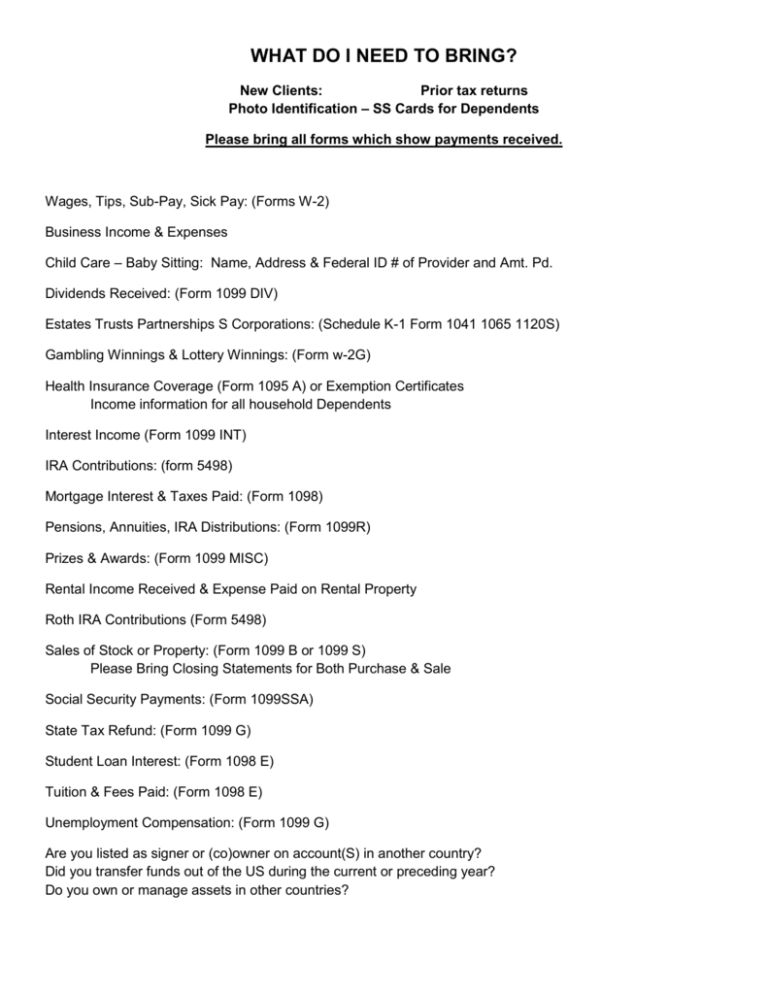 WHAT DO I NEED TO BRING?
New Clients:
Prior tax returns
Photo Identification – SS Cards for Dependents
Please bring all forms which show payments received.
Wages, Tips, Sub-Pay, Sick Pay: (Forms W-2)
Business Income & Expenses
Child Care – Baby Sitting: Name, Address & Federal ID # of Provider and Amt. Pd.
Dividends Received: (Form 1099 DIV)
Estates Trusts Partnerships S Corporations: (Schedule K-1 Form 1041 1065 1120S)
Gambling Winnings & Lottery Winnings: (Form w-2G)
Health Insurance Coverage (Form 1095 A) or Exemption Certificates
Income information for all household Dependents
Interest Income (Form 1099 INT)
IRA Contributions: (form 5498)
Mortgage Interest & Taxes Paid: (Form 1098)
Pensions, Annuities, IRA Distributions: (Form 1099R)
Prizes & Awards: (Form 1099 MISC)
Rental Income Received & Expense Paid on Rental Property
Roth IRA Contributions (Form 5498)
Sales of Stock or Property: (Form 1099 B or 1099 S)
Please Bring Closing Statements for Both Purchase & Sale
Social Security Payments: (Form 1099SSA)
State Tax Refund: (Form 1099 G)
Student Loan Interest: (Form 1098 E)
Tuition & Fees Paid: (Form 1098 E)
Unemployment Compensation: (Form 1099 G)
Are you listed as signer or (co)owner on account(S) in another country?
Did you transfer funds out of the US during the current or preceding year?
Do you own or manage assets in other countries?