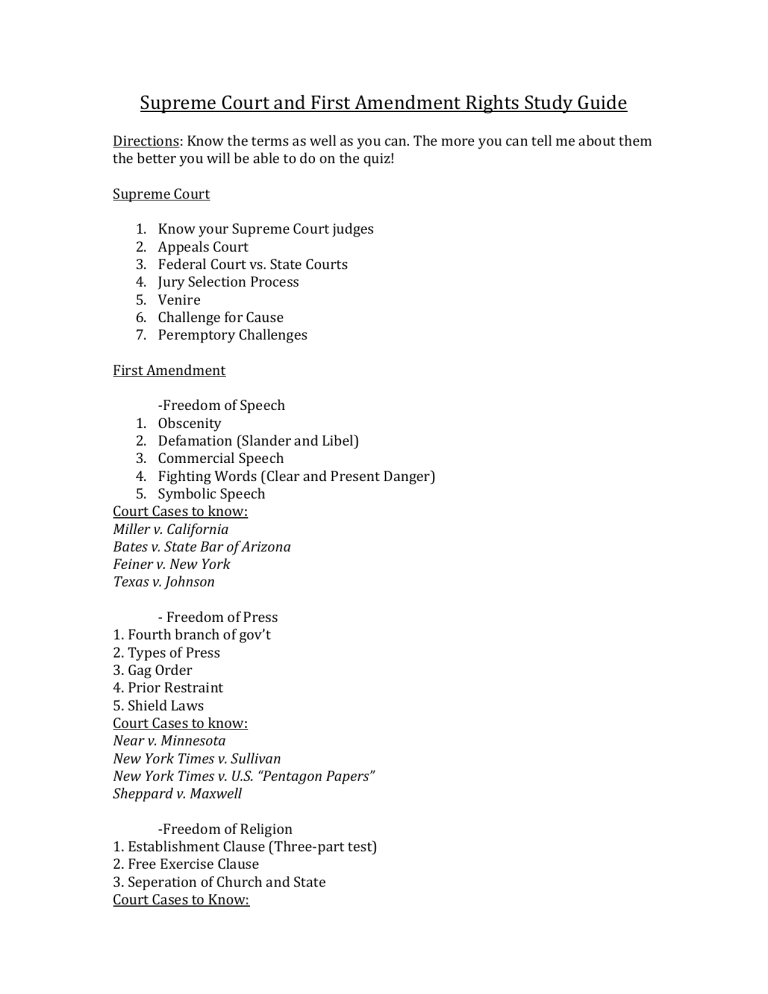 Supreme Court and First Amendment Rights Study Guide
Directions: Know the terms as well as you can. The more you can tell me about them the better you will be able to do on the quiz!
Supreme Court
1.
Know your Supreme Court judges
2.
Appeals Court
3.
Federal Court vs. State Courts
4.
Jury Selection Process
5.
Venire
6.
Challenge for Cause
7.
Peremptory Challenges
First Amendment
-Freedom of Speech
1.
Obscenity
2.
Defamation (Slander and Libel)
3.
Commercial Speech
4.
Fighting Words (Clear and Present Danger)
5.
Symbolic Speech
Court Cases to know:
Miller v. California
Bates v. State Bar of Arizona
Feiner v. New York
Texas v. Johnson
- Freedom of Press
1. Fourth branch of gov't
2. Types of Press
3. Gag Order
4. Prior Restraint
5. Shield Laws
Court Cases to know:
Near v. Minnesota
New York Times v. Sullivan
New York Times v. U.S. "Pentagon Papers"
Sheppard v. Maxwell
-Freedom of Religion
1. Establishment Clause (Three-part test)
2. Free Exercise Clause
3. Seperation of Church and State
Court Cases to Know:
West Virginia Board of Education v. Barnette
Welsh v. United States
State of Wisconsin v. Jonas Yoder