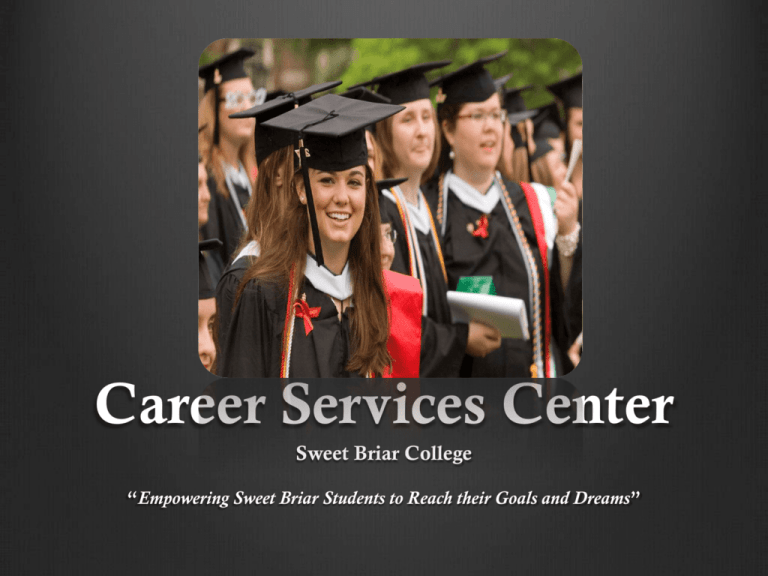 Career Services Center
Sweet Briar College
"Empowering Sweet Briar Students to Reach their Goals and Dreams"
Career Services Staff
Wayne Stark – Senior Director
wstark@sbc.edu
Tandilyn Phillips – Assistant Director
tphillips@sbc.edu
Alison Crehore– Coordinator of Campus Student Employment
acrehore@sbc.edu
Location/Hours
2nd Floor of the Prothro Building
Hours: Monday – Friday 8:30 AM – 5:00 PM
Phone: (434) 381-6151
Fax: (434) 381 -6396
Email: careerservices@sbc.edu
What's In It For YOU?
What the Career Services Center Can Do For You
1. Provide you a roadmap to landing your ideal job with an
organization that fits your lifestyle.
•
Resources specific to your field of study
•
Graduate School Application Assistance
2. Career Center provides TOOLS to help you realize your
dreams; the reason you attend class.
•
Resume Review
•
Mock Interviews
•
Networking/On-Campus Recruitment
•
Internships, Career Fairs, and much more!
Mission of Career Services
To provide quality, customer-oriented career services for
students, faculty, staff, prospective students, and
alumnae
To assist individuals in assessing their personal and
professional aspirations
To provide individuals with a career development
strategy and empower them to manage the process
during their lifetime
To assist prospective graduates and alumni in securing
professional employment by linking them to appropriate
employers in their career field
Working Together for Student
Success
Academic Departments
Co-Curricular Life
Administrative Departments
Career Counseling Services
Meet with Career Services Staff to…
Assess career interests, abilities & values
Identify natural talents and incorporate into career choice
Clarify academic and career goals
Learn the connections between a major & career options
Determine a course of action to meet career objectives
Develop a concise, targeted resume and cover letter
Research job search strategies
Locate resources and websites to research employers, job descriptions, salary
ranges, employment projections, etc.
Practice developing appropriate interview techniques
FOUR YEAR CAREER
PLANNING GUIDE
Planning and organizing are the keys to choosing a
major and finding a satisfying career.
An action-orientated plan will guide you through
the career-planning process throughout your
academic experience at Sweet Briar.
Start today by becoming familiar with what you
should do during your years at Sweet Briar College.
First Year (Awareness)
You are not expected to make career decisions during your first semester on campus.
GOALS:
Explore/become familiar with the Career Services website http://www.sbc.edu/career-services
Become aware of career fields in relation to tentative majors
Begin a self exploration process: assessing values, interests, skills, and motivation.
Become aware of the Career Services Center and its programs.
Develop good study skills along with establishing a strong GPA.
ACTIVITIES:
Research careers and majors in the Career Resource Library and on our website.
Take a variety of classes to get an idea of different academic fields.
Complete the STRONG and MEYER-BRIGGS Assessment tools available to you at the Career Services Center
Meet with one of Career Services staff to explore possible majors and careers that fit your interests, skills, and values.
Attend Career Services workshops, and programs including Career Fair.
Second Year (Exploration)
Select a major during your sophomore year.
GOALS:
Explore career possibilities & learn about occupations.
Begin to build a personal career network.
Investigate Experiential Learning—Internships, Co-ops, and Part-time.
Research and clarify career options after self-assessment.
Decide on major/career choice.
ACTIVITIES:
Participate in on-campus organizations to gain valuable work-related skills.
Conduct informational interviews & begin to develop your resume and cover letter
Meet with faculty, advisors, and/or alumnae to discuss major/career options.
Explore job shadowing and/or volunteer and community service opportunities
Attend Career Services workshops and programs including Career Fair
Third Year (Experience)
Gain experience by participating in an internship or cooperative education opportunity
GOALS:
Build job search skills. Gain career related experience.
Consider graduate or professional school.
Familiarize yourself with Career Services' job search and recruitment programs.
Learn about occupations as they relate to your major or interests.
Familiarize yourself with the online job search process.
ACTIVITIES:
Register with CAREER 15 and EXPERIENCE and create a profile if you haven't done so already.
Participate in co-ops, internships, or career related employment.
Maximize involvement with campus clubs and organizations to further develop leadership skills.
Consider studying abroad for a summer or semester.
Meet with Career Services staff for help with job search, resume, and career guidance.
Fourth Year (Connect)
Connect with employers and begin your professional job search
GOALS:
Narrow and finalize career choice.
Prepare for graduate or professional school.
Research labor market information.
Narrow focus on positions and industry openings.
ACTIVITIES:
Make an appointment with Career Services staff to help plan your job search.
Develop a refined resume, cover letter, and a list of references.
Practice interviewing skills and review professional dress guidelines.
Begin developing a professional wardrobe for future job interviews.
Join a professional organization in your field.
Career Education Programs
Career Management Workshop Series
Resume Writing
Job Search Strategies
Cover Letters
Graduate School
Interviewing Skills
Marketing Your
Liberal Arts Degree
MBTI/Strong II
Field/Major Selection
Career Fair Preparation
Internships
First Year On The Job
Success
Job Search Strategies
For Tough Economic
Times
•
•
•
•
•
Programming Overview
2005 – 2006 over 100 programs were offered
2006 - 2007 over 100 programs were offered
2007 – 2008 86 programs offered
2009 – 2010 88 programs offered
2010-2011 77 programs offered
• WELL ABOVE national benchmarks for a college the size
of Sweet Briar
25
22
22
23
20
14
15
10
7
5
0
Educational
Field/Major
Collaborative Multi-InstitutionalCareer Services
Field/Major Specific
Career Panel/Networking Events
Outstanding professionals and alumnae from a designated industry
sit on a panel and share information on their career path including the steps
taken to enter their profession and develop their career in their current
organization. Panelists will discuss trends in their field, critical skills needed
and ways to develop those skills further, as well as provide advice on
professional development, networking, resumes and how to maximize
interviews for career success. A networking session following the panel will
offer students an opportunity to connect directly with employers in attendance.
• Government/International
• Natural Sciences/Environment
• Commerce
• Engineering/Math
• Fine Arts
• Humanities
• Sports
• Media/Communications/PR
Recruiting/Employer Contact
• NACE, SOACE, VACE NACE
•
•
•
•
•
•
•
• Over 1,600 recruiting contacts alone
CAREER 15 VFIC – Workforce Connections Initiative
• Over 100 corporate partners
CHALLENGE Consortium
• 60-80 yearly employers
Career Premiere
• 50 + employers
Region 2000
• Local employers
UVA Commerce/Diversity Career Events
• over 200 yearly recruiting contacts
NaceLink
• 1,000+ opportunities, searchable database
Alumnae Network/Advisory Councils
Campus Student Employment
(62.33%) of the on-campus body was employed in
over 600 on-campus positions in the fall of 2011
(69.72%) of the on-campus body was employed in
over 700 on-campus positions in the spring of 2012
Campus jobs carry a wide range of responsibilities
that support the College in many important ways.
Personal assistance in securing on-campus employment
Internships
At Sweet Briar, an internship is "a form of experiential
learning that integrates knowledge and theory learned in
the classroom with practical application and skills
development in a professional setting.
Internships give students the opportunity to gain
valuable applied experience and make connections in
professional fields they are considering for career paths;
and give employers the opportunity to guide and evaluate
talent."
Defined by the National Association of Colleges and Employers (2011).
Why Consider an Internship?
The reasons for pursuing an internship are many!
Explore one or more of your career interests in a realistic professional setting
Learn about particular industries, companies, and organizations
Help you decide whether a particular career direction or industry is a good fit for
you
Develop new skills and refine the skills you already possess
Apply all that classroom learning in a practical setting
Build your resume
Develop great examples of your skill sets for future job interviews
Make connections (network) with people in your future career area
Develop professional relationships that will be mutually beneficial in the future
Have fun, feel a sense of accomplishment, see yourself as an emerging professional!
Experiential Education – Internships
EXPERIENCE E-Recruiting Database
Alliance of Virginia Career Services
Over 2,000 local and national opportunities
SBC Alumnae protection
Extensive Online Resources
Internships.com, Internmatch, Internqueen, OnedayOneinternship, etc…
Sweet Briar Alumnae Network
NACE, SOACE, VACE Associations
Over 1600 recruiting contacts
CAREER 15 - VFIC Workforce Connections Initiative
over 100 employers
15 private Virginia Colleges
Faculty collaboration/sharing of contacts
Academic Internships 2010-2011
Internships by Department
Government/Law
(10)
13%
Environmental
Science (8)
11%
International Affairs
(2)
3%
Archaeology (1)
Sociology (1)
1%
1% Psychology (1)
1%
Arts Management (8)
11%
Biology (3)
4%
Business (22)
29%
Engineering (6)
8%
Education (10)
13%
English (3)
4%
Economics (1)
1%
Internship/Externship/Practicum
Experience
Sweet Briar scores higher than their peers
According to NSSE reporting:
Sweet Briar Students participate in
Internships, Practica, and/or externships at
a rate 23% above the averages for peer
institutions and 32% greater than other
NSSE institutions.
Internships for Academic Credit
# of students
120
99
100
82
80
73
73
62
60
59
# of students
49
40
26
20
0
2004-2005
2005-2006
2006-2007
2007-2008
2008-2009
2009-2010
2010-2011
2011-2012
Sweet Briar students score higher!
According to the 2010 College Senior Survey 75.8% of
Sweet Briar students have participated in an internship
program.
This is 19.1% higher than the 56.7% of students
participating in internship programs at peer institutions.
Sweet Briar Graduates
are Successful!!
Over 90% report successful outcomes upon graduation and
six months out!
Outcomes for the Class of 2011
2011 – At six months from graduation 97% of graduates had attained
successful outcomes
58% had accepted employment
26% pursuing further study
13% pursuing personal endeavors such as professional internships, travel
2009 – Six months out – 93%
2010 – Six months out - 95%
Numbers compare favorably with past graduating classes
59
70
60
56
56
68
Employed
58
53
50
Further Study
40
30
28
8
9
24
30
29
26
20
20
8
10
10
13
Personal Endeavor
13
0
2006
2007
2008
2009
2010
2011
Questions?