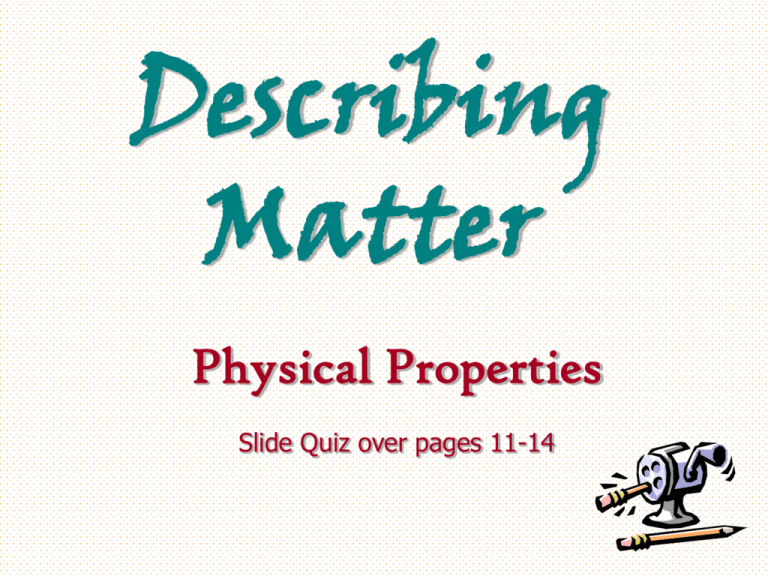 Describing
Matter
Physical Properties
Slide Quiz over pages 11-14
1. Which of the following is a physical
property?
A.
B.
C.
D.
E.
volume
color
odor
mass
all of the above
2. __________ is the physical form in
which a substance exists, such as a
solid, liquid, or gas
A.
B.
C.
D.
E.
density
solubility
Ductility
State
Malleability
3. To find an object's density, you must
know its _________
A.
B.
C.
D.
mass
volume
both mass and volume
neither its mass or volume
4. Give three physical properties about
yourself.
5. Of the six physical properties
listed above, which is the
most useful for identifying
substances? Explain why!
6.
Take a look at the two boxes below.
Each box has the same volume. If each
ball has the same mass, which box
would weigh more? Why?
Box A
Box B
7. What would be the relative density of an
object that floats in mercury but sinks in
water?
8. Why does a helium balloon float in oxygen?
9. Using the chart above, which solid would sink
the fastest when placed in water? Explain why!
10. Which pennies have more copper---pennies
minted before 1982 which have a density
of 8.85 g/cm3, or pennies minted after
1982 which have a density of 7.14 g/cm3.
Explain your answer.
11. What is the equation for density?
12. What is the density of a block of pine
wood with a mass of 120 grams and a
volume of 300 cm3?
13. Would this block
float or sink? Why??