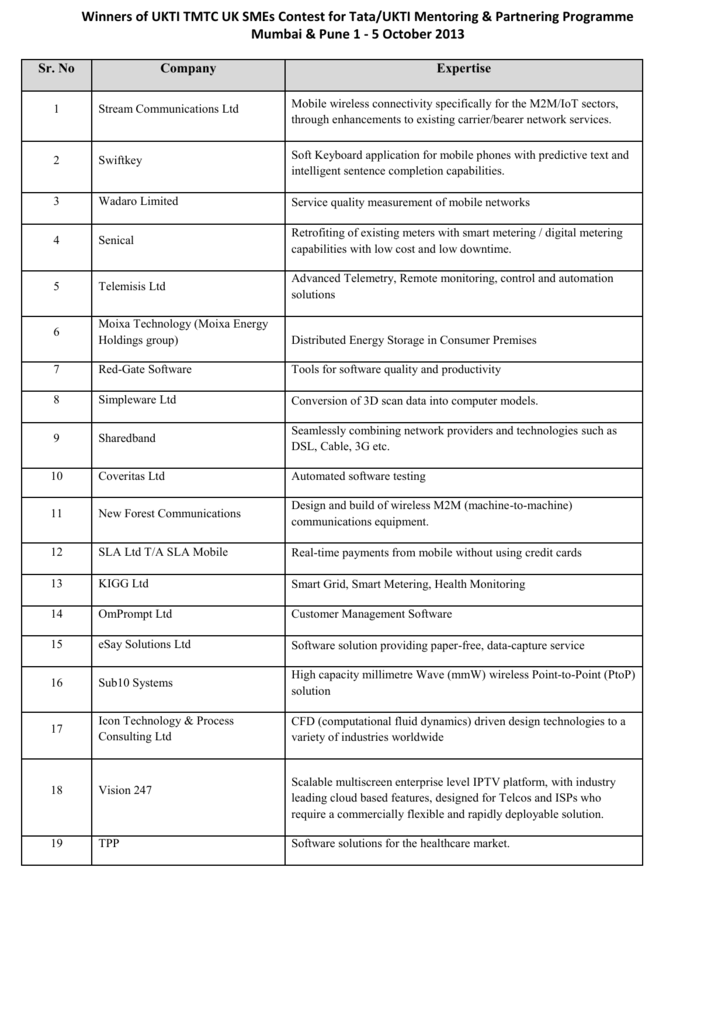 Winners of UKTI TMTC UK SMEs Contest for Tata/UKTI Mentoring & Partnering Programme
Mumbai & Pune 1 - 5 October 2013
Sr. No
Company
Expertise
1
Stream Communications Ltd
Mobile wireless connectivity specifically for the M2M/IoT sectors,
through enhancements to existing carrier/bearer network services.
2
Swiftkey
Soft Keyboard application for mobile phones with predictive text and
intelligent sentence completion capabilities.
3
Wadaro Limited
Service quality measurement of mobile networks
4
Senical
Retrofiting of existing meters with smart metering / digital metering
capabilities with low cost and low downtime.
5
Telemisis Ltd
Advanced Telemetry, Remote monitoring, control and automation
solutions
6
Moixa Technology (Moixa Energy
Holdings group)
Distributed Energy Storage in Consumer Premises
7
Red-Gate Software
Tools for software quality and productivity
8
Simpleware Ltd
Conversion of 3D scan data into computer models.
9
Sharedband
Seamlessly combining network providers and technologies such as
DSL, Cable, 3G etc.
10
Coveritas Ltd
Automated software testing
11
New Forest Communications
Design and build of wireless M2M (machine-to-machine)
communications equipment.
12
SLA Ltd T/A SLA Mobile
Real-time payments from mobile without using credit cards
13
KIGG Ltd
Smart Grid, Smart Metering, Health Monitoring
14
OmPrompt Ltd
Customer Management Software
15
eSay Solutions Ltd
Software solution providing paper-free, data-capture service
16
Sub10 Systems
High capacity millimetre Wave (mmW) wireless Point-to-Point (PtoP)
solution
17
Icon Technology & Process
Consulting Ltd
CFD (computational fluid dynamics) driven design technologies to a
variety of industries worldwide
18
Vision 247
19
TPP
Scalable multiscreen enterprise level IPTV platform, with industry
leading cloud based features, designed for Telcos and ISPs who
require a commercially flexible and rapidly deployable solution.
Software solutions for the healthcare market.