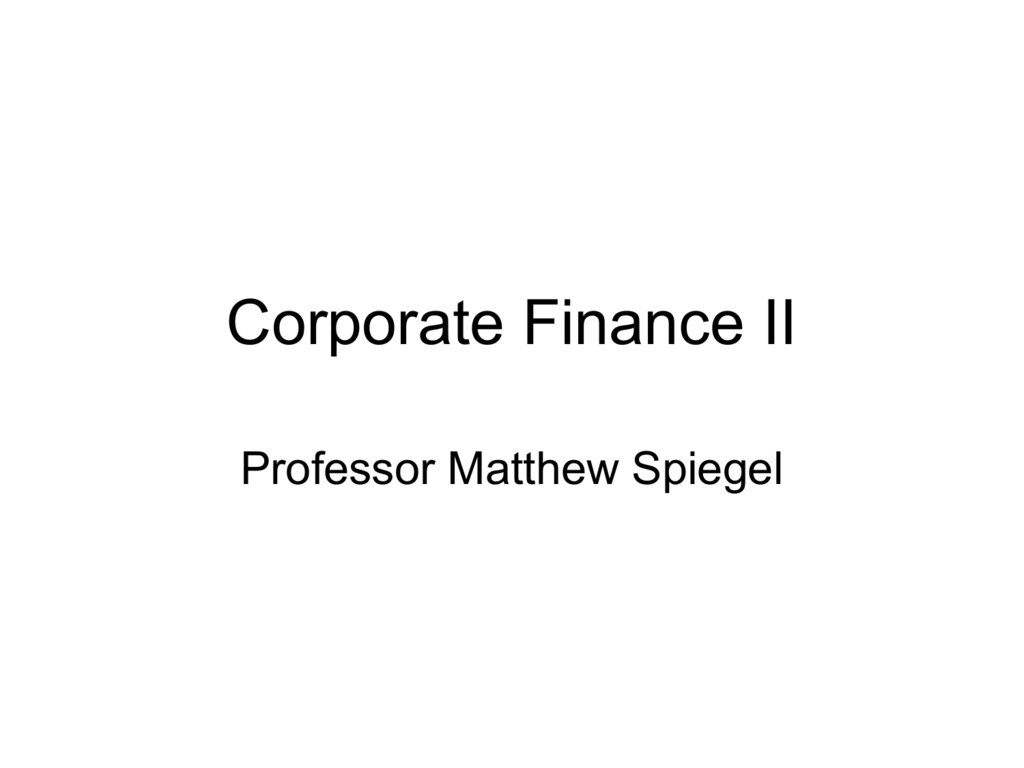 Corporate Finance II
Professor Matthew Spiegel
Overview
• Cases and lectures.
• Case groups of two.
– Deadline is this Friday for the formation of groups!
• Case days.
– One group will be randomly selected to conduct a 45
to 60 minute presentation.
– Each group must turn in a four page write up of each
case.
• Tables and graphs do not count.
• Syllabus on the web.
Cases
• Most will not be typical business school
cases!
• Cases will ask you to examine a firm as it
currently exists and to answer questions
about it.
How Will You Know if You Made the
Right Call?
• By waiting a few years to see what
happened.
– Such is life.
• Too many cases rely on 20-20 hindsight.
This is a luxury you do not have in real life.
Here you are stuck making decisions
based on arguments with the data at hand.
Then How Will We be Graded?
• Grades will depend on how well you defend your conclusions.
• Bad defense: It seemed to us a 3% growth in sales for five years
was reasonable.
– Ad hoc. Why not assume 2% or 4%?
• Better defense: Sales growth has been 3% for the past several
years so we are projecting that forward for the next five years.
– At least this is based on something. But why do you think the past
growth rate is the appropriate one going forward?
• Much better defense: Sales growth has been 3% for the past
several years. Furthermore, the firm's market share has been fairly
constant and unless that changes we should see a 3% growth rate
into the future. As of today management has not presented a plan
that would improve upon that. Thus we using that as our projection
for the next five years.
– Uses past results for the projection's basis, but also looks forward
asking if there might be any changes in the works.
Questions Every Presentation
Should Answer
• What does the firm do?
• How has it performed relative to its peers?
• What is its current and future financial
policy?
• Have their been any recent changes in its
product mix.
– Divisions purchased or sold.
• Does it plan to add or subtract product
lines in the foreseeable future?
Lesson Specific Questions
• At least a week prior to each case's
discussion in class questions specific to
that case will be posted on the web.
– Foamex is currently in financial distress.
•
•
•
•
How did this happen?
What should management do?
What should the bond holders do?
How much is the debt worth?
Class Discussion
• Do the presenters a favor and question
what they say!
• If the class has nothing to say I will
assume they find the case presentation to
be so abysmal that it is not even worth
commenting on!
• Do yourself a favor and question what the
presentation.
– Class participation is part of your grade!
Discussion Goals
• The goal of each discussion is to analyze
the elements that go into making a
business decision.
– What data do you have?
– What do you need to just assume in order to
go forward?
– What kind of additional analysis might you do
if you had the resources and time?
Class Notation
•
•
•
•
•
The value of a firm's equity: E.
The value of a firm's debt: D.
A firm's marginal tax rate: TC.
Risk free rate: rf.
Expected return on the market: rm.
Information Sources
• Hoover's
– http://www.library.yale.edu/databases/
• Business Browser
– http://www.library.yale.edu/socsci/databases/bbinfo.html
• Yahoo!
– http://www.yahoo.com
• WRDS
– http://wrds.wharton.upenn.edu/
• SEC Free Edger
– http://www.sec.gov
• Bloomberg
– There is a Bloomberg terminal in a breakout room on level A.
Hoover's
• Financial statement summaries.
– Warning: not as good as going to the 10-k's.
• Financial and accounting ratios.
• Comparisons with competitors.
Business Browser
• Financial statements.
– As reported or standardized.
– Use as reported! Standardize them yourself!
• A few analyst reports.
– In the real world a much better source is
Thompson Financial.
• Create peer lists.
• Industries by SIC code.
• Need to set up your own account.
Yahoo!
• Click on finance and then enter the ticker
symbol of the firm you are interested in.
• Real time statistics.
• Historical prices.
WRDS
• CRSP stock price database.
–
–
–
–
Daily stock returns through 2003.
Extremely useful for testing theories you hope to develop.
Web based, easy to use.
Fast and easy source for data on E, rm, and rf.
• Compustat database
– Accounting data going back several decades.
• Enter the firm.
• Click on the accounting items you want.
• Instant delivery of the spreadsheet data you want!
• Class account.
– Login name: xxxxx. Note all small letters!
– Password: xxxxxxx. Who can argue with that?
SEC Free Edger
• The place to get the company's current
and past financial filings.
Bloomberg
• Essential for getting bond data.
– Bond price quotes.
• Good for bonds that are not currently going up or down in
price by large amounts.
• Quotes are likely to be stale for bonds seeing rapid price
changes.
– Bond terms (covenants).
• Useful for stock data as well, but there are other
sources.
• Extremely user hostile!
– Learning to use a Bloomberg terminal is a painful but,
alas, essential experience. It is the standard data
source on Wall Street.