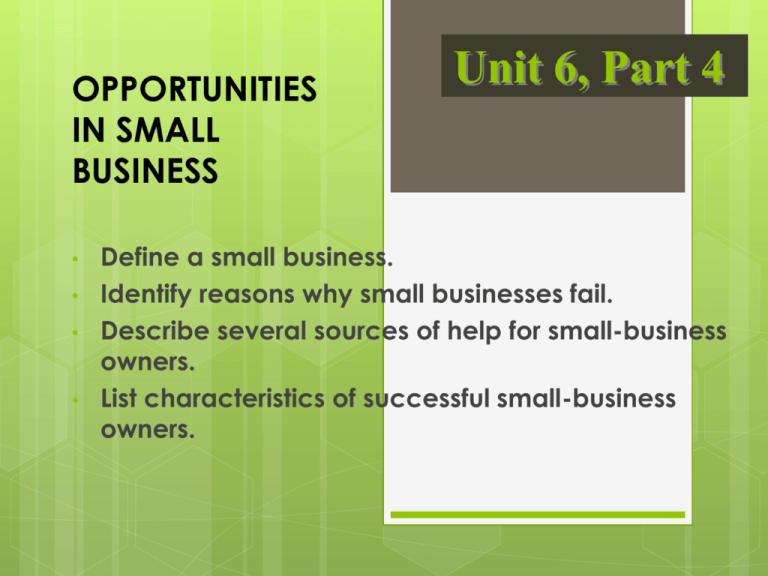 OPPORTUNITIES
IN SMALL
BUSINESS
•
•
•
•
Unit 6, Part 4
Define a small business.
Identify reasons why small businesses fail.
Describe several sources of help for small-business
owners.
List characteristics of successful small-business
owners.
SMALL-BUSINESS
OPPORTUNITIES
The term small business refers to a business that:
Usually has the owner as the manager.
Is not dominant in its field of operation.
Employs fewer than 500 people.
Usually is local, serving the nearby
community.
COMMON TYPES OF SMALL BUSINESSES
Services
26.8%
Retail
25.1%
Construction
13.9%
Wholesale
11.0%
Manufacturing
10.2%
F.I.R.E
T.C.U.
Other
7.2%
3.6%
2.2%
SMALL-BUSINESS
PROBLEMS
Most common reasons for failure:
 Not
keeping adequate records
 Not having enough start-up money
 Lack of sales and management experience
 Lack of experience with the type of business
 Not controlling operating expenses
 Poor location for the business
 Failure to manage payments due from
customers
HELP AVAILABLE
BUSINESSES
FOR SMALL
 Small
Business Administration (SBA)
 Small
Business Institutes (SBIs)
 SCORE
(Service Corps of Retired Executives)
 Venture
capital
CHARACTERISTICS
BUSINESS OWNERS
OF
 Can do things on their own
 Have leadership abilities
 Can take charge of things
 Like to plan what must be done
 Are hard workers
 Are decision makers
 Can be trusted
 Are achievers
 Have good health
YOUNG ENTREPRENEURS


An entrepreneur is someone who takes a
risk in starting a business to earn a profit.
Entrepreneurship is the process of starting,
organizing, managing, and assuming the
responsibility for a business.