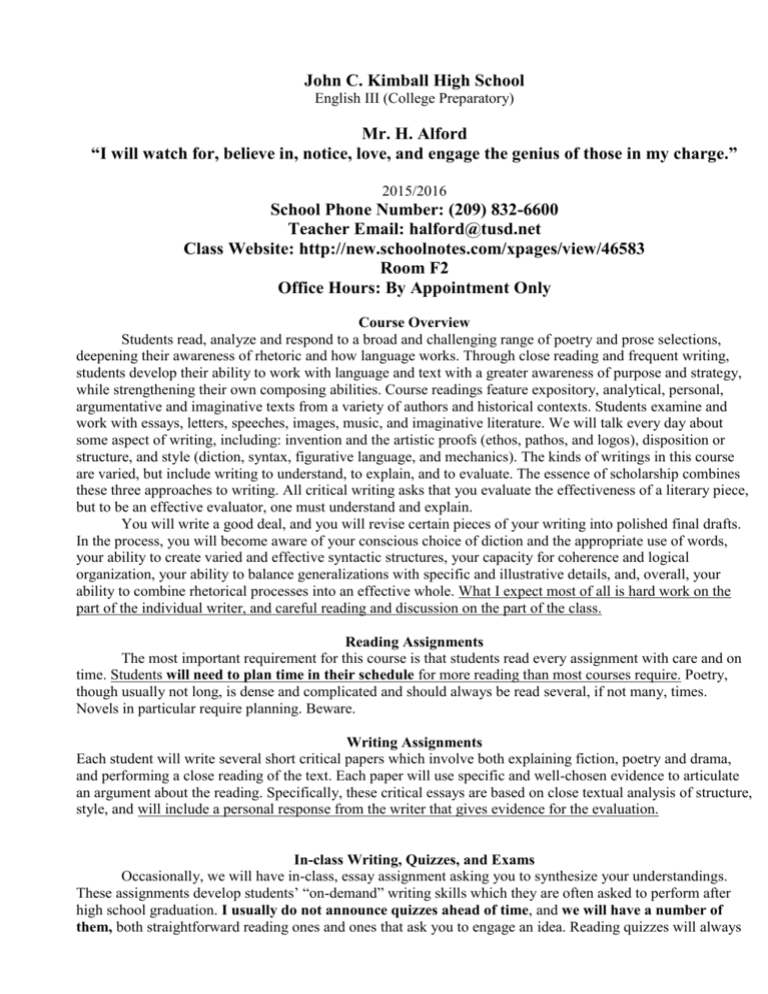 John C. Kimball High School
English III (College Preparatory)
Mr. H. Alford
"I will watch for, believe in, notice, love, and engage the genius of those in my charge."
2015/2016
School Phone Number: (209) 832-6600
Teacher Email: halford@tusd.net
Class Website: http://new.schoolnotes.com/xpages/view/46583
Room F2
Office Hours: By Appointment Only
Course Overview
Students read, analyze and respond to a broad and challenging range of poetry and prose selections,
deepening their awareness of rhetoric and how language works. Through close reading and frequent writing,
students develop their ability to work with language and text with a greater awareness of purpose and strategy,
while strengthening their own composing abilities. Course readings feature expository, analytical, personal,
argumentative and imaginative texts from a variety of authors and historical contexts. Students examine and
work with essays, letters, speeches, images, music, and imaginative literature. We will talk every day about
some aspect of writing, including: invention and the artistic proofs (ethos, pathos, and logos), disposition or
structure, and style (diction, syntax, figurative language, and mechanics). The kinds of writings in this course
are varied, but include writing to understand, to explain, and to evaluate. The essence of scholarship combines
these three approaches to writing. All critical writing asks that you evaluate the effectiveness of a literary piece,
but to be an effective evaluator, one must understand and explain.
You will write a good deal, and you will revise certain pieces of your writing into polished final drafts.
In the process, you will become aware of your conscious choice of diction and the appropriate use of words,
your ability to create varied and effective syntactic structures, your capacity for coherence and logical
organization, your ability to balance generalizations with specific and illustrative details, and, overall, your
ability to combine rhetorical processes into an effective whole. What I expect most of all is hard work on the
part of the individual writer, and careful reading and discussion on the part of the class.
Reading Assignments
The most important requirement for this course is that students read every assignment with care and on
time. Students will need to plan time in their schedule for more reading than most courses require. Poetry,
though usually not long, is dense and complicated and should always be read several, if not many, times.
Novels in particular require planning. Beware.
Writing Assignments
Each student will write several short critical papers which involve both explaining fiction, poetry and drama,
and performing a close reading of the text. Each paper will use specific and well-chosen evidence to articulate
an argument about the reading. Specifically, these critical essays are based on close textual analysis of structure,
style, and will include a personal response from the writer that gives evidence for the evaluation.
In-class Writing, Quizzes, and Exams
Occasionally, we will have in-class, essay assignment asking you to synthesize your understandings.
These assignments develop students' "on-demand" writing skills which they are often asked to perform after
high school graduation. I usually do not announce quizzes ahead of time, and we will have a number of
them, both straightforward reading ones and ones that ask you to engage an idea. Reading quizzes will always
be given the first eight to ten minutes of class; if you come in late, you may not take the quiz. Questions on
the reading quizzes will be straightforward and simple--as long as you've done the required careful reading.
Grading
Although semester grades reflect students who turn in work late or students with excessive absences, the
good news is grades in the class are also based on improvement and hard work. Grades do result in a straight
percentage, they also include any continued commitment on the students' part to do the work to the best of their
ability and to be in class. "Commitment" may include, but is not limited to: attention to self-knowledge and
self-improvement in the study of literature; handing in work on time; attending class; assisting other students in
the class by working cooperatively to gain knowledge and to help others become better writers, etc. In other
words, grading is an individualized process; the student is in competition with him/her -self and with nobody
else. The grade in the class is entirely predicated on the choices a student makes to do the best he or she can and
not on an absolute standard of seeming excellence determined by a societal norm.
Alford's Expectations (Classroom Rules)
1. Be in your assigned seat and prepared to work when the bell rings.
2. Show respect at all times.
3. Be on task—always.
4. Raise your hand to speak unless otherwise directed.
5. Please keep dear Mr. Alford happy!
Consequences
If a student chooses to break a rule, he/she will receive the following consequences:
•a reprimand and a warning;
•a seating reassignment in order to transcribe the rules and/or behavior sentences;
•a twenty-minute after-school detention with the teacher;
•student sent to AP with completed referral and parent contact made;
Rewards:
Lavish, verbal praise
Occasional positive notes and calls home
Opportunities for the class to earn Preferred Activity Time
Major Essays, Readings, and Projects
Unit 1: Ethos, Pathos, and Logos
Unit 2: Harlem Renaissance Poems
Unit 3: The Scarlet Letter and Corresponding Informational Text
Unit 4: Research (Argument/Editorial)
Unit 5: Julius Caesar (Reflective Essay)
Unit 6: Story Analysis
Materials Recommended for Everyday Success
• A four-section spiral notebook with at least 280 pages
• Binder with binder paper
• Two pens (blue or black only) All assignments are to be completed in pen unless otherwise instructed by the
teacher.
Grades
Grades are a combination of class work, notebook, class participation, assessments, and homework.
A 100-90%
B 89-80%
C 79-70%
D 69-60%
F 59-0%
The following percentage points determine your semester grades:
1st Quarter 40%
2nd Quarter 40%
1st Semester Final 20%
3rd Quarter 40%
4th Quarter 40%
2nd Semester Final 20%
All work is expected on the assigned due date at the beginning of the period. Students will be expected to keep
notes in a four-section spiral notebook. THESE ARE "FOREVER NOTES" AND SHOULD NOT BE
DISCARDED. Notes taken in class on binder paper are acceptable as long as they are then "cut and pasted"
neatly into the correct location with the proper date in the spiral notebook by the time the notebook is checked
or collected. These notes are not only a major part of your grade they are a key to your success in this
class. Guard them wisely.
Homework is designed to reinforce student learning to meet the district standards as noted in the Board
Policy 6154 in your Student Handbook.
Academic Dishonesty
Our class follows the Tracy Unified School District policy on academic dishonesty. Please refer to your
John C. Kimball High School Student Handbook for details. Suffice it to say, the first instance of academic
dishonesty results in a grade of zero for that particular assignment and the severity of the consequence increases
exponentially with each repeating occurrence.
Late Work Policy:
Homework and class work will not be accepted late unless the student has an excused absence or
suspension. Projects will be docked 20% for each day late.
Work Missed Due to an Excused Absence:
It is the student's responsibility to gather the missed material on the first day they return to class. Check
the class binder on the countertop at the back of the classroom. In the binder you will see the work listed by
date. Next to the class binder is a box containing folders of necessary classroom handouts. The student may
need to copy lecture notes from a classmate. You will have the same number of days to complete the work as
you were absent. Any work assigned and/or announced before your absence is due the day you return. If you
need to make up a test, I will give you a day and time to make it up. You must make up the test on that day. If
the test is not made up, the grade becomes a zero.
Work Missed Due to an Un-excused Absence
Work will not be accepted with an unexcused absence.
Work Missed Due to a Suspension
The student may make up missed work during suspension at the discretion of the teacher.
Cell Phone Use in Mr. Alford's Class
Refer to the Tracy USD policy regarding use of cell phones on campus. In my class, cell phones are to remain
in backpacks at all times unless otherwise directed by the teacher.
Tardies
1. A tardy is defined as arrival to class after the tardy bell rings and up to 29 minutes into the
instructional period. Students must be in their seats when the tardy bell rings. Arrival to class 30 minutes
or later will constitute a truant.
TARDY
1-4
CONSEQUENCE(S)
Teacher consequence…teacher records the
tardy in the roll book and AERIES; notifies
student; includes tardy #. Students who do
not fulfill teacher consequence may be
teacher suspended.
*Teacher consequence can include verbal warning, teacher detention, natural consequences
on grade, seat change, extra assignments, conference, and others as approved by site
administration.
5
Administrative detention—30 minutes and
parent notified by teacher
6
In-House suspension; Student placed on
DART contract. Parents contacted by AP.
7
Home suspension. Parent contacted by AP.
8+
Home suspension. Parent contacted by AP.
Textbooks
Students are issued The Holt Anthology of Literature and novels for which they will be
accountable.
Teacher's Assistant Expectations
T.A.'s are expected to complete tasks as assigned by the teacher. Please bring work with you
from another class to complete when you are finished with your duties as assigned.
Final Thoughts
This class is not about grades, but about learning. I also want students to have the experience of
college-level learning, something many high school students do not have available to them.
College-level learning is not, primarily, so much about rigor, but about responsibility and
acceptance of one's self as a more mature student, reading and thinking about and writing more
mature texts. The difficulty of the texts is a stimulus for students to make their own decisions
about published authors, about themselves as a writer, about their colleagues as writers, about the
deep and ongoing questions that relate to what it means to be a responding, acting human being
both individually and as part of society. I intend the course to be stimulating and demanding, one
in which a student will grow in relation to who he or she is. True learning, I believe, comes
from self-demand, rather than our society's expectations. School is the last stronghold in
this regard, a place where experimentation occurs for its own sake, where ideas are
generated to be considered and examined for their own sake and not because there is a
bottom-line expectation of so many widgets made, in a certain amount of time, for a certain
"production" quota. Learning remains an organic process, and interactive; it is not predicated
on filling students with information, as though they were empty vessels.
Dear Parent or Guardian:
I look forward to a positive and successful academic year with your child. Please read the course
syllabus so you are aware of the course content and my expectations. Have your student return
this signed letter to me by Friday, August 21, 2015. If you have any questions or concerns,
please feel free to contact me at the address or phone number stated above. Please sign to
indicate that you have read the attached syllabus with your student and are both aware of the
course requirements. Thank you for your help. I look forward to meeting you.
Sincerely,
Mr. H. Alford
English Teacher
John C. Kimball High School
We have read Mr. Alford's syllabus and are aware of the course requirements.
Student name: ______________________________________Please Print
Student Signature: ______________________________________
Parent/Guardian Name: ______________________________________Please Print
Parent/Guardian Signature ______________________________________
Work Phone: ______________________________________
Home Phone: _____________________________________
E-mail address: ____________________________________
Please mark appropriate response.
_____Please feel free to contact me at work.
_____Please only contact me at home.
_____I prefer to be contacted by e-mail.
Please have your student return this signed letter to me by Friday, August 21, 2015.
Estimado padre o guarda:
Miro adelante a un curso académico positivo y acertado con su niño. Lea por favor el programa
atado del curso de modo que usted sea consciente del contenido de curso y de mis expectativas.
Tenga su estudiante volverme esta letra firmada antes del 21 de Agosto de 2015. Si usted tiene
algunas preguntas o preocupaciones, sienta por favor libre de entrarme en contacto con en la
dirección o el número de teléfono indicado arriba. Firme por favor para indicar que usted ha
leído el programa atado con su estudiante y es ambo consciente de los requisitos del curso.
Gracias por su ayuda. Miro adelante a encontrarle.
Sinceramente,
Sr. H. Alford
Profesor de Inglés High School Secundaria de Juan C. Kimball
Hemos leído a Sr. Alford' el programa de s y es consciente de los requisitos del curso.
Nombre del estudiante: Impresión del ______________________________________
Por favor firma del estudiante: ____________________________________
Nombre del padre/del guarda Impresión del ______________________________________
Por favor firma del padre/del guarda ____________________________________
Teléfono del trabajo: ____________________________________
Teléfono casero: ___________________________________
Email address: __________________________________
Marque por favor la respuesta apropiada. El _____
Por favor siente libre de entrarme en contacto con en el trabajo. El _____
Por favor me entra en contacto con solamente en el país. El _____
I prefiere ser entrado en contacto con por el email. El_______
Tenga por favor su estudiante volverme esta letra firmada antes del 21 de Agosto de 2015.