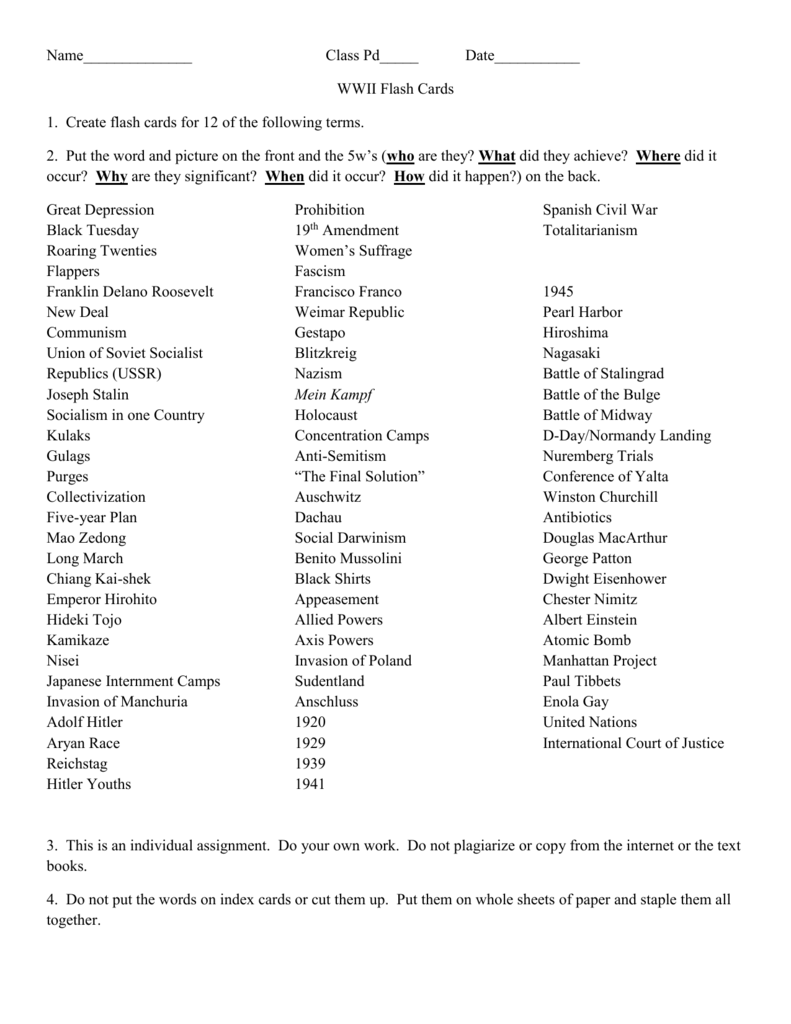 Name______________
Class Pd_____
Date___________
WWII Flash Cards
1. Create flash cards for 12 of the following terms.
2. Put the word and picture on the front and the 5w's (who are they? What did they achieve? Where did it
occur? Why are they significant? When did it occur? How did it happen?) on the back.
Great Depression
Black Tuesday
Roaring Twenties
Flappers
Franklin Delano Roosevelt
New Deal
Communism
Union of Soviet Socialist
Republics (USSR)
Joseph Stalin
Socialism in one Country
Kulaks
Gulags
Purges
Collectivization
Five-year Plan
Mao Zedong
Long March
Chiang Kai-shek
Emperor Hirohito
Hideki Tojo
Kamikaze
Nisei
Japanese Internment Camps
Invasion of Manchuria
Adolf Hitler
Aryan Race
Reichstag
Hitler Youths
Prohibition
19th Amendment
Women's Suffrage
Fascism
Francisco Franco
Weimar Republic
Gestapo
Blitzkreig
Nazism
Mein Kampf
Holocaust
Concentration Camps
Anti-Semitism
"The Final Solution"
Auschwitz
Dachau
Social Darwinism
Benito Mussolini
Black Shirts
Appeasement
Allied Powers
Axis Powers
Invasion of Poland
Sudentland
Anschluss
1920
1929
1939
1941
Spanish Civil War
Totalitarianism
1945
Pearl Harbor
Hiroshima
Nagasaki
Battle of Stalingrad
Battle of the Bulge
Battle of Midway
D-Day/Normandy Landing
Nuremberg Trials
Conference of Yalta
Winston Churchill
Antibiotics
Douglas MacArthur
George Patton
Dwight Eisenhower
Chester Nimitz
Albert Einstein
Atomic Bomb
Manhattan Project
Paul Tibbets
Enola Gay
United Nations
International Court of Justice
3. This is an individual assignment. Do your own work. Do not plagiarize or copy from the internet or the text
books.
4. Do not put the words on index cards or cut them up. Put them on whole sheets of paper and staple them all
together.