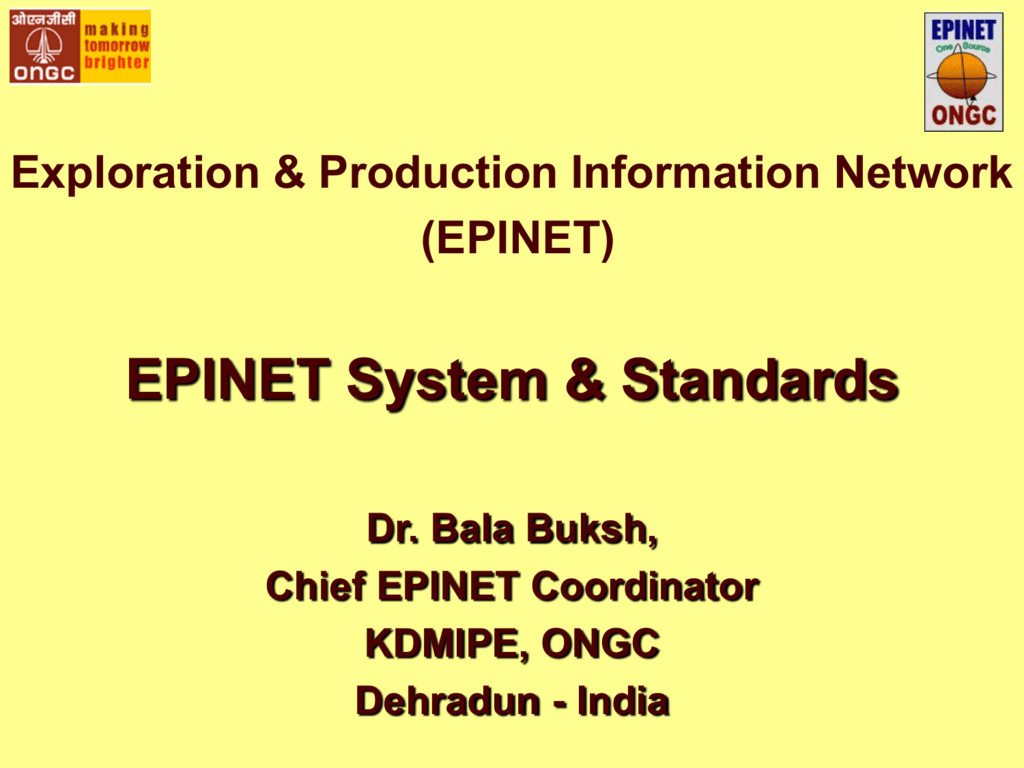 Exploration & Production Information Network
(EPINET)
EPINET System & Standards
Dr. Bala Buksh,
Chief EPINET Coordinator
KDMIPE, ONGC
Dehradun - India
AGENDA
– The EPINET System
– Adoption of Standards
– Association with Energistics
– Road Ahead
Why EPINET
 For any Oil Company E&P data is asset, it
needs to be preserved for entire life cycle
and this life cycle in case of Oil Industry is
more than 50 years.
 It takes lot of time for data searching.
 Data degradation threat is also
major
concern when time passes.
 Requirement
of interpretations & reinterpretations with new tools on old and
new data sets to reduce risk factor.
EPINET Objective
Compliance of
industry standards
& best practices
Single validated
E & P data base
throughout ONGC
EPINET
OBJECTIVE
Flow of analytical
& interpretation
Data to EPINET
Web based reporting
and current E&P data
flow into EPINET
Quick and quality
data access to users
EPINET- Salient Features
 Client-Server computing environment
 User friendly database application
Software
 Extensive GUI capabilities
 Fast data communication Network
 Concurrent data accessibility
 Multilevel data security
EPINET Data Classes
• Geology
• Seismic
• Well Log
• Reservoir
• Laboratory
• Lease
• Drilling
• Production
• Physical Assets
– Geoscientific Reports, Seismic
sections, Log films, Cores,
Fluid samples etc
EPINET Scenario
Forms / Reports
Direct PC Access
SmartMap
GIS
Finder
E&P Master
on-line
Web
Application
LogDB
SeisDB
AssetDB
Other
Log
Seismic
Physical
Archival
Archival
Assets
databases
EPINET WORK FLOW
INSTITUTES/RGL
ASSET/BASIN
Forward Base
- Well Data
- Reservoir Data
- Production Data
- Cultural Data
- ML Data
- Geology Lab.
- Reservoir Lab.
- Geochemistry Lab.
ASSET/
Forward Base
Server
SERVICES
BASIN
-
Bid Monitoring Data
Lease Data
Interpreted Data (Basin)
Interpreted Data ( Instt.)
RGL
- Well
- Drilling
BASIN
Server
Post Stack
2D&3D
Original Logs
Corporate
Server
- Logging
- Geophysical
Replica Server
E&D Dte
Current Status
•
The
state-of-the-art
technology
available at all sites of ONGC.
•
The system flow functionalities has been
implemented.
•
All E&P data available since inception
electronically and in hard copy has been
loaded into the system.
•
The current data capturing mechanism
has been established.
is
Gains & Benefits
Common E&P Data Model throughout ONGC.
Time saving in interpretation projects
Improved integrated interpretation
Reduced exploration risk & cost
Faster & focussed decision making
Avoidance of data degradation
Intellectual gains in terms of
data management skills
Geology
As per recommendations of Task force,
Stratigraphy nomenclature in WCR is loaded under
a single unified scope as 'Scope-0'
WCR version be maintained as Scope=0, while the
standardized version of 1993
be created as
Scope=1, Further, any additional version (s)
generated could be maintained as Version-2
and
Well Type
so on.
Defining UWI structure.
Well Symbols.
1
Drilled Exploratory
2
Drilled Development
3
Proposed Locations
4
Released Locations
5
Under Drilling
6
Under Testing
Well log
• All Mnemonics as numbers have been
standardized in line with standards prevailing in
the Industry
• A utility has been developed for loading
RUSSIAN data which takes care of adding
standard UWI, well name, field etc.
• Task Force has also given guidelines for loading
standard log curves in Finder as merged logs i.e.
Resistivity logs, Density logs, Neutron Logs,
Sonic Logs, SP logs, Caliper logs, GR logs.
Seismic
• Task Force has given recommendations to
adopt standards while loading seismic data
for onshore and offshore. This includes:
–Survey Name
– Line Name
• SEGY Headers (2D & 3D)
–EBCDIC
–Binary
–Trace Header
Laboratory
• A wide range of Lab data management
activity implemented in EPINET System
pertaining to Geology, Geochemistry and
Reservoir. For example:
–
–
–
–
CHROMOTOGRAPHY_ANALYSIS
CUMULATIVE_RECOVERY_STUDY
GAS_ANALYSIS
DIFFERENTIAL_LIBERATION etc.
• The customization has been carried out as
per work flow requirement in ONGC.
Other Data
• Scope has been created in the data model for
EOR, CBM and Gravity Magnetic.
• ONGC initiated drilling activity codes
smoothen the data work flow during drilling.
to
• Taking into consideration of the IADC codes,
codification has been carried out to avoid
ambiguity for similar kind of operations during
different stages of drilling life cycle e.g. Rig
Movement: during Rig Building, during Work-over
& during lateral drilling etc.
Interface with SCADA
•
Daily basis data from Common Data
Server (CDS) of SCADA at Assets and
Forward Bases will be made available
from Oracle Database to Excel sheets as
per EPINET formats.
•
Excel data will be loaded on daily basis to
the Finder (EPINET) database using
spread-sheet loaders which will be
atomized through PC based gateway
interface.
Association with Energistics
•
Review
of
EPINET
Phase-I
achievements and work study for
implementation of Phase-II were carried
out by POSC/Energistics as consultant.
•
Energistics Director visited Corporate
EPINET Data mangement Centre in Jan
2003 and Sep 2004 and interacted with
ONGC
teams
on
E&P
data
management standardization issues.
Association with Energistics
contd.
• Energistics has provided reviews from
time to time on EPINET project.
•
ONGC and Energistics have jointly
presented papers and participated in
various E&P Conferences and Seminars.
•
ONGC-Energistics technical programs
organized during SPG-2004, SPG-2006
and during IORS-2004 in India.
Association with Energistics
contd.
•
ONGC got opportunity to interact with
international oil community by participating
in Energistics annual work program during
POSC/Energistics conferences. Such as:
– Board member meetings at Houston & Paris.
– Participation of teams of executives in various
SIG Meetings in Houston, London and
Aberdeen.
Standardization Initiatives
• To get the benefits of standardization
through SIGs, it is proposed to constitute
SIG teams on;
– Geology SIG,
– Drilling WITSML SIG,
– Production PRODML SIG,
– Data Management SIG.
• The four SIGs will have the members from
different domain executives of ONGC for
participation & interaction of SIG activities
and its implementation in ONGC.
Areas to Focus
• The work carried out by ONGC should be
considered towards standardization with
need base modifications.
• Wide range of customization has been
carried out as per multi-disciplinary work
flow requirement for various data classes.
This needs to be regularized to avail the
benefits of implementation of higher
versions/upgrades etc. from vendors.
Areas to Focus
contd.
• The standards entities attributes for
EOR, Coal Bed Methane (CBM) and
Gravity Magnetic scope need to be
defined in the data model in line of
ONGC.
• Lead should be taken by Energistics for
Implementation of data mining tools to
get early return on investment.