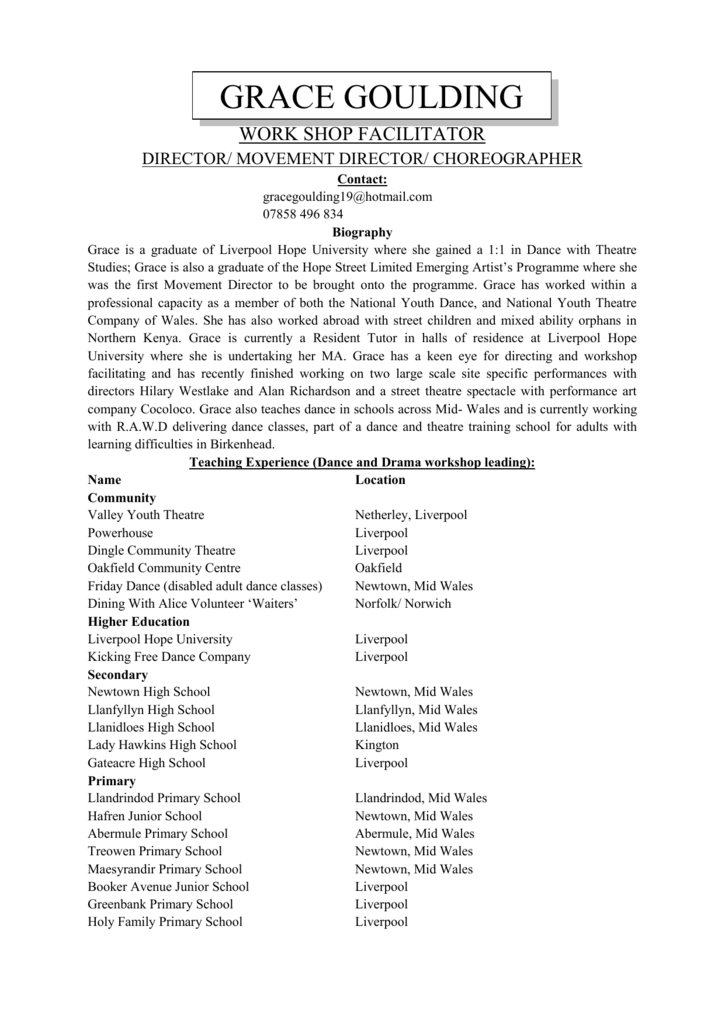 GRACE GOULDING
WORK SHOP FACILITATOR
DIRECTOR/ MOVEMENT DIRECTOR/ CHOREOGRAPHER
Contact:
[email protected]
07858 496 834
Biography
Grace is a graduate of Liverpool Hope University where she gained a 1:1 in Dance with Theatre
Studies; Grace is also a graduate of the Hope Street Limited Emerging Artist's Programme where she
was the first Movement Director to be brought onto the programme. Grace has worked within a
professional capacity as a member of both the National Youth Dance, and National Youth Theatre
Company of Wales. She has also worked abroad with street children and mixed ability orphans in
Northern Kenya. Grace is currently a Resident Tutor in halls of residence at Liverpool Hope
University where she is undertaking her MA. Grace has a keen eye for directing and workshop
facilitating and has recently finished working on two large scale site specific performances with
directors Hilary Westlake and Alan Richardson and a street theatre spectacle with performance art
company Cocoloco. Grace also teaches dance in schools across Mid- Wales and is currently working
with R.A.W.D delivering dance classes, part of a dance and theatre training school for adults with
learning difficulties in Birkenhead.
Teaching Experience (Dance and Drama workshop leading):
Name
Location
Community
Valley Youth Theatre
Netherley, Liverpool
Powerhouse
Liverpool
Dingle Community Theatre
Liverpool
Oakfield Community Centre
Oakfield
Friday Dance (disabled adult dance classes)
Newtown, Mid Wales
Dining With Alice Volunteer 'Waiters'
Norfolk/ Norwich
Higher Education
Liverpool Hope University
Liverpool
Kicking Free Dance Company
Liverpool
Secondary
Newtown High School
Newtown, Mid Wales
Llanfyllyn High School
Llanfyllyn, Mid Wales
Llanidloes High School
Llanidloes, Mid Wales
Lady Hawkins High School
Kington
Gateacre High School
Liverpool
Primary
Llandrindod Primary School
Llandrindod, Mid Wales
Hafren Junior School
Newtown, Mid Wales
Abermule Primary School
Abermule, Mid Wales
Treowen Primary School
Newtown, Mid Wales
Maesyrandir Primary School
Newtown, Mid Wales
Booker Avenue Junior School
Liverpool
Greenbank Primary School
Liverpool
Holy Family Primary School
Liverpool
Choreography:
Venue/ Location
Production
2011
Madison Dance
Hope Street Feast 2011, Liverpool
(For Free Radical Follies performance)
Alice Through the Winter Gardens
Production in Blackpool Winter Gardens
(All song and dance routines)
Napkin routine and the Recital
Elsing Hall, Norfolk/Norwich Festival
(For Dining with Alice performance)
Set Up
Capstone Theatre Foyer, Liverpool
CLOSE?
Capstone Theatre, Liverpool
2010
Bande Apart, Jive
Unity Theatre, Liverpool
(For Up Side Down, Wrong Way Around performance)
Opening Ceremony of Groe Gathering Festival
Rhayader Park
Reflections of Innocence
Liverpool Hope University, Contemporary
Urban Centre
I am a dancer
Liverpool Hope University
Synaesthesia
Liverpool Hope University
All That Jazz, Chicago
Liverpool Empire Theatre
Moss Side Story
Newtown High School
2009
Snow Queen Parade
Liverpool City Centre
Popcorn and Suitcases
Hope St. Suitcases, LIPA
2008
The Passion
Hope Community Church, Newtown
Open Evening dance ensemble
Newtown High School
2007
The Lion, the Witch and the Wardrobe
Hope Community Church, Newtown
2006
Warrior Dance
Newtown High School
2011
Movement Directing/ Assistant Directing/ Directing:
FREE RADICAL FOLLIES. Movement Direction and Assistant Direction.
The Hope Street Feast is the urban village fete of the Hope Street Quarter, full of
the music, dance, theatre, art and great food, drink, local produce and learning
that characterise Hope Street's special contribution to Liverpool life. 2011 was
the 6th Hope Street Feast entitled Free Radical Follies. Directed by Cocoloco:
Trevor Stuart and Helen Statman, assistant director, choreographer and director
from the 16th including the event on the 18th: Grace Goulding, costume
designer and maker: Veronica Kelly, production designer: Olivier Du Monceau.
Produced by Hope Street Limited.
ALICE THROUGH THE WINTER GARDENS. Movement Direction and
Assistant Direction.
Produced by Hope Street Limited. Hope Street Limited celebrated the glamorous
history of Blackpool's iconic building through this interactive production.
Weaving a collaboration of theatre, film, illusion, music, dance and design,
audiences travelled around the building to celebrate the film stars, musicians and
politicians experienced in Blackpool's Winter Gardens. A large scale site specific
promenade performance piece written and directed by Alan Richardson. The team
included myself as movement and assistant director, dramaturg: Therese Collins,
Composer, lyrics and Music Director: Patrick Dineen, Production Designer: Kathy
Sandys, Costume Designer and Maker: Mary Lamb, Sound Designer: Kal Ross,
Visual Media Designer: Mike White and Production Manager: Sandra Blue.
DINING WITH ALICE. Movement Direction and Assistant Direction.
Produced by Artichoke Trust, a large scale site- specific immersive theatre
performance at Elsing Hall, Dereham, as part of the Norfolk and Norwich
Festival 2011. Eight shows each with an audience of 256 enjoyed an al fresco
dinner hosted by characters from Alice in Wonderland ending with coffee and
petit fours on a pontoon on the moat to watch a recital performed by their
hosts. Texts by David Gale, music by Frank Millward, sound design by
Simon Corder, sound by John Del Nero and costumes by Katy McPhee.
DIE HOCHZEIT DES CAMACHO. Assistant Direction. The full length
staging of Felix Mendelssohn's opera collaborating with Royal Liverpool
Philharmonic Orchestra and young singers from the European Opera. Directed by
Ignacio Garcia, Conducted by Vasily Petrenko.
2010
LIVERPOOL LANTERN FESTIVAL 2010. Direction. A community based
Lantern Carnival in Liverpool promoting creativity, celebration and unity across
local communities involving carnival costume, processional puppets and large
scale processional imagery. I directed the groups from Hope Street situated as
vendors for the soul as the audience made their way into the performance area.
INNOVASION. Movement Direction and Assistant Direction. Produced by Hope
Street Limited. A Live Action Role Play performance with lead artist Hilary
Westlake around Liverpool as part of the Liverpool Biennial 2010.
UP SIDE DOWN, WRONG WAY AROUND. Movement Direction and Assistant
Direction. Collaboration with Performance Artists Cocoloco and the Unity Theatre
and produced by Hope Street Limited. A 'Film Noir' promenade performance
involving; installation, sound, music and vignette performances.
(P)ARTY POLITICAL. Movement Direction. Collaboration with Artistic Director
Montserrat Gili and digital media by Volksrekorders at the Tate in Liverpool,
produced by Hope Street Limited. Live art, film, performance, digital technology
and a live orchestra. My work included choreographing a movement piece in front
of the original painting of Picassos 'Charnel House' at the Tate Liverpool.
Training/ Background:
Graduated from Liverpool Hope University with a BA (Hons) Degree in: Dance with Theatre Studies.
Trained in dance and performance skills whilst in training over the duration of three years including
workshops by; Brian Desmond (Clowning, Jack Le Coq), Niamh Malone (Alexander technique),
Sarah Black (Limon technique, improvisation), Alan Danielson of the Limon Institute of New York
(Humphrey/Limon technique), Virginia Taylor (Cunningham technique), Tmesis Theatre Company
(physical theatre), Sue Lancaster (community dance workshop leading, Afro- Caribbean Jazz), Victor
Merriman (Documentary theatre, performance composition). Hope St Ltd: Trained as emerging
Movement Director as part of the Hope Street Limited emerging artists apprenticeship with
workshops including; Black and Blue (Introduction to aerial circus/ trapeze), Martin Ryan (Tai Chi),
Airborne Entertainment (Free Running). Grace has worked within a number of community
performances as writer, choreographer and director she also used these skills to produce and perform
a Theatre in Education piece performed in 2006. Grace is also a qualified community dance teacher
through the Laban Leaders Course.
Skills:
Grace has training, received throughout education, in; Stilt Walking, Stage Combat, Physical Theatre,
Clowning and majors in the dance genres of, Hip- Hop, Ballet, Lindy Hop Jazz and Contemporary
dance styles. Grace also has experience in set design, stage management, lighting and sound tech
work as well as teaching in schools and dance institutions across Liverpool and Mid- Wales and
Liverpool Hope University. Grace has basic knowledge of the Italian and Welsh language and also
holds a full clean UK Driving licence and a full enhanced CRB certificate.