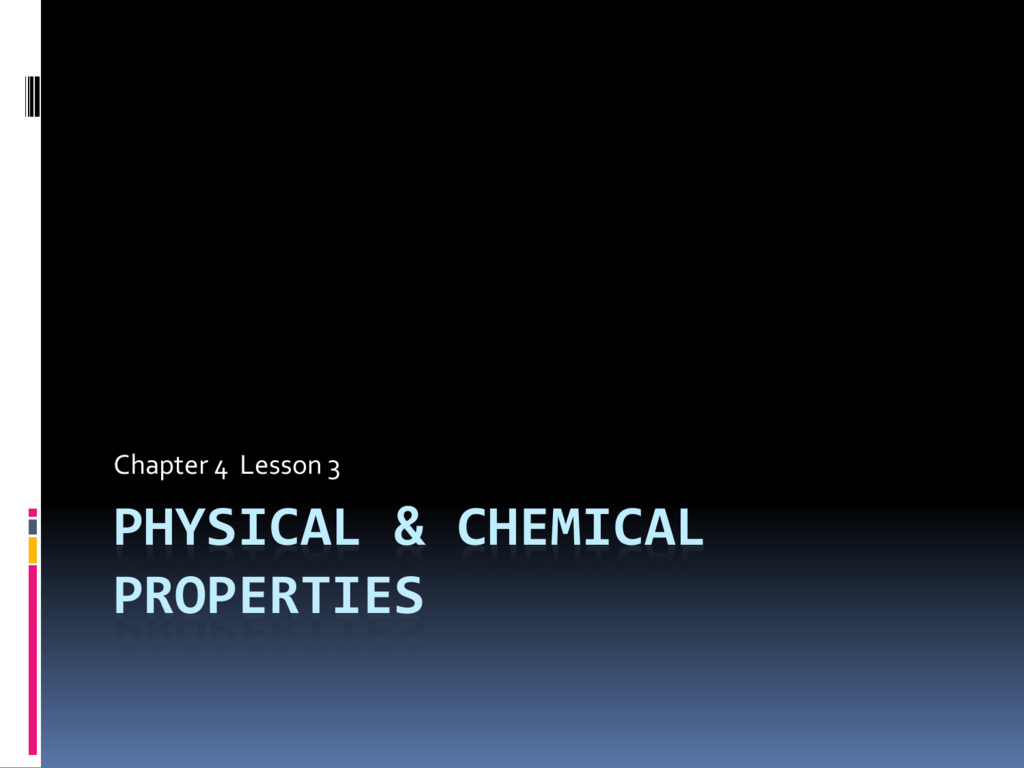 Chapter 4 Lesson 3
PHYSICAL & CHEMICAL
PROPERTIES
How do you describe physical properties?
 Color
 Shape
 Texture
 Luster
Density: tells how much matter is in a certain
space, or volume
Density Differences:
oil (floats on top)
water
syrup (has the greatest density of the 3)
Chemical Properties
What causes a chemical change?
reaction to air, heat, & water
Examples:
 Logs can burn.
 An egg can cook. (heat)
 Iron can rust.
Chapter 4
STUDY GUIDE
1. Anything that has mass and takes up
space is called matter.
2. The smallest particle part of any
element is an atom.
3. Two or more atoms make a molecule.
4. The 3 states of matter are: solid,
liquid, and gas.
5. Solid molecules have a definite shape,
are tightly packed, and a fixed size.
6. Liquid molecules do not have a definite
shape, they take the shape of their
container, and slide past each other;
they do have a fixed size.
7. Gas molecules move rapidly, and do
not have a fixed size.
8.
The amount of space that matter takes up is
volume.
9.
To measure liquid volume, use a graduated
cylinder or beaker.
10. To measure a solid block, use the formula:
l x w x h.
11. To measure a solid odd shape (rock), place
the rock in water in a graduated cylinder,
then place the rock in, and subtract the
water.
12.The amount of matter in an object is its
mass.
13. A tool to measure mass is a balance.
14. The measure of the pull of gravity on an
object is its weight.
15.Name as many physical properties as you
can think of:
color
texture
magnetism
mass
weight
volume
odor
density
taste
16.Name as many chemical properties as you
can think of:
temperature
ability to tarnish
ability to burn
ability to rust
17. How much matter is in a given space is
called density (aka thickness).
18. To measure density, you must know is
mass and volume.