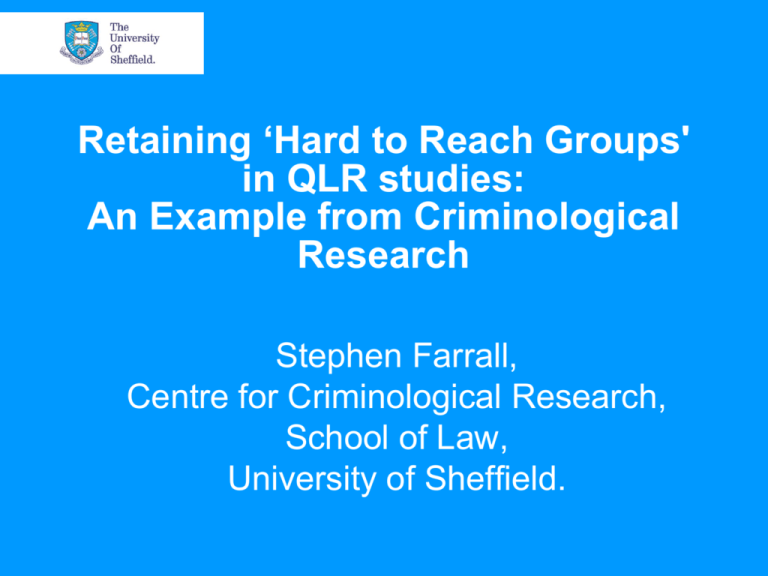 Retaining 'Hard to Reach Groups'
in QLR studies:
An Example from Criminological
Research
Stephen Farrall,
Centre for Criminological Research,
School of Law,
University of Sheffield.
An Outline of My Talk
• Introduce the project
• Outline what we did to re-trace sample
members
• Summary 'what worked' (and why it
worked)
• Provide some pointers for others
Tracking Progress On/After Probation
• 199 probationers (aged 17-35) Aut '97-Spr
'98.
• They and their POs interviewed at the start of
their orders, six months later and at end of
order (1997-1999). [Sweeps 1-3].
• 4th sweep (1/4 sample) (2003-04). N = 51.
• 5th sweep (2010-2012). N = 104.
• 5th sweep = Mar 2010 – Jan 2013 (34mths).
Fieldwork Outcomes
Interviewed
Agreed but missed appointment
N
%
104
52
3
2
Refused Interview
6
'Silent' refusal (found but didn't reply)
7
4
Felt they had little to add (stopped before swp4)
7
4
Left UK
3
2
Know to have died
7
4
Suspected to have died
2
1
Found in CJS since 2008
15
8
Contacts refused to help
2
1
Decided not to interview
1
1
Unfit to be interviewed (psychiatric inpatient)
Untracable
TOTAL
2
1
40
20
199
100
3
How We Retraced People
• Contact details from earlier fieldwork, (own,
friends and relatives' addresses, phones etc)
• Current probation caseload records
• Current prison inmate records
• Local phone/electoral rolls (www.192.com);
• Local newspapers
• Facebook
• Online BMD records (www.findmypast.co.uk).
Activities Undertaken
N
No efforts made (known to be dead)
%
4
-
Phone calls
121
10
Letters sent/left
114
9
Visits to last known home
124
10
Facebook message
54
4
192ed
189
15
BTed
66
5
BMDed
65
5
Contacted friends/family
122
10
Ministry of Justice search (probation/prison)
200
16
Probation area search
194
15
Offered more money
20
2
TOTAL
1275
Average = just over 12 activities for completed interview.
100
Outcomes of Interest
• 'Located' (know 'where' they are, but not
spoken to) [n = 154, 77% of total sample]
• 'Contacted' (communicated with in some
way) [n = 122, 61% of total sample, 64%
of available sample]
• 'Interviewed' [n = 104, 52% of total
sample, 81% of sample with meaningful
contact]
Activities Undertaken and Outcomes (Summarised)
Located
Contacted
Interviewed
Phone calls
√
√
√
Letters sent/left
√
√
√
Visits to last known home
X
X
X
BTed
X
X
X
BMDed
X
X
X
√
√
Facebook message
192ed
Contacted friends/family
Ministry of Justice search
(p = .053)
Probation area search
Offered more money
Based on 33 2x2 crosstabulation tables.
Only stat. sig. resulted reported (so blanks = not stat. sig.)
√ = positive association, X = negative.
X
Phoning/writing to people …
• Worked in terms of LOCATING,
CONTACTING and INTERVIEWING!
• So previous sweeps of data were a useful
source of information.
• Best way of getting back in touch with
people.
• Letters (even if NOT replied) still prepared
people for a visit.
Contacting people's friends …
• Did not work in terms of LOCATING people!
• Possibly due to 'Princess and Frog'
phenomenon? (Gotta kiss a lot of frogs to
find your Prince!)
• Worked in terms of CONTACTING or
INTERVIEWING people.
• Gave us new leads/ideas about when best
to approach.
Visiting people's homes …
• Did not work (at all)!
• But often used if phones/letters had gone
unanswered, so partly used to confirm that
the lead was a 'cold' one.
Probation/prison searches…
• Did not work (at all – but CONTACTING
close to stat. sig.)!
• ALL cases searched. Records incomplete.
• Aliases an issue (199 people = 213 known
names, but where there more?)?
• Often prison sentences were short; still in
CJS = anti-social? Data suggest this was
the case, contacted but refused interview.
Facebook messaging people…
• Did not work (at all)!
• Our sample aged 29-47 around this time.
Slightly wrong demographic perhaps?
192/BT/BMD searches…
• Did not work (at all)!
• Used as a last resort in many cases.
• BMD did however help us identify/confirm
some of the deaths amongst sample
members (so saved us some time looking
for people we'd never find!).
• 192 = the precursor to other activities.
Offering more case…
• Did not work (at all)!
• All offered £20.
• Some offered more as a further incentive.
Subjective Assessments
• We also recorded the activities which we
felt had been the 'break throughs' in
locating a person.
• These matched closely the quantitative
analyses.
Advice
• Contact Sheets key to re-tracing. Friends?
Family? Sisters? Grandparents?
• Undertake 'cold case' reviews; revisit cases'
leads several times.
• Avoid time limits to finding people.
• Re-tracer = interviewer (for rapport).
• Professional and team approaches allay
fears.
Advice
• Even 'unfruitful' approaches work for some.
• In fact, more idiosyncratic cases needed
unconventional approaches.
• Persistence works!
Things to be Aware of …
• Bifurcation into two types of easy to find
cases ('non-criminal' and 'criminal).
• What about 'middle' group?
• No two studies are a like, so adapt this to
your needs, remain flexible.