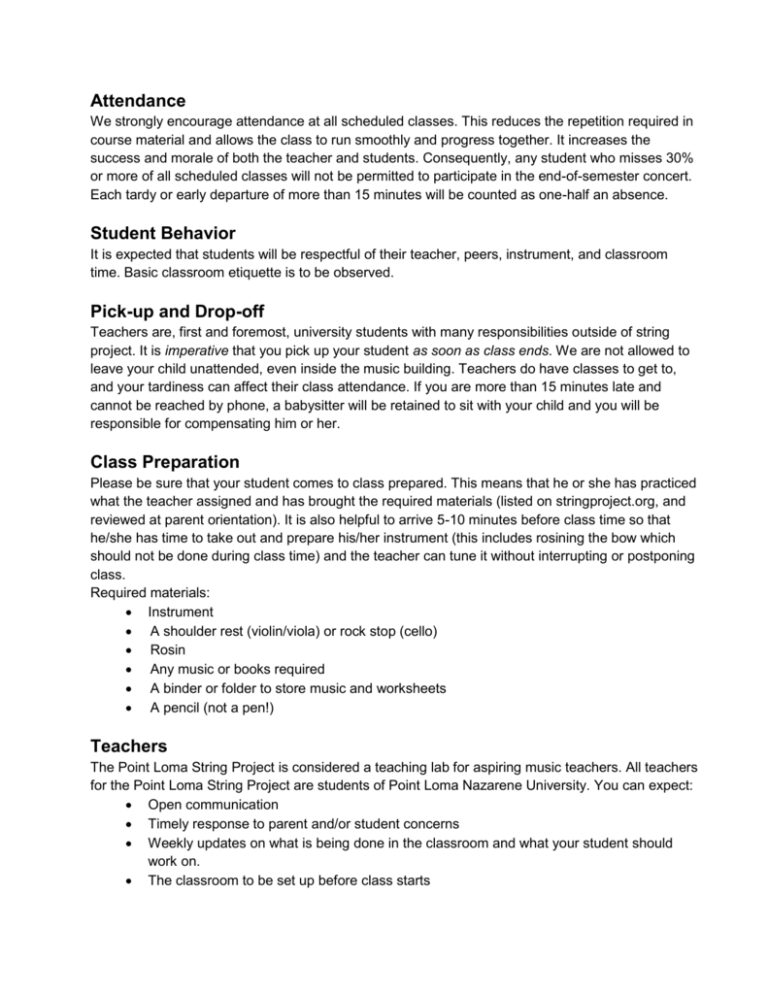 Attendance
We strongly encourage attendance at all scheduled classes. This reduces the repetition required in
course material and allows the class to run smoothly and progress together. It increases the
success and morale of both the teacher and students. Consequently, any student who misses 30%
or more of all scheduled classes will not be permitted to participate in the end-of-semester concert.
Each tardy or early departure of more than 15 minutes will be counted as one-half an absence.
Student Behavior
It is expected that students will be respectful of their teacher, peers, instrument, and classroom
time. Basic classroom etiquette is to be observed.
Pick-up and Drop-off
Teachers are, first and foremost, university students with many responsibilities outside of string
project. It is imperative that you pick up your student as soon as class ends. We are not allowed to
leave your child unattended, even inside the music building. Teachers do have classes to get to,
and your tardiness can affect their class attendance. If you are more than 15 minutes late and
cannot be reached by phone, a babysitter will be retained to sit with your child and you will be
responsible for compensating him or her.
Class Preparation
Please be sure that your student comes to class prepared. This means that he or she has practiced
what the teacher assigned and has brought the required materials (listed on stringproject.org, and
reviewed at parent orientation). It is also helpful to arrive 5-10 minutes before class time so that
he/she has time to take out and prepare his/her instrument (this includes rosining the bow which
should not be done during class time) and the teacher can tune it without interrupting or postponing
class.
Required materials:
 Instrument
 A shoulder rest (violin/viola) or rock stop (cello)
 Rosin
 Any music or books required
 A binder or folder to store music and worksheets
 A pencil (not a pen!)
Teachers
The Point Loma String Project is considered a teaching lab for aspiring music teachers. All teachers
for the Point Loma String Project are students of Point Loma Nazarene University. You can expect:
 Open communication
 Timely response to parent and/or student concerns
 Weekly updates on what is being done in the classroom and what your student should
work on.
 The classroom to be set up before class starts


Beginning and ending class on time
A scheduled weekly time of at least 20 minutes (either before or after class) in which the
teacher will be available for parent and/or student conference. (Teachers frequently have
classes and other academic commitments before and after the String Project classes, so
please respect their time by limiting discussions outside of their regularly scheduled
weekly time, or contact your teacher to schedule another meeting time)
Student Probation
There are two types of probation: Each beginning student begins on probation, just to see if things
are going to work out. Probation also may be implemented for any student if problems emerge as
we progress through the school year. Reasons a student may be put on probation include but are
not limited to:
 On-going disruptive or disrespectful behavior
 If the student is too young, or not mature enough for the class (this type of probation will
generally take place during the first three weeks of the first semester and can be instituted
at either the parent's or teacher's request)
Regardless of how it began. student probation is a three-week-long (or 6 classes long) period
during which the teacher, program director, and parent decide together whether the student should
continue in the String Project program for the current school year. During those three weeks, a
parent must attend classes with the student. After 3 weeks (or 6 classes), a meeting will be
scheduled with the program director, the student's teacher, and the parent who has sat in on the
student's classes to decide whether or not the child will continue in the program for the current
school year. The student may not be present at this meeting.
Refunds
Policy for refunds is as follows:
 Full refunds may be available for first 3 weeks of lessons, especially for students who have
begun string project on a probationary basis.
 Half refunds requests will be considered on a case-by-case basis until January 25th, 2016.
 There will be no refunds issued after January 25th, 2016.
You are not eligible for a refund if:
 You or your student choose not to continue in the program sometime after the first three
weeks of classes
 Your student is removed from the program after being placed on probation for behavioral
reasons
 You or your student is in violation of program policy
All refunds will be handled on a case-by-case basis by the program director. To request a refund
please email pointlomastringproject@gmail.com.