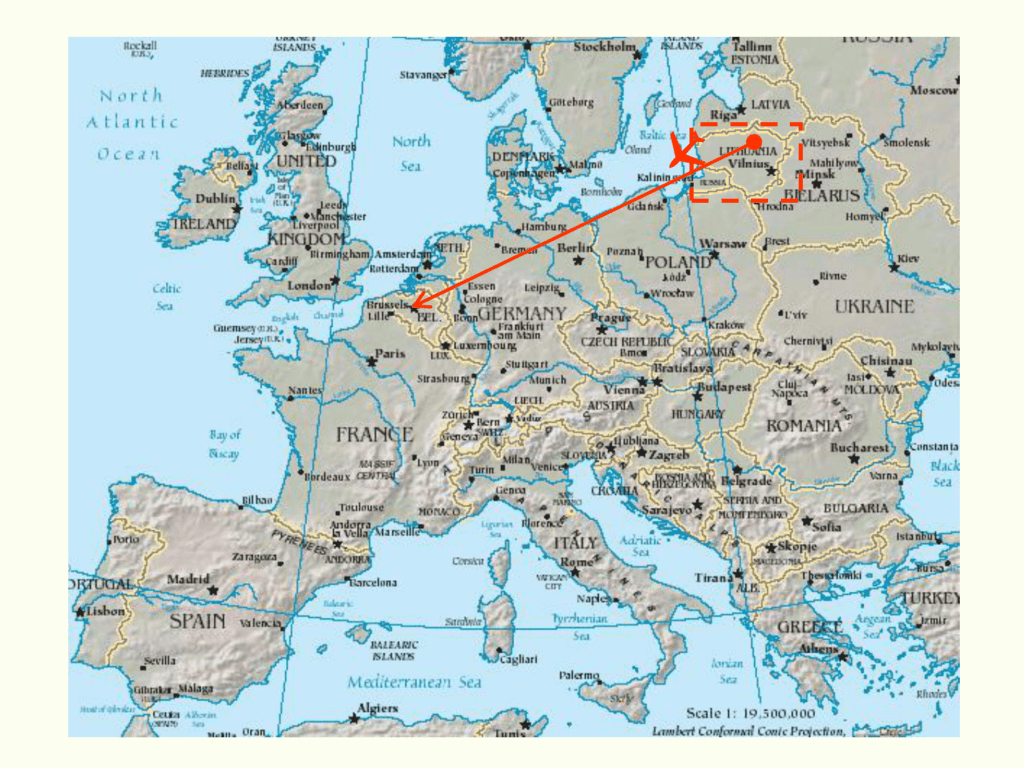 LITHUANIA
Area:
65,300 sq.km
Population:
3,707,200
Population
density:
56.8 per Sq. km.
Lithuania
Borders, neighbours
• The total length of the inland borders is 1,609 km,
• Coastline 99 km.
• Neighbours: Latvia ,Belarus, Poland and
Kaliningrad region of the Russian Federation.
• From east to west the country is 373 km, and
from south to north 276 km.
Landscape
Lithuania
•There are no mountains in
Lithuania, just uplands and
lowland plains.
•There are over 4000 lakes
and 722 rivers.
Capital
Lithuania
Vilnius
Lithuania
Largest cities by population
Siauliai
(147,000)
Panevezys
(133,300)
Klaipeda
(203,300)
Kaunas
(418,700)
Vilnius
580,100
Lithuania
Climate
Transitional, between maritime and continental.
Average temperatures: yearly 6.7°C; January 4.9°C; July 17°C;
It can be as high as +30°C in summer and as
low as -32°C in winter.
Humidity: 78%. Any season, don't forget your
umbrella.
Lithuania
Flag
The state flag was created in 1918. The
colours of the flag symbolise: yellow - the
sun, light and prosperity; green - the
Lithuanian landscape, hope and joy; red - the
colour of the earth, life and blood. It
symbolises the nation's courage in the
struggle for freedom.
State Emblem
The Lithuanian knight, called Vytis, is one of
the oldest state emblems in Europe. It dates
back to 1366.
Lithuania
Government Parliamentary republic
The Seimas
(Parliament) is the highest body of state power. The
Government is composed of the Prime Minister and 14
ministers.
Lithuania
President
of Lithuania
Valdas Adamkus was elected
President of the Republic of
Lithuania.
Ethnic composition
Lithuania
Lihuanian
8,2%
Russian
Polish
6,9%
Belarusian
1,5%
2,1%
81,3%
Others
Ethnic variations
Lithuania
Zemaitija
Aukstaitija
Dzukija
Suvalkija
Lithuania
Lithuania
SAMOGITIAN TRADITIONAL
FOODS
SOUR CREAM BUTTER
HERRING ONION SOUP
BACON BUNS
Lithuania
SAMOGITIAN TRADITIONAL
FOODS
•
•
•
•
BLACK RYE BREAD
CURD CHEESE
FLAX SEED SALT
BREAD DRINK
Lithuania
Stuffed potato dumplings
(CEPELINAI [tsepelinai])
Lithuania
Money
Litas is the national money. The current
exchange rate is 1EUR = 3,45 LTL.
Lithuania
LITHUANIAN GOLD - AMBER
It may be called Baltic
gold, but it isn't always
yellow. It can also be
brown, white, blue or
black. Sometimes it has
dead bugs inside. It may
be up to 50 million years
old. It is mined on the
Baltic coast and can also
be washed up on the
beach after a storm.
Lithuania
Language
Lithuanian is an archaic language. Of all the living
Indo-European languages, Lithuanian is the most
similar to Sanskrit. The 32-letter Lithuanian
alphabet is Latin based.
Some vital items of vocabulary:
no = ne;
thank you = aciu;
excuse me = atsiprasau;
please = prasom;
hello = labas;
yes = taip;
goodbye = viso.
love = myliu;
bread = duona;
Lithuania
Palanga
Klaipeda
Kaunas
Palanga
Trakai
Siauliai
Nemunas
Nida
Gintaro muziejus
TELSIAI COUNTY
and
ZEMAITIJA COLLEGE
IN RIETAVAS
Telsiai County is located in the northwest of Lithuania and covers
the Northern part of Zemaitija (Samogitia) ethnographic region. The
county has border on Latvia.
Mazeikiai
Telsiai
Klaipeda
Siauliai
Rietavas
Panevezys
Kaunas
Vilnius
Telsiai County consists of Mazeikiai, Plunge,
Telsiai, districts' municipalities and Rietavas
municipality.
Mazeikiai
Telsiai
Klaipeda
Rietavas
Siauliai
SHORT DESCRIPTION ABOUT TELSIAI
COUNTY (1)
•Telsiai County area – 4350 sq.km;
•Population – 179885 (85275 men and 94610
women);
•Telsiai is the administrative center of Telsiai
County;
•Telsiai – the capital of Zemaitija (Samogitia)
and the Bishopric center;
SHORT DESCRIPTION
ABOUT TELSIAI COUNTY (2)
• From the County center Telsiai to the
Lithuanian capital Vilnius – 285 km;
• From Telsiai to Palanga international airport
– 82 km;
• From County center to Klaipeda seaport –
80 km;
• Distances from Rietavas are 20km shorter.
SHORT DESCRIPTION
ABOUT TELSIAI COUNTY (3)
The main spheres
of economic
activities:
• Industry (milk
processing, oil
processing)
• Service
• Agriculture
(breeding,
growing of
cultivated plants)
SHORT DESCRIPTION
ABOUT TELSIAI COUNTY (4)
• Telsiai County has a
seminary, a branch of art
academy and 2 colleges
where study over 2000
students;
• There are 6 museums in
Telsiai County;
SHORT DESCRIPTION ABOUT
TELSIAI COUNTY (5)
• The country landscape
with its low hills, lots of
lakes and meandrous
rivers, green forests,
bigger and smaller
towns is favourable for
foreign tourists;
• Zemaitija National Park
– one of the richest
natural places;
• County has two
Regional parks – Varniai
Regional Park and
Venta Regional Park.
There are very good conditions to develop
tourism in Telsiai County. A lot of Lithuanian
and foreign tourists like to visit this beautiful
land.
Rietavas
Mazeikiai
Telsiai
Klaipeda
Siauliai
Rietavas
Panevezys
Kaunas
Vilnius
Rietavas
It's a small town (population in western
part of Lithuania, not so far from the Baltic
sea, situated on both sides of river Jura
(which in Lithuanian means "sea"). Easily
accessible
from town
the highway
KaunasIt's
a small
(population
in western part of
Klaipeda.
Lithuania,
somanor
farwasfrom the Baltic sea,
For the first timenot
Rietavas
mentioned inon
written
sources
in the year
situated
both
sides
of river Jura (which in
1253.
Lithuanian means "sea"). Easily accessible
from
the
highway
Kaunas-Klaipeda.
For the first time Rietavas manor was
mentioned in written sources in the year 1253.
Thank you!