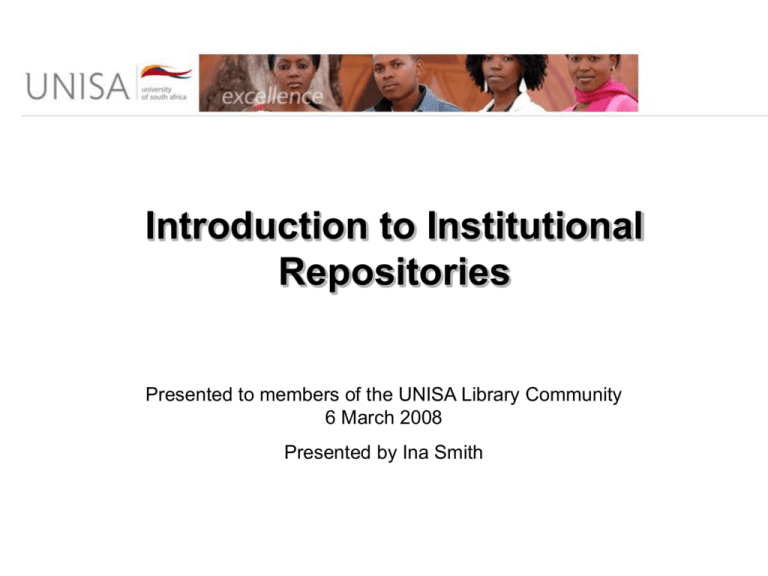 Introduction to Institutional
Repositories
Presented to members of the UNISA Library Community
6 March 2008
Presented by Ina Smith
Research @ UNISA
"In alignment and discussion with national research
policy directives and in vigorous pursuance of the
goal of compliance with international research
best practices and bench-marks, the Research
Directorate endeavours to develop, facilitate,
manage and monitor quality research structures,
policies and processes. Such structures and
processes will in turn be used to support, nurture and
increase research capacity and quality."
– Purpose UNISA Research Directorate
What is an IR?
•
•
•
•
•
•
•
Set of services
Management
Dissemination
Organizational commitment
Stewardship
Long-term preservation
Organization & access/ distribution
Open access
"Open access (OA) is free, immediate, permanent,
full-text, online access, for any user, web-wide, to
digital scientific research and scholarly material."
Source: http://en.wikipedia.org/wiki/Open_access
Two currents in OA movement:
• OA self-archiving in institutional repositories ("green"
road to OA)
• OA publishing ("gold" road to OA)
Benefits of an open access IR
• Research out quickly, worldwide
• Central archive of research
• Increases visibility, usage, impact of research
"open access papers are read more widely, and,
therefore, cited more frequently. The consequence of
this is that they have greater impact" (Jones, Andrew
and MacColl 2006)
• Open access to all – also those who cannot afford
subscribing
• Persistent URL
• Preservation function
Impact an IR can have on research
Research on IR
Increased usage,
impact
Increase in
citation rate
Impact on NRF
Rating etc.
Shanghai
University List
Implementing your IR
2007 - 2008
• Needs assessment
• Evaluation of software
• Proposal
• Champions identified
• Hardware & Staffing
February/ March 2008
Deployment of IR on Developmental Server
http://163.200.219.67:8080/dspace/
6 March 2008
• Introduction & training
Next
• Evaluation of IR on Developmental Server
Project Phases
Analysis
Design
Development
Implementation
Evaluation
About DSpace
http://www.dspace.org/
Features offered by DSpace
• Web/ Library 2.0 functionalities
• Guarantees archiving/ preservation of material in digital
format
• Persistent URL's
• Subscribe to collections
• E-workflow for quality control
• Distributed/ Decentralised input
• Limit access on various levels
• Searchable (incl. full text) – not static web page
10 Repositories National
900 + Repositories International
Univ. of Australia
Cornell University
And many more ….
University of St Andrews
Digital Repository Model
Only digital material can
be submitted: digitized
or digitally born
Source:
http://dspace.org/introduction/dspacediagram.pdf
Prior to submitting an item to DSpace
1.
2.
3.
4.
5.
Obtain permission (copyright clearance, letters of
consent)
Scan/ Digitize
File format
File naming convention
Convert/ edit documents
Collection Administrator
Collection Manager
UPSpace System Manager
UPSpace Administrator
Reviewer/s
(Accept/ Reject)
Metadata Editor
Description
Available on UPSpace
Notification to Subscribers
Notification to Submitter
IR Workflow & Roles
Submitter
https://www.up.ac.za/dspace/
Identify Champions
Gerard Moerdijk Collection
Arnold Theiler Collection
Research Articles
Jonathan Jansen Collection
COP: Architecture
COP: Veterinary Sciences
Information Model
Top-Level Community
Faculty e.g. Economic and Management Sciences
Sub-Community
Department e.g. Auditing
Collections
E.g. Open Lectures
Conference Proceedings
Student Projects
Research Articles
Photo Album
Media Columns
Metadata Standards
Digitization Standards
UPSpace Policy
Policies & Standards
Collection Policies
Collection Policies
Top-level Community, Sub-Community, Collection
Roles in workflow
Description of collection
Collection license
Restrictions
File formats
File naming conventions
Referencing technique
Language policy etc.
What will your focus be?
•
•
•
•
•
•
•
Scholarly publications (journal articles)
Historical & archival material
Popular research material
Unpublished research
Inaugural addresses
Conference proceedings
PDF documents, photos, images, video clips, sound
clips
http://www.sherpa.ac.uk/romeo.php
Click to play video clip
Article/ Dissertation
(final product)
Data sets
Items in the IR
Item consists of …
Metadata
Bitstream(s)/File(s)
Also multiple
bitstreams
Searching
Search Options
 Full text
 Keyword (Basic Search)
 Advanced Search
 Browse
 Communities & Collections
 Titles
 Authors
 Date
Receive e-mail alerts
E-mail alert
Recommend an item
Restrict access
 Collection Level
 Item Level
 Bitstream Level (File)
 PDF password (File)
Statistical reports
Amount of
items
Items viewed
& number of
views
User logins
Words
searched
Training & Support
•
•
•
•
•
•
•
Group/ Individual training
UNISA DSpace e-mail e.g. dspace@unisa.ac.za
UNISA DSpace Mailing
UNISA DSpace Intranet
UNISA DSpace Policy & Collection Policies
Frequent communication
Animated Online Tutorials and other online training
material e.g. pamphlets
• IT Help 8/5
Rights, Copyright, Licensing
• License stored with each
item
• DC Element "Rights" –
individual items
• Copyright/ Rights note
for Collection/ Community
• Add permission note/
deed of gift
• Collection of letters of http://www.dspace.up.ac.za/defaultlicense.pdf
consent by publishers
• SHERPA/ RoMEO
Publishers Policies
Letters of Consent
Marketing the IR
•
•
•
•
•
•
•
•
Start at home: library staff
Library & UP management
Visits to departments
Pamphlets
Campus newsletters & publications
E-mails
Media
Marketing events
Registering on the WWW
•
•
•
•
•
Library Catalogue
Web pages
Search Engines (Google & Google Scholar)
Metadata Harvesters
IR Registries
Library Catalogue
Departmental Web Pages
Automated Search Linking
https://www.up.ac.za/dspace/handle/2263/1125//browse-title
Research Report
Dept. of Research Support Web Page
Google Scholar
Google
"Africa as a knowledge society"
UPSpace Record
Publisher's Record
Edit this page
University of Pretoria
institutional digital repository
(UPSpace) on Wikipedia
International Harvesters
•
•
•
•
•
•
•
DSpace http://www.dspace.org/
openDOAR http://www.opendoar.org/
ROAR http://roar.eprints.org/
Open Archives Institute http://www.openarchives.org
OAISTER http://www.oaister.org/
DRIVER http://www.driver-repository.eu/
eIFL (SURFshare)
http://eifl.sharelab.cq2.org/en/page/page.view/eifl.page
• Scopus & Scirus
Outcomes of your IR
• New roles & responsibilities
• Communities of practice (social networks)
will be established
• Knowledge transfer
• Organizational learning
• Change of mind-sets
• Empowerment
• Teamwork
Inquiries
upspace@up.ac.za
Tel.: +27 12 420 3082
Visit:
https://www.up.ac.za/dspace/
Bibliography
• Bluh, P. (2006). "Open access," legal publishing, and
online repositories. The journal of law, medicine & ethics,
34(1), 126-30.
• Jones, R., Andrew, T. & MacColl, J. (2006). The
institutional repository. Oxford, England: Chandos
Publishing.
• Lynch, C.A. (2003). Institutional repositories: essential
infrastructure for scholarship in the digital age. ARL, 226,
1-7. Retrieved January 18, 2007, from
http://www.arl.org/newsltr/226/ir.html
• Paquette, M. (2005). Editorial: The public-access
movement. Perspectives in psychiatric care, 41(1), 1.