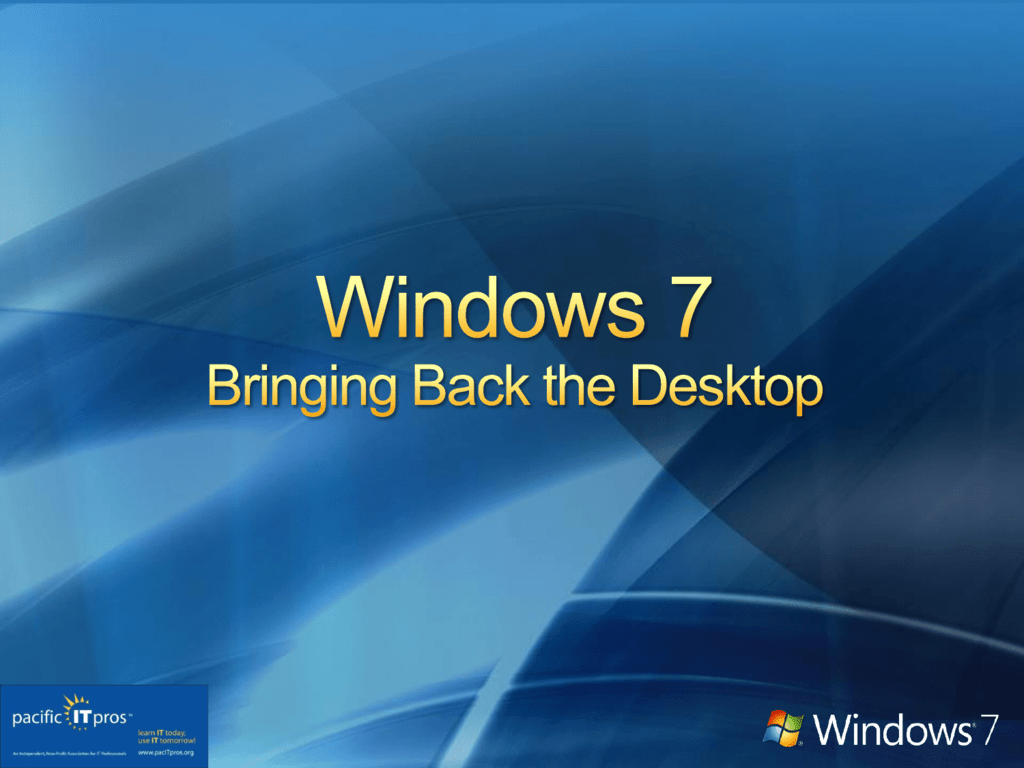 24 years in IT as a Technology Consultant
MCT, MCITP, MCTS
President of Pacific IT Professionals
A professional association for IT Professionals
Join today at www.pacitpros.org
Technology Instructor
Author
Speaker
Lecturer
IT Pro Hero
We are here
Beta
RC
RTM
Jan 2009
May 2009
July 22,
2009
GA
Sept 1,
2009
Windows 7 included
on Price List
Key Milestones for Windows 7
July 22 – Windows 7 Release to Manufacturing
September 1 – Windows 7 included on Price List
October 22 – Windows 7 General Availability (GA)
Oct 22,
2009
"In general, I have found
Windows 7 a pleasure to
use. There are a few
drawbacks, but my
preliminary verdict on
Windows 7 is positive.
Even in beta form, with
some features incomplete
or imperfect, Windows 7
is, in my view, much better
than Vista."
Productivity, Security, & Management
Improve User
Productivity
Increase Security
Faster and Easier
Access information
anywhere
Remove barriers
to information
Most secure
operating system
Protect data & PCs
Protect users &
infrastructure
DirectAccess
BranchCache
Federated Search
BitLocker To Go
AppLocker
IE8
Streamline PC
Management
Easy migration
Virtualization
Extend life of PCs
Keep PCs running
Windows PowerShell 2.0
VHD Support
06/30/08
Windows XP End of Sale (EOS)
04/14/09
Windows XP End of Mainstream Support
04/08/14
Windows XP End of Extended Support
Reasons You Should Migrate to Windows 7:
Windows 7 has superior features sets to Windows XP for
improved performance and reliability
XP is going away so you need to upgrade now
Get all the value of Windows 7 without hardware investment
Run your XP applications on Win7 Professional & Enterprise
with Windows XP Mode
An Edition of Windows Right for Every Customer
Pre-Installed on PC
(FPP)
(OEM)
Volume Licensing
Featured
Products
Full Package Product
* Not available in all markets
Windows 7 SKUS are a superset of the previous SKUS
What Qualifies for Windows 7 Professional VL upgrade license?
New EA/
Open Value
Existing EA/
Open Value
Select
Open
Enterprise (N,K, KN)
x
x
x
x
Professional (N, K, KN, Diskless)
x
x
x
x
Ultimate
x
x
x
x
Enterprise (N,K, KN)
x
x
x
x
Business (N, K, KN, Blade)
x
x
x
x
Ultimate
x
x
x
x
Windows XP Professional
x
x
x
x
Windows 2000 Professional
x
x
x
Windows NT Workstation 4.0
x
x
x
Windows 98 (including 2nd Edition)
x
x
x
Apple Macintosh
x
x
x
Operating Systems
Windows 7
Windows Vista
*Windows XP Starter, Home/Vista Starter, Home, Home Premium/Windows 7 Starter/Home/ Premium are only qualifying OS under Academic licensing**
Direct upgrade: Customer can perform in place upgrade to
Windows 7. This option saves all data and settings in place.
 Vista Home Premium  Windows 7 Home Premium/Ultimate
 Vista Business  Windows 7 Professional/Enterprise/Ultimate
 Vista Ultimate  Windows 7 Ultimate
Clean Install: Customer must back up data, perform clean
install of OS then restore data, programs and settings in
Windows 7.
 Windows XP Pro  Windows 7 Professional
 Windows XP Home  Windows 7 Home Premium/Ultimate
 Windows 7 Beta/RC  Windows 7 (any version)
Improve User
Productivity
Accelerate OS
migrations
Build business
continuity for
applications
Enable roaming
and free seating
MDOP Enabling Technologies
Security &
Compliance
Streamline PC
Management
Enable governance
and change
control
Reduce application
management costs
Manage software
assets across the
Enterprise
Reduce help desk
and mobile
support costs
Proactively
manage desktop
crashes and hangs
Benefits
Gartner suggested 3-Year
Value (per desktop)
Turn Windows applications
into managed services
$18.00
Simplifying deployment
and mgmt of virtual PCs
$36.00
Manage software assets
across the Enterprise
$0 - $4.50
Empower users while
controlling desktop security
$3.00
Identify causes and solutions
to system errors
$27.00
Quickly repair unbootable
or locked-out systems
$5.00
Average Total 3-year Value per desktop
$89.00 - $93.50
Total 3-year cost of MDOP per desktop
$24-$30
Combined value to deliver the optimized desktop
Key Scenario
Benefits
Provide faster, more scalable, and
efficient access to network resources
• Provide users with seamless access
to applications and data from
anywhere, helping to increase their
productivity
• Provide users with a rich desktop
experience from unmanaged or thin
clients
•
Protect Sensitive Data
•
Enable policy-based network security
by allowing only healthy PCs to access
network resources
•
Reduce Costs with
Enhanced Manageability
•
Update and manage mobile PCs even
when not on the corporate the network
• Publish server-based applications
directly to users' desktops
• Centrally aggregate important client
and server events to help desk
•
Enhance User
Productivity
•
Features
•
•
•
•
•
Receive Window auto-tuning
SMB 2.0
IPv6
DirectAccess
BranchCache™
VDI enhancements
Network access protection
• Server and domain isolation
DirectAccess
• Remote Desktop Services
(RDS)
• Event forwarding
© 2008 Microsoft Corporation. All rights reserved.
The information herein is for informational purposes only and represents the current view of Microsoft Corporation as of the date of this presentation. Because Microsoft must respond to changing market
conditions, it should not be interpreted to be a commitment on the part of Microsoft, and Microsoft cannot guarantee the accuracy of any information provided after the date of this presentation.
MICROSOFT MAKES NO WARRANTIES, EXPRESS, IMPLIED OR STATUTORY, AS TO THE INFORMATION IN THIS PRESENTATION.