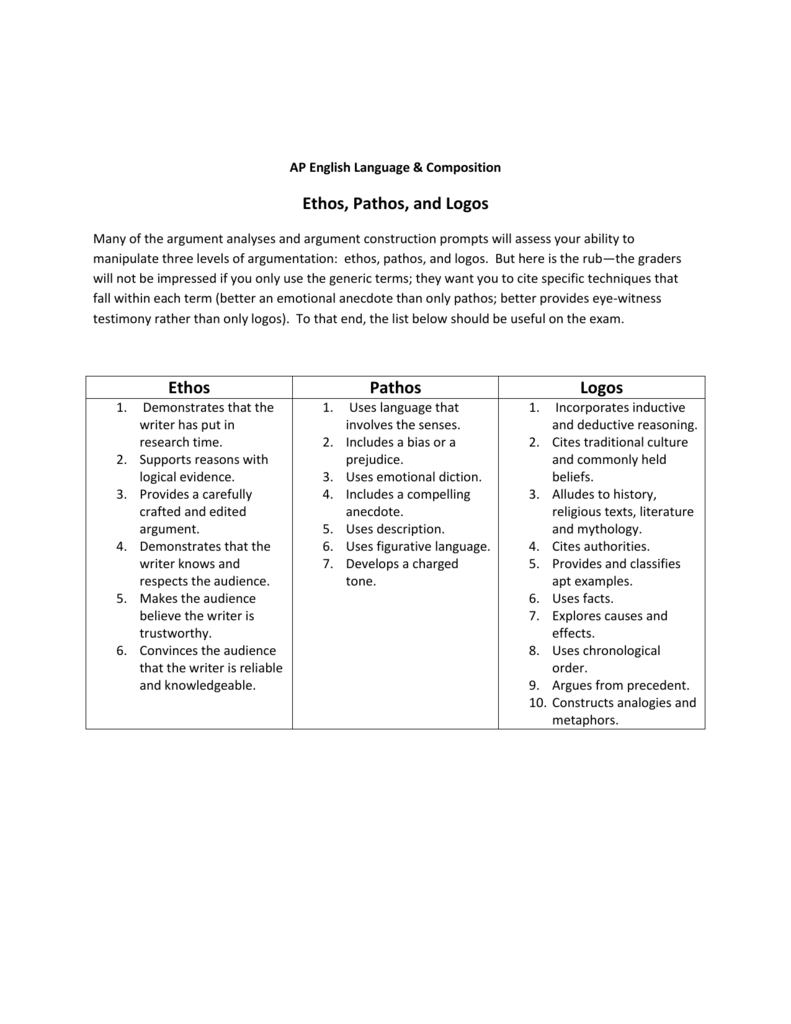 AP English Language & Composition
Ethos, Pathos, and Logos
Many of the argument analyses and argument construction prompts will assess your ability to
manipulate three levels of argumentation: ethos, pathos, and logos. But here is the rub—the graders
will not be impressed if you only use the generic terms; they want you to cite specific techniques that
fall within each term (better an emotional anecdote than only pathos; better provides eye-witness
testimony rather than only logos). To that end, the list below should be useful on the exam.
Ethos
1.
2.
3.
4.
5.
6.
Demonstrates that the
writer has put in
research time.
Supports reasons with
logical evidence.
Provides a carefully
crafted and edited
argument.
Demonstrates that the
writer knows and
respects the audience.
Makes the audience
believe the writer is
trustworthy.
Convinces the audience
that the writer is reliable
and knowledgeable.
Pathos
1.
2.
3.
4.
5.
6.
7.
Uses language that
involves the senses.
Includes a bias or a
prejudice.
Uses emotional diction.
Includes a compelling
anecdote.
Uses description.
Uses figurative language.
Develops a charged
tone.
Logos
1.
2.
3.
4.
5.
6.
7.
8.
9.
10.
Incorporates inductive
and deductive reasoning.
Cites traditional culture
and commonly held
beliefs.
Alludes to history,
religious texts, literature
and mythology.
Cites authorities.
Provides and classifies
apt examples.
Uses facts.
Explores causes and
effects.
Uses chronological
order.
Argues from precedent.
Constructs analogies and
metaphors.