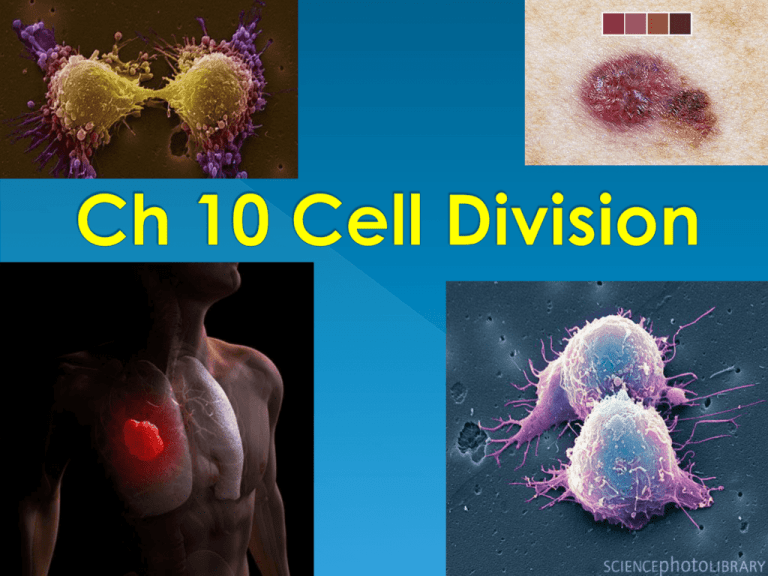 Why Would a Cell Divide?
As cells absorb nutrients and get larger, the volume
of the cell increases faster than the surface area
Surface area
for exchange
not great
enough to
support cell's
needs
This means that a cell can no longer absorb
nutrients and get rid of wastes fast enough to
support its demands (volume)
So what's a cell to do?
Solution: divide in 2!
Different cells divide at different rates:
Most mammalian cells = 12-24 hours
Some bacterial cells = 20-30 minutes
Cell Type
Typical Lifespan
Intestinal Lining
?
Skin Cell
?
Red Blood Cell
?
Liver Cell
?
Intestine –Muscle
?
and other tissue
Cell Type
Typical Lifespan
Intestinal Lining
4-5 Days
Skin Cell
2 Weeks
Red Blood Cell
4 Months
Liver Cell
300 – 500 Days
Intestine –Muscle
16 years
and other tissue
Interphase
Prophase
Metaphase
Anaphase
Telophase
Cytokinesis
IPMATC
•
•
•
Chromosomes are
copied (# doubles)
Cell growth and
organelles are doubled
Preparing for mitosis
Mitosis begins (cell
begins to divide)
• Centrioles appear and
begin to move to
opposite end of the cell.
• Spindle fibers form
between the poles.
•
•
Chromatids (or pairs
of chromosomes)
attach to the spindle
fibers and line in
middle.
•
Chromatids (or pairs of
chromosomes)
separate and begin to
move to opposite ends
of the cell.
•
•
•
Two new nuclei form.
Chromosomes appear
as chromatin (threads
rather than rods).
Mitosis ends.
•
Cell membrane moves inward to create two
daughter cells – each with its own nucleus
with identical chromosomes.

Internal- Protein that regulates the timing
of the cell cycle inside the cell (ex:
cyclin).

External- Protein that can cause the cell
cycle to speed up or slow down (ex:
growth factors, contact inhibition).

*Apoptosis*-programmed cell death.

Cancer – body loses ability to control
growth.
› *Damaged P53 gene*
› Causes: tobacco, radiation exposure, viral
infection, etc.

Tumors- mass of cells
› Can damage surrounding area
› Can break off and spread throughout body
Unspecialized
cells
 process by which
cells become
specialized is
known as
differentiation.


Replacing damaged heart cells.