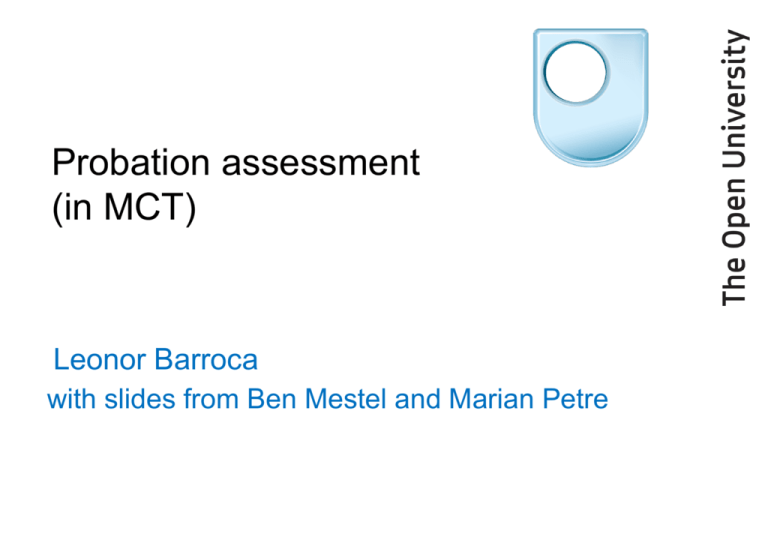 Probation assessment
(in MCT)
Leonor Barroca
with slides from Ben Mestel and Marian Petre
Research Degrees Handbook
• http://www3.open.ac.uk/res-handbook/
RD Skills
rdskills.open.ac.uk
The VRE
http://www.open.ac.uk/students/research/
…and more
http://crcphd.open.ac.uk/Probation
Vitae: http://www.vitae.ac.uk
The three stages for a PhD
1. Orientation
(culminating in probation)
2. Intense research
(maybe some papers)
3. Entering the discourse
(culminating in submission
and examination)
True or false?
• A probation report is like a mini-dissertation.
• My literature review must be complete and
comprehensive for the probation report.
• Probation assessment is 'a walk'.
• Probation assessment is a distraction from my real work.
• My probation report has no use after the assessment.
Purpose of probation assessment
• reviews student progress outside the supervisory
relationship
• provides documentation of student progress
• Students communicate their research (orally and in
writing) to members of the research community who are
not their supervisors
• safeguards and reassures students by providing an
additional, 'external' check on progress
• supports supervisory advice within a supervisory
community
A student's view from life after
probation
• Looking to sample probation reports was really
helpful…BUT be aware they are all very different!
• Start as soon as possible
• At the time it seemed daunting, but thinking back…
– it's an opportunity to share what you've been thinking
about, exploring, and focusing in on after a year of
work
– it's hard work, but probation is also really constructive
(and, dare I say, even...fun?)
Probation
•
•
•
•
•
•
•
Essential to move from MPhil to PhD
9-12 months for FT, 16-22 months for PT (≈ 2 X PT)
Probation report
Skills development summary
Oral presentation
Mini-viva
Report for Research School
(form)
Probation assessment benchmarks
•
•
•
•
probation report
skills development summary
oral presentation
mini-viva
Probation assessment benchmarks
• probation report – assessed by examiners
• skills development summary – assessed by supervisors,
checked by examiners
• oral presentation – confirmed by supervisors
• mini-viva – conducted and assessed by examiners
• participation in the research community (CRC extra)
Timetable
Activity
Full-time students
Part-time students
Research Degrees office
sends a prompt
9 months
16 months
Research proposal to
Faculty
10 months
20 months
Completion of mini-viva,
first assessment
11 months
22 months
Form/feedback to Research
School
11 months
22 months
Completion of any remedial
work
12 months
24 months
Final form to Research
School
12 months
24 months
Probation report
Varies in size
Required ingredients:
1. research question
2. context in discourse – critical literature review
3. research approach, including justification and outline of
proposed method(s)
4. workplan
5. empirical work (CRC, not other MCT depts)
What makes a good report?
• sets out:
– what
– why
– how
– when
• is critical
• provides evidence of necessary skills
• is concise
What makes a good question?
•
•
•
•
•
well-stated
focussed, concise
feasible
original
at PhD level:
rigorous, publishable, sufficiently independent
• of appropriate scope
What makes a good literature
review?
•
•
•
•
•
•
focussed, concise
supports the well-stated question
identifies a gap
reports and critiques current state of discourse
critical
adds value
What makes a good research
approach?
• feasible
• appropriate: likely to deliver the evidence
needed to answer the question
• rigorous
• likely to deliver valid, reliable, (generaliseable?) results
• ethical
• justified
What makes a good workplan?
•
•
•
•
•
•
•
•
realistic
clearly stated milestones
dependencies explicit
contingency planning
timeline – dates
resources
skills
pretty presentation
Skills audit and training
• Concise summary of audit, training and
development undertaken
(e.g. this conference)
• Best done systematically over time
• Increasingly important for career
• What do you think of this part of PhD
training?
Giving an oral presentation
• Usually 30 mins –
1hour
• Normally to the
Department
• Questions from
the audience
• Can be a 'Beamer'!
The mini-viva
• think of it as a discussion, rather than an inquisition
• aims to give you a 'taste' of viva voce examination – but
is also formative
• be prepared to discuss with an open mind
• assume that the assessors are acting in good faith
• focus is on demonstration of skills and knowledge
• differences between departments
Possible outcomes
•
•
•
•
registration for PhD
registration for MPhil
remedial action/revisions
de-registration
• following remedial action:
– registration for PhD
– registration for MPhil
– de-registration
Form for the Research School
1. Your bits:
• Elements of probation
(activities/events, supervision,
skills audit, oral presentation,
mini-viva)
• Objectives for the coming
period
2. Assessors' report
3. Recommendation (ADR)
http://www.open.ac.uk/research/main/research-careers/researchstudents/forms-and-guidance-notes
Don't panic!
Get it right, and, in due
course…graduation !