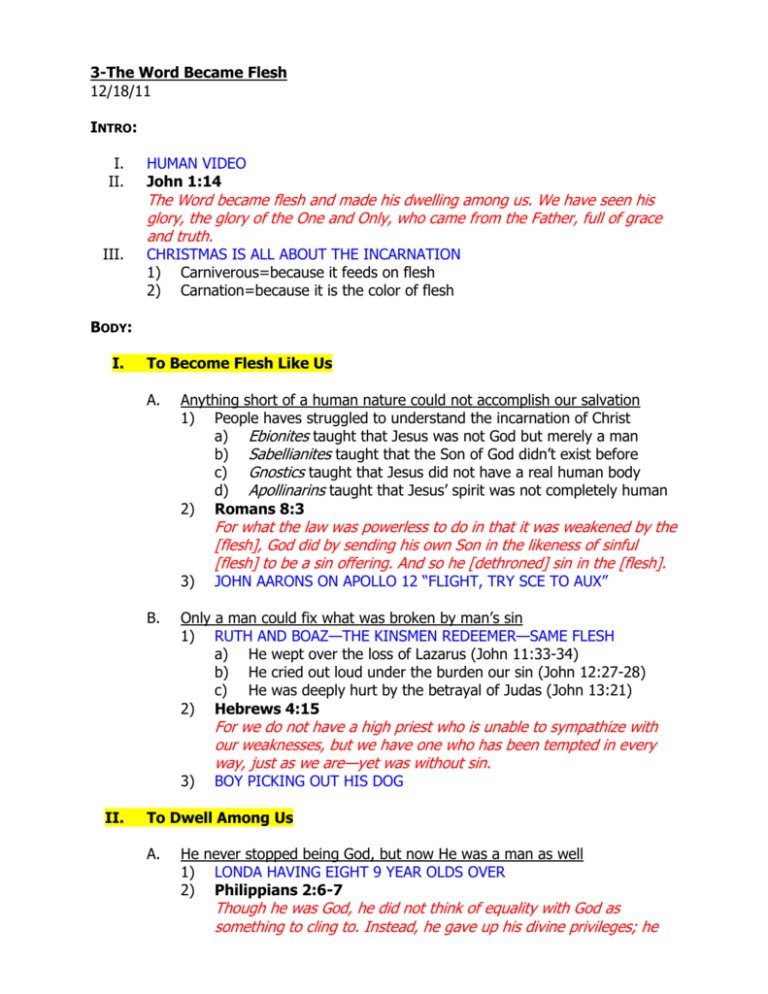 3-The Word Became Flesh
12/18/11
INTRO:
I.
II.
III.
HUMAN VIDEO
John 1:14
The Word became flesh and made his dwelling among us. We have seen his
glory, the glory of the One and Only, who came from the Father, full of grace
and truth.
CHRISTMAS IS ALL ABOUT THE INCARNATION
1) Carniverous=because it feeds on flesh
2) Carnation=because it is the color of flesh
BODY:
I.
To Become Flesh Like Us
A.
Anything short of a human nature could not accomplish our salvation
1) People haves struggled to understand the incarnation of Christ
a) Ebionites taught that Jesus was not God but merely a man
b) Sabellianites taught that the Son of God didn't exist before
c) Gnostics taught that Jesus did not have a real human body
d) Apollinarins taught that Jesus' spirit was not completely human
2) Romans 8:3
3)
B.
JOHN AARONS ON APOLLO 12 "FLIGHT, TRY SCE TO AUX"
Only a man could fix what was broken by man's sin
1) RUTH AND BOAZ—THE KINSMEN REDEEMER—SAME FLESH
a) He wept over the loss of Lazarus (John 11:33-34)
b) He cried out loud under the burden our sin (John 12:27-28)
c) He was deeply hurt by the betrayal of Judas (John 13:21)
2) Hebrews 4:15
3)
II.
For what the law was powerless to do in that it was weakened by the
[flesh], God did by sending his own Son in the likeness of sinful
[flesh] to be a sin offering. And so he [dethroned] sin in the [flesh].
For we do not have a high priest who is unable to sympathize with
our weaknesses, but we have one who has been tempted in every
way, just as we are—yet was without sin.
BOY PICKING OUT HIS DOG
To Dwell Among Us
A.
He never stopped being God, but now He was a man as well
1) LONDA HAVING EIGHT 9 YEAR OLDS OVER
2) Philippians 2:6-7
Though he was God, he did not think of equality with God as
something to cling to. Instead, he gave up his divine privileges; he
2)
B.
JIMMY STEWART IN TV DOCUMENTARY "THE WORLD AT WAR"
Credited as "James Stewart, Squadron Commander"
The Lord knew the only way to bring hope was to come Himself
1) Matthew 1:22-23
2)
3)
III.
took the humble position of a slave and was born as a human being.
(NLT)
All this took place to fulfill what the Lord had said through the
prophet: "The virgin will be with child and will give birth to a son,
and they will call him [Immanu El]"—which means, "God with us."
GOD GIVING ISAIAH HOPE THROUGH THE NAMING OF HIS SON
"Veiled in flesh the Godhead see,
Hail the incarnate Diety,
Pleased as man with men to dwell,
Jesus, our Emmanuel."
To Save Us From Our Sins
A.
The need mankind has is forgiveness
1) Matthew 1:20-21
2)
"Because what is conceived in her is from the Holy Spirit. She will
give birth to a son, and you are to give him the name
[Yeshua=Yahweh Saves], because he will save his people from their
sins."
CHRISTOPHER HITCHENS DIES AT 62 OF CANCER
"The entity making such a remark might be a raving, terrified person
whose cancer has spread to the brain. I can't guarantee that such an
entity wouldn't make such a ridiculous remark. But no one
recognizable as myself would ever make such a ridiculous remark."
—God Is Not Great, How Religion Poisons Evertything
B.
If Jesus had not come I would still be lost in my sins
1) Titus 3:4-5
2)
But when the kindness and love of God our Savior appeared, he
saved us, not because of righteous things we had done, but because
of his mercy.
DAD HAVING NO FEAR UNTIL THE VERY END
OTHER SCRIPTURES:
John 1:17-18
For the law was given through Moses; grace and truth came through Jesus Christ. No
one has ever seen God, but God the One and Only, who is at the Father's side, has
made him known.
John 18:37
"In fact, for this reason I was born, and for this I came into the world, to testify to the
truth. Everyone on the side of truth listens to me."
Romans 5:15
For if the many died by the trespass of the one man, how much more did God's grace
and the gift that came by the grace of the one man, Jesus Christ, overflow to the many!
Romans 5:19
For just as through the disobedience of the one man the many were made sinners, so
also through the obedience of the one man the many will be made righteous.
2 Corinthians 8:9
For you know the grace of our Lord Jesus Christ, that though he was rich, yet for your
sakes he became poor, so that you through his poverty might become rich.
1 Timothy 1:15
Here is a trustworthy saying that deserves full acceptance: Christ Jesus came into the
world to save sinners—of whom I am the worst.
Hebrews 9:22
In fact, the law requires that nearly everything be cleansed with blood, and without the
shedding of blood there is no forgiveness.
1 John 3:8-9
For this purpose the Son of God was manifested, that He might destroy the works of
the devil. (NKJV)
1 John 4:2-3
This is how you can recognize the Spirit of God: Every spirit that acknowledges that
Jesus Christ has come in the flesh is from God, but every spirit that does not
acknowledge Jesus is not from God.