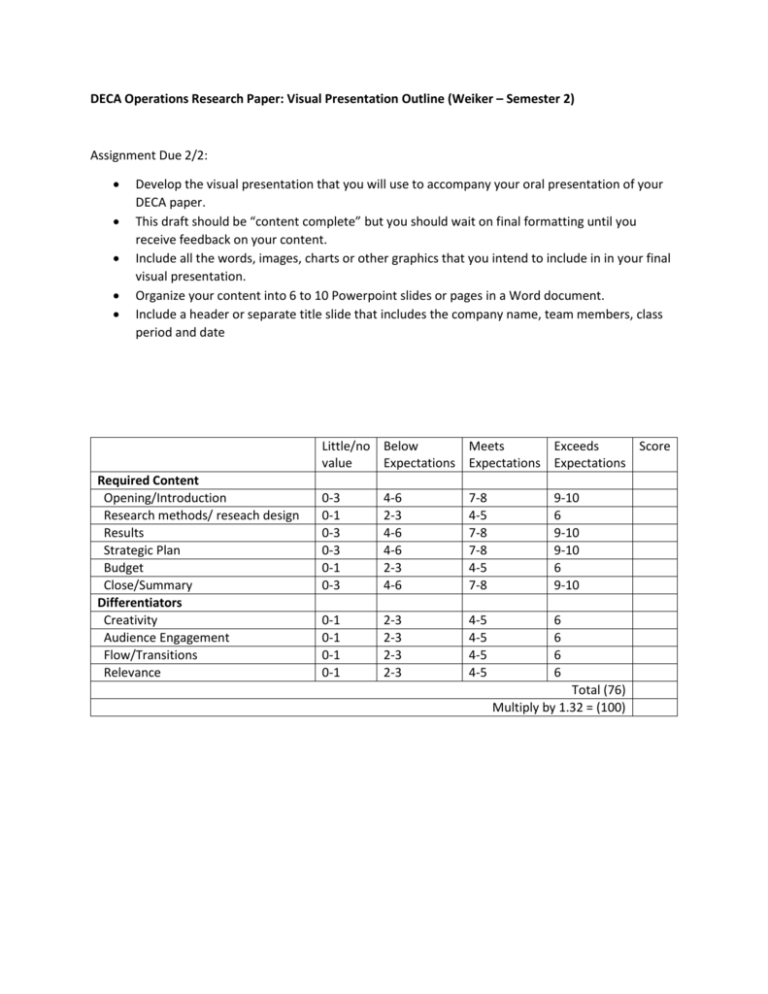 DECA Operations Research Paper: Visual Presentation Outline (Weiker – Semester 2)
Assignment Due 2/2:





Develop the visual presentation that you will use to accompany your oral presentation of your
DECA paper.
This draft should be "content complete" but you should wait on final formatting until you
receive feedback on your content.
Include all the words, images, charts or other graphics that you intend to include in in your final
visual presentation.
Organize your content into 6 to 10 Powerpoint slides or pages in a Word document.
Include a header or separate title slide that includes the company name, team members, class
period and date
Little/no Below
Meets
Exceeds
Score
value
Expectations Expectations Expectations
Required Content
Opening/Introduction
Research methods/ reseach design
Results
Strategic Plan
Budget
Close/Summary
Differentiators
Creativity
Audience Engagement
Flow/Transitions
Relevance
0-3
0-1
0-3
0-3
0-1
0-3
4-6
2-3
4-6
4-6
2-3
4-6
7-8
4-5
7-8
7-8
4-5
7-8
9-10
6
9-10
9-10
6
9-10
0-1
0-1
0-1
0-1
2-3
2-3
2-3
2-3
4-5
4-5
4-5
4-5
6
6
6
6
Total (76)
Multiply by 1.32 = (100)
Guidance:
Required Content
Opening/Introduction: Hook your audience with a strong opening that highlights the key elements
from your Exec. Summary while providing necessary context. Make the audience what to hear more.
Research methods/ research design: Explain how you learned what the current issues and
opportunities are for your company's employee engagement and company culture. Why did you take
this approach vs. alternatives your "manager" might have expected? Provide some examples to bring
your research process to life.
Results: Share the key findings from your research that have implications for the plan you will propose.
Expect that your "manager" is thinking "What did you learn that's worth mentioning" and answer that
question in this section. Consider using a SWOT framework to organize your thoughts and use in your
presentation if appropriate.
Strategic Plan: Pitch your proposal for the changes the company should make to improve employee
engagement and company culture. You should be in "sell mode" during this section. Consider the
"ANPOCS" sales process and integrate this as appropriate
Budget: Include total proposed investment, explain the components and justify why the company
should spend the money. Make sure your budget is focused on your Strategic Plan and covers all aspects
of it. What will the return be?
Close/Summary: Close your sales pitch. Remind the manager what your ask is (budget) and what you
will accomplish and what the results will be.
Differentiators
Creativity: Include an element of surprise or delight
Audience Engagement: Connect with your manager by asking hypothetical questions, providing a
hand-out or requiring some type of interaction from your manager.
Flow/Transitions: Each section should build on the prior one. Support all recommendations. Don't
make unsubstantiated claims.
Relevance: All information should support improvements to employee engagement or company
culture.