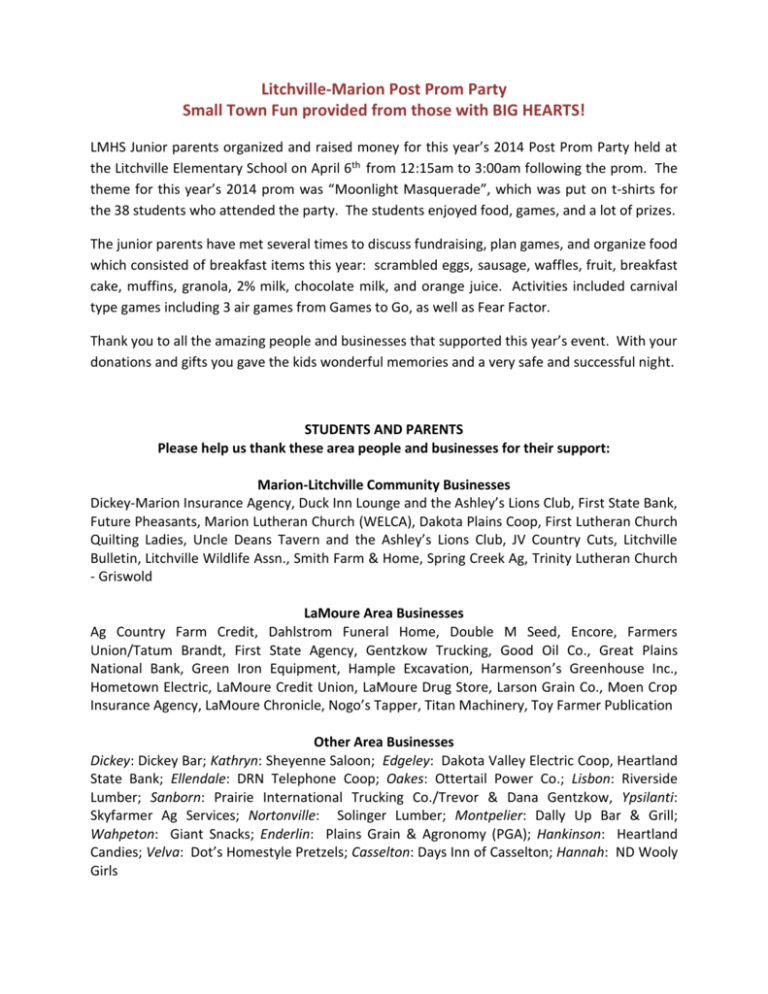 Litchville-Marion Post Prom Party
Small Town Fun provided from those with BIG HEARTS!
LMHS Junior parents organized and raised money for this year's 2014 Post Prom Party held at
the Litchville Elementary School on April 6th from 12:15am to 3:00am following the prom. The
theme for this year's 2014 prom was "Moonlight Masquerade", which was put on t-shirts for
the 38 students who attended the party. The students enjoyed food, games, and a lot of prizes.
The junior parents have met several times to discuss fundraising, plan games, and organize food
which consisted of breakfast items this year: scrambled eggs, sausage, waffles, fruit, breakfast
cake, muffins, granola, 2% milk, chocolate milk, and orange juice. Activities included carnival
type games including 3 air games from Games to Go, as well as Fear Factor.
Thank you to all the amazing people and businesses that supported this year's event. With your
donations and gifts you gave the kids wonderful memories and a very safe and successful night.
STUDENTS AND PARENTS
Please help us thank these area people and businesses for their support:
Marion-Litchville Community Businesses
Dickey-Marion Insurance Agency, Duck Inn Lounge and the Ashley's Lions Club, First State Bank,
Future Pheasants, Marion Lutheran Church (WELCA), Dakota Plains Coop, First Lutheran Church
Quilting Ladies, Uncle Deans Tavern and the Ashley's Lions Club, JV Country Cuts, Litchville
Bulletin, Litchville Wildlife Assn., Smith Farm & Home, Spring Creek Ag, Trinity Lutheran Church
- Griswold
LaMoure Area Businesses
Ag Country Farm Credit, Dahlstrom Funeral Home, Double M Seed, Encore, Farmers
Union/Tatum Brandt, First State Agency, Gentzkow Trucking, Good Oil Co., Great Plains
National Bank, Green Iron Equipment, Hample Excavation, Harmenson's Greenhouse Inc.,
Hometown Electric, LaMoure Credit Union, LaMoure Drug Store, Larson Grain Co., Moen Crop
Insurance Agency, LaMoure Chronicle, Nogo's Tapper, Titan Machinery, Toy Farmer Publication
Other Area Businesses
Dickey: Dickey Bar; Kathryn: Sheyenne Saloon; Edgeley: Dakota Valley Electric Coop, Heartland
State Bank; Ellendale: DRN Telephone Coop; Oakes: Ottertail Power Co.; Lisbon: Riverside
Lumber; Sanborn: Prairie International Trucking Co./Trevor & Dana Gentzkow, Ypsilanti:
Skyfarmer Ag Services; Nortonville: Solinger Lumber; Montpelier: Dally Up Bar & Grill;
Wahpeton: Giant Snacks; Enderlin: Plains Grain & Agronomy (PGA); Hankinson: Heartland
Candies; Velva: Dot's Homestyle Pretzels; Casselton: Days Inn of Casselton; Hannah: ND Wooly
Girls
Valley City Area Businesses
Ag Country Farm Credit, American Family Insurance, AP Equipment, Appliance City, Bank
Forward, Brenda Laub CPA, Bridge City Dentistry, CGI Columbia Grain, City Lights Supper Club,
Concept Dentistry, Dacotah Bank, Dacotah Insurance, Dairy Queen, Dakota Plains Coop, Dakota
Rose Floral, Dietrich's, Dutton's, Dutton's Parlour, Eagles Club, Enterprise Sales Company,
Farmers Union Insurance/T. Van Bruggen & K. Olson, FEI Inc., First Community Credit Union,
Foell Chiropractic Clinic, Foss Drug, Gavilon Grain, Grotberg Electric, Handy Hardware/
Hardware Hank, Interstate Equipment Inc., KOVC- Ingstad Family Media, Leever's, LerudSchuldt Funeral Home, Miller Motors, Oliver-Nathan Funeral Chapel, Perkins Car Dealership,
Pizza Corner, Quality Alignment & Brake Center, Stoudt Ross Ford, Star Enterprises Inc.,
Subway, Valley City Theater, Valley Drug, Valley Flooring, Valley Meats, VFW Club, Wells Fargo
Jamestown Area Businesses
Applebee's, Bison 6 Cinema, Buffalo City Grille, Butler Machinery, Cherry Berry, Coborn's, Dairy
Queen, Dental Specialists/ Dr. Alison Fallgatter, Dominos, Don Wilhelm Inc., Dr. Dawn's Pet
Stop, Dr. Ed Anderson DDS, Dr. Kenneth McDougall & Dr. Alissa Hanson, DuraTech Industries,
Etc Salon, Firestone GCR, Gate City Bank, Glik's, Hardee's, Haut Funeral Homes, Home of
Economy, Hugo's, Ingstad Family Media, Jamestown Communications, Jet Stream Car Wash,
Knights of Columbus, La Carreta, Lifestyle Appliance & Entertainment Ctr, Lifetime Vision
Source, Lloyds Motors, McDonalds, Medicine Shop, Papa Murphy's, Paridiso, Perkins, Praxair,
Quiznos, Regis Salon, Ross Davis Wholesale, Reuben Liechty Realtors, Sanford, Schmidt
Chiropractic Clinic, Taco Bell, Taco John's, Top Designers, UTC Aerospace Systems, Valley Plains
Equipment, Walmart, Williams-Lisko Funeral Chapel
Fargo and Grand Forks Area Businesses
Fargo: Fargo Force Hockey, Fargo-Moorhead Red Hawks, Microsoft, ND Corn Growers
Association, ND Soybean Growers Association, Scheels, West Acres Mall, Buffalo Wild Wings,
Quaker Steak & Lube Restaurant
Grand Forks: Aspen Studio
Colleges and Universities
Bismarck State College, Concordia State University, Dickinson State University, Minot State
University, MN State U – Moorhead, NDSCS, NDSU, UND, University of Jamestown, University
of Mary, VCSU, and Presentation College
Friends and Families
Dana & Nancy Noot, Darrell & Nancy Hermanson, Dennis & Liz Fick, Jeff & Kris Piehl, Kevin &
Cindy Roorda, Loretta Piehl, Rick & Larinda Velure, Ron & Terri Graalum, Mike & Pat Hall,
Eugene & Rita Wright, Darren & Robin Meidema, Barb Alber, Neil & Carla Roorda, Jason &
Renee Bowen, Cara Tangen, and Jeff & Holly Trzpuc.
WE DID NOT INTEND TO OMIT ANYONE AND OUR MOST SINCERE APOLOGIES IF WE DID.
PLEASE ACCEPT OUR THANKS AND APPRECIATION!!
THANK YOU to everyone for supporting the Litchville-Marion Post Prom Party!