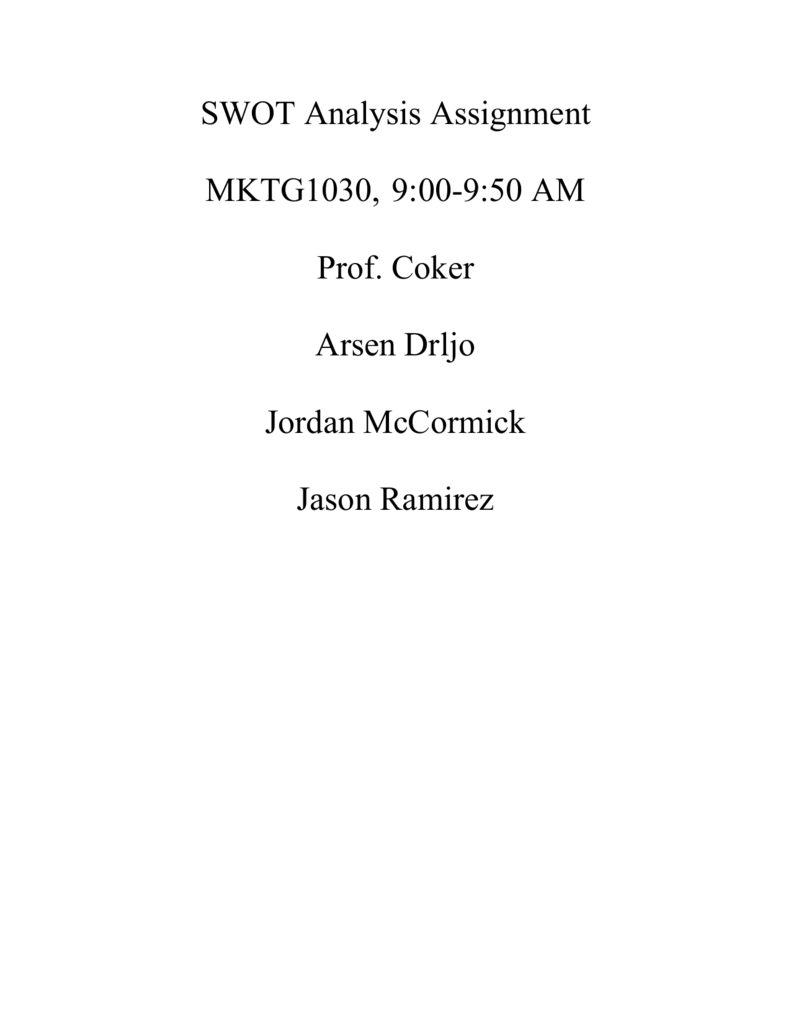 SWOT Analysis Assignment
MKTG1030, 9:00-9:50 AM
Prof. Coker
Arsen Drljo
Jordan McCormick
Jason Ramirez
Company: Best Buy (35 east, 11400 south)
The company was founded by Richard Schulze in 1966 and called Sound of Music before
the name changed to Best Buy in 1983.
Best Buy generates more than $40 billion annually.
Nationwide, Best Buy has more than 1,400 stores and locations, including large-format
and Best Buy Mobile stores, and employs more than 125,000 people.
Best Buy is a leading provider of technology products, services and solutions. The
company offers expert service at an unbeatable price more than 1.5 billion times a year to
the consumers, small business owners and educators who visit our stores, engage with
Geek Squad Agents or use BestBuy.com or the Best Buy app. The company has
operations in the U.S. where more than 70 percent of the population lives within 15
minutes of a Best Buy store, as well as in Canada and Mexico, where Best Buy has a
physical and online presence.
Mission Statement: Best Buy does not have an official or defined mission statement but
on their website you can learn all about the companies going green program, the policies,
and more.
SWOT Analysis:
Strengths1. The market they are in is constantly growing and getting bigger.
2. They have a lot of customer loyalty due to the size of their company.
3. This location has a freeway close to it, and is also on a very busy street corner
crating more traffic to this location.
4. The offer Geek Squad assistance.
5. They have experts on specific equipment to best inform customers about products.
6. They have a going green program, and people love seeing companies that recycle.
7. You can buy products physically in-store, over app purchase on your cell phone,
or buy online on their website.
8. Have been recognized for best TV sellers, gives them advantage because
customers searching for a TV will go to Best Buy.
9. They have extended shopping hours during the holiday, which allows them to
dominate the holiday's sales.
10. They have brand name recognition.
Weaknesses1. The managers do not treat their lower employees very well; possibly making the
lower downs work less efficiently.
2. Best Buy keeps most of their products warehoused so they do not always have
their shelves stocked with products or have the products customers are looking for
in-store which can cause customers to become frustrated and angry.
3. They only have a limited amount of stores in Utah, which means their customer
reach is limited.
4. They do not have very good customer service.
5. They do not always have people out on the sales floor, which makes getting help
with things difficult and can lead to unhappy customers.
6. They only have stores located in the U.S and in Canada.
7. Because they sell electronics that are expensive it makes the return policies very
strict and can cause frustration for customers.
8. Best Buy has to constantly have the most updated products, even if it means
discounting old product just to get it out of the store.
9. The credit line Best Buy offers is not very good and has high interest rates..
10. They don't offer any sort of commission to the salesmen selling their product,
which can lead to low team morals and no incentive to try to sell the product.
Opportunities1. There is always new and updated technology to offer the customer.
2. Since they only have stores in the U.S and Canada they could try
international.
3. Instead of warehousing so many of their products they should increase size of
stores to hold more in-store products.
4. Expand how many stores there southern in Utah and possibly places in other
states as well.
5. People like companies that recycle nowadays so they have a chance to gain
some publicity just by recycling unused or unneeded material.
6. In Utah some stores are usually closed on Sundays due to church and that it's
a rest day, Best Buy could be open for those who wish to shop on Sunday.
7. Get involved with either the Jazz basketball team or the REAL soccer team to
promote their name even further.
8. Potential to create their own brand. (Ex: Wal-Mart has great value).
9. They can offer programs for tuition reimbursement for college students
working at Best Buy, which would attract young smart kids that understand
what's popular to come work there.
10. Now that other electronic based companies like Circuit City and Radio Shack
have if not died out, have become a lot less popular, that being said, Best Buy
can act and make themselves the number one electronic store.
Threats1.
The service of online streaming video games and movies now reduces
people actually having to come to the store to buy things.
2.
Other larger stores the sell electronics such as Wal-Mart and Target.
3.
They rely so much on selling brand name that if one of those large
companies screw up, it can make an impact on their products, and Best
Buy could potentially lose money.
4.
Lack of presence in southern Utah eliminates any profit down there, and
there is also not promotion down there either.
5.
The advancement of newer technologies will soon outdate most of Best
Buys product line.
6.
Have products for leisure activity so if the economy is not doing well,
then people aren't going to be shopping for TVs and DVD players.
7.
The screw up of any of the individual stores can affect the image of the
whole company.
8.
Possibility of losing customer loyalty due to the internet and it's
capability of allowing customers to find lower prices than Best Buy can
afford to offer.
9.
Do not have stores in other countries so limited market to the U.S and
Canada because they are not international.
10.
Labor wages are starting to increase, higher minimum wage.
Recommendations1. They can try to open up more stores, not only in southern Utah, but can even try
to make their company go international.
2. They can become involved with a sports team organization such as The Jazz
basketball team or the REAL soccer team to further promotion and publicity.