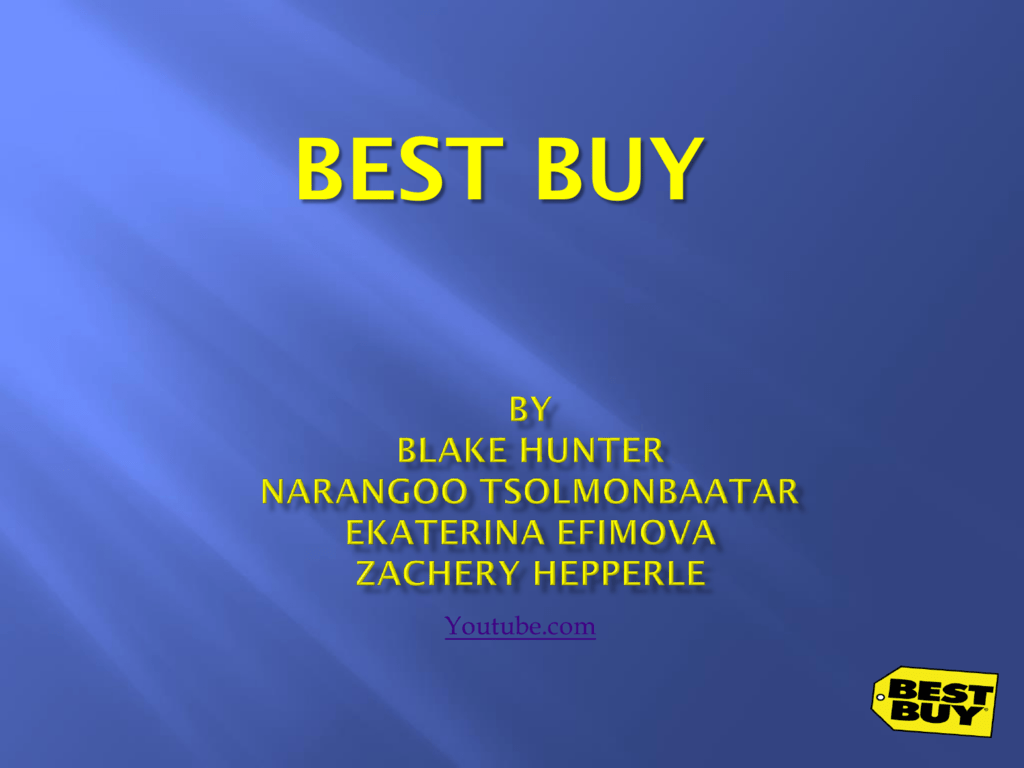 BEST BUY
Youtube.com
•History
•Sales Strategy
•Competitors
•Company Analysis
•Recommendations
•Conclusion
•Sound of Music was established in
1966 by Richard M. Schulze
• Named Best Buy Co., Inc in 1983 and
headquarters in Richfield, Minnesota
•Best Buy (BBY) debuted on 1985
•1997 became the first national retailer
to sell DVD hardware and software
•2000 bestbuy.com has been launched
• 2004 Virtucom Group of Syracuse, NY
is hired for Best Buy
•2008 - Best Buy opened 1,000th
physical store
History
History
•2007 the first Best Buy opened in China
•Largest Best Buy existence
•Target Consumers
•Great Customer Service (Geek Squad)
•Angil-Devil Strategy
•Global Expansion
•Warranties and Rewards
•Brand Recognition
•Dell Inc
•RadioShack Corp
•Circuit City Stores, Inc
•Dell, Inc. is a multinational technology
corporation and established in 1984
•Headquarters in Round Rock, TX, USA
•In 2008, revenue was $61.133 Billion
•Employees 80,800 by 2008
•Dell's first store locates the new Gorbuskin
Dvor retail center in Moscow, Russia
•RadioShack Corporation is a chain of
electronics retail stores and founded in1921
•Headquarters in Fort Worth, Texas, USA
•In 2007, revenues was $4.821 billion
•Employees over 37500
• 4,450 outlets in US, Puerto Rico, and the
Virgin Islands.
•Circuit City Stores, Inc. was an American
dealer and retailer in brand-name consumer
electronics.
•Founded in 1949 and defunct in January, 2009
•Headquartered in Richmond, Virginia, USA
•There were 567 Circuit City Stores nationwide
•Customer Service
• Availability to Purchase
(www.bestbuy.com)
•Pricing
•Product Selection
•RFID
•Mobile Cell Phone Industry
Most Competitive Industry
•Economy
Best Buy CO Inc
After Hours: 38.10 0.03 (0.08%) 7:52PM ET
Last Trade:
38.13Day's Range:
38.02 - 38.88
Trade Time:
4:00pm ET52wk Range:
16.42 - 48.03
Change:
0.89 (2.28%)Volume:
Prev Close:
39.02Avg Vol (3m):
Open:
38.77Market Cap:
6,184,836
10,816,000
15.77B
Bid:
N/AP/E (ttm):
15.98
Ask:
N/AEPS (ttm):
2.39
1y Target Est:
http://finance.yahoo.com/
41.26Div & Yield:
0.56 (1.40%)
Short-Term
•Be less dependant on U.S. sales
• Follow customer-centric model
• Get attention on TV market
Long-Term
•Launch new digital products
• Expand business internationally
• Maintain image brand
•
Use their strengths and opportunities
•
Open new market
•
Be sensitive to market changes
Any Questions?