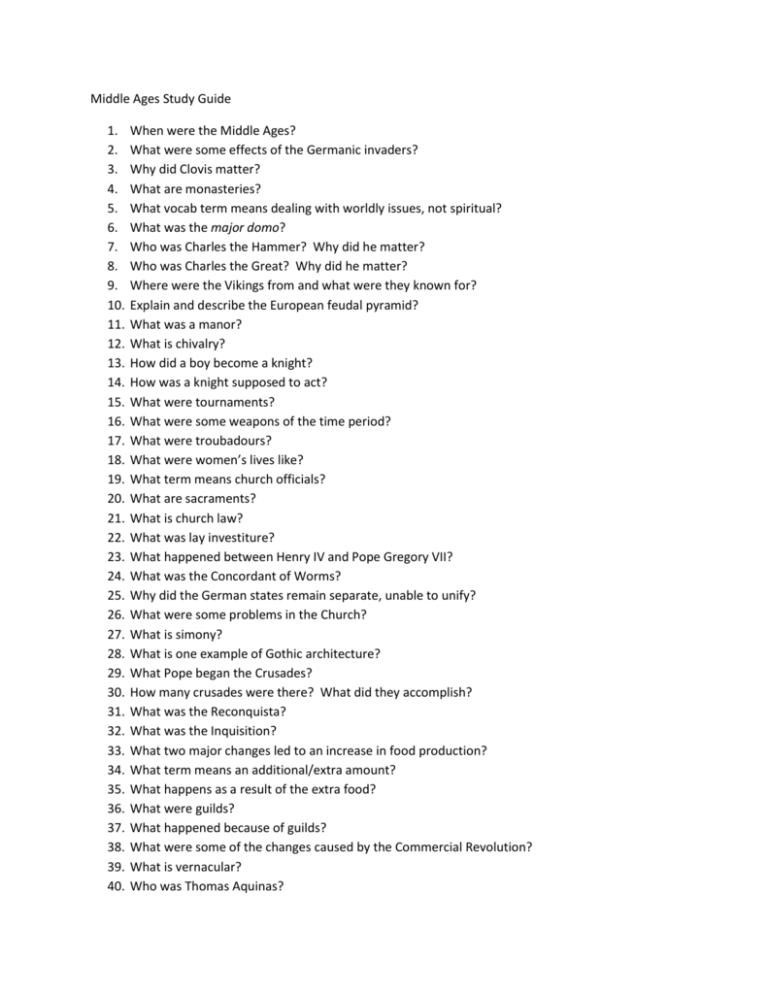 Middle Ages Study Guide
1.
2.
3.
4.
5.
6.
7.
8.
9.
10.
11.
12.
13.
14.
15.
16.
17.
18.
19.
20.
21.
22.
23.
24.
25.
26.
27.
28.
29.
30.
31.
32.
33.
34.
35.
36.
37.
38.
39.
40.
When were the Middle Ages?
What were some effects of the Germanic invaders?
Why did Clovis matter?
What are monasteries?
What vocab term means dealing with worldly issues, not spiritual?
What was the major domo?
Who was Charles the Hammer? Why did he matter?
Who was Charles the Great? Why did he matter?
Where were the Vikings from and what were they known for?
Explain and describe the European feudal pyramid?
What was a manor?
What is chivalry?
How did a boy become a knight?
How was a knight supposed to act?
What were tournaments?
What were some weapons of the time period?
What were troubadours?
What were women's lives like?
What term means church officials?
What are sacraments?
What is church law?
What was lay investiture?
What happened between Henry IV and Pope Gregory VII?
What was the Concordant of Worms?
Why did the German states remain separate, unable to unify?
What were some problems in the Church?
What is simony?
What is one example of Gothic architecture?
What Pope began the Crusades?
How many crusades were there? What did they accomplish?
What was the Reconquista?
What was the Inquisition?
What two major changes led to an increase in food production?
What term means an additional/extra amount?
What happens as a result of the extra food?
What were guilds?
What happened because of guilds?
What were some of the changes caused by the Commercial Revolution?
What is vernacular?
Who was Thomas Aquinas?
41.
42.
43.
44.
45.
46.
47.
48.
49.
50.
51.
52.
53.
54.
55.
56.
57.
58.
59.
60.
61.
62.
63.
64.
What Anglo-Saxon king was able to stop the Vikings, or Northmen?
What does England mean?
Who were the Angles?
Who was Canute?
What was the Norman Conquest?
Why does the Battle of Hastings matter?
Who was Eleanor of Aquitaine?
How did England's government evolve and why?
What is common law?
Why did/does the Magna Carta matter? (June 15th is 800 years!!)
What was Parliament?
What allowed the Capetians to become powerful?
What did Philip II do to expand French power?
What were the parts of the Estates-General?
What traits of democratic government were present in early Britain and France?
What was the Great Schism?
What was the Bubonic Plague?
How did it spread?
How many people died?
What started the Hundred Years' War?
Who "won"?
How did warfare change during the war?
Who was Joan of Arc?
What were the impacts of the war?