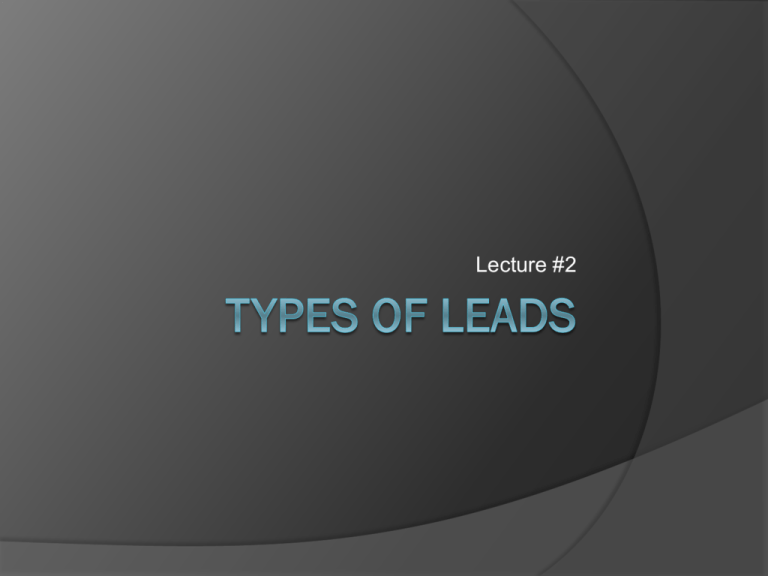 Lecture #2
Remind me…

What is a lead?
Basic News Leads

Summary Lead
 Combines the most significant of the 5 W's
 Begins the majority of news stories
○
The Pentagon has ordered 1,500 additional troops
to Iraq to provide security in advance of the upcoming
election, military officials announced Wednesday

Delayed Identification Lead
 Withholds a significant piece of information until the
second paragraph (normally the "who")
○
A Smallville man escaped injury Saturday after
plunging over Wohelo Falls in a kayak.
Lance Boyle, 27, was treated for cuts and bruises at
Mercy Hospital…
Anecdotal Lead

Anecdotal Leads have a beginning, a middle, and an
end
 Shed light on the bigger story

About five years ago, architect Mark Seder was
reading the morning paper and watching his 10-yearold son riding his bike at a local park. As he kept
looking up from the paper to his son, something
dawned on him.
"I realized that I was getting out of shape and I
thought, 'Why in world don't I join him?'" He was 49
years old when he began skating with his son.
Today, Seder is 54 and still skating…
Direct Address Lead

Used only in feature stories
 Use the second-person voice to speak
directly to you, the reader

If you've ever been waiting for a chance
to collect every episode of "Family Guy"
in one boxed DVD set, you're finally in
luck.
Blind Lead

An extreme version of the Delayed
Identification Lead
 Teases the reader by withholding key
information and "springing it on them"

First the pale pink nail polish. Then
the gold stud earrings and the
monogrammed purse.
Is this any way for a football player
to dress?
It is if she's a girl.
Meet Erin Shilk, 5-foot-3 and 180
pounds; she's a girl blazing a trail
for…
Startling Statement Lead

Used to startle the reader as a method
of grabbing his/her attention

One in four Americans will be infected
with a sexually transmitted disease at
some point in their lives.
Wordplay Lead

The use of humor/pun to grab
the reader's attention
 Must apply to the story at hand

For Germans trying to lose
weight, the wurst is yet to
come.