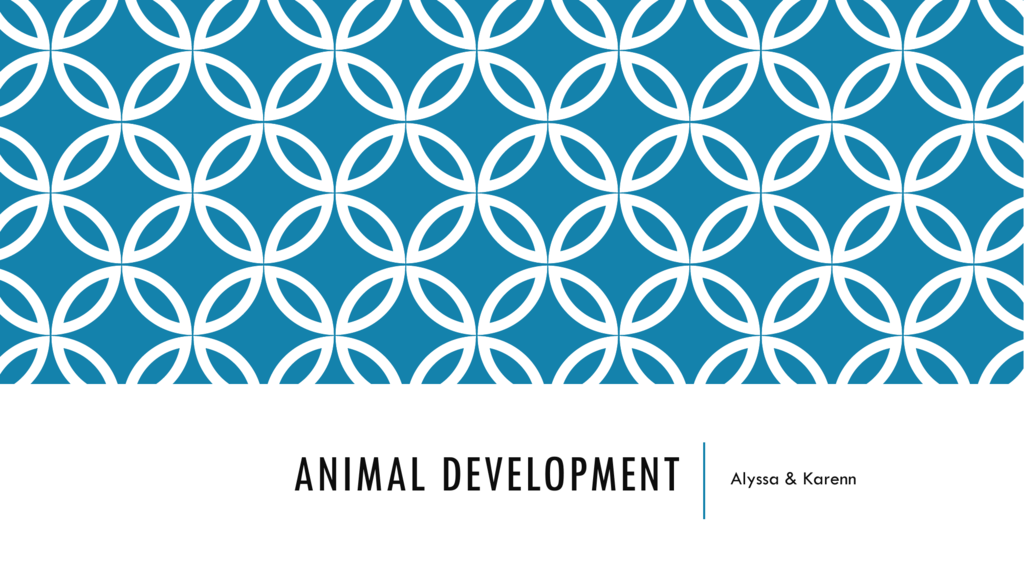 ANIMAL DEVELOPMENT
Alyssa & Karenn
INTRODUCTION:
Humans begin life as a zygote, a fertilized egg. At 6-8 weeks,
development occurs which is determined by cytoplasmic
determinants.
Some Key Concepts:
 Cell differentiation- the specialization of cells in structure and function.
 Morphogenesis- the process where an animal starts taking shape or form.
 Model Organisms- representatives of a larger group that are studied (i.e.
frogs, chicks).
EMBRYONIC DEVELOPMENT: 3 STAGES
1) Cleavage: cell division creates a hollow ball of cells called
blastula.
2) Gastrulation: cells are rearranged into a three-layered gastrula
made up of an ectoderm, mesoderm, and endoderm.
3) Organogenesis: three germ layers that interact and move to
give rise to new organs. Frogs are often studied for this stage.
CLEAVAGE
The cleavage stage results in rapid mitosis and no mass change or
growth.
 Afterwards, fertilization follows which is the combining of sperm and egg to create
a zygote.
 Then, a blastula is formed made of fluid-filled cavities called blastocoel.
TWO TYPES OF CLEAVAGE:
Holoblastic Cleavage- complete division of egg; occurs in species
with little yolk (i.e. frogs).
Meroblastic Cleavage- incomplete dominance of egg; occurs in
species with lots of yolk (i.e. birds).
 Eggs found in animals, except mammals, have polarity that is defined by the
distribution of yolk (stored nutrients).
 Vegetal Pole: more yolk
 Animal Pole: less yolk
GASTRULATION
Stage where cells are rearranged into a three-layered gastrula.
 THREE LAYERS:
 Ectoderm: outside layer; i.e. the epidermis of skin, tooth enamel, nervous system, and
cornea and lens of eyes.
 Mesoderm: middle layer; i.e. the notochord, skeletal system, muscular system, reproductive
system, and excretory system.
 Endoderm: inside layer; i.e. the liver, pancreas, epithelial lining of the digestive tract, and
thymus.
 This stage occurs in frogs, sea urchins, and chicks.
FERTILIZATION: SPERM + EGG = ZYGOTE
Sperm and egg contact initiates metabolic reactions that trigger
development; acrosomal and cortical reactions.
 These reactions activate the egg.
 ACROSOMAL REACTION: the acrosome tip of the sperm releases hydrolytic enzymes that
digest material surrounding the egg.
 CORTICAL REACTION: induces a rise in Ca2+ that stimulates cortical granules to release
the contents outside the egg.
 Forms fertilization envelope as well.
AMNIOTES
Embryos of birds, reptiles, and mammals that develop in a fluidfilled sac in a shell or uterus.
 Develop extra-embryonic membranes:
1)
2)
3)
4)
Chorion (outermost layer): functions in gas exchange
Amnion: encloses amniotic fluid
Yolk Sac: encloses yolk
Allantois: disposes nitrogenous waste products and contributes to gas exchange
MAMMALIAN DEVELOPMENT:
1) Inner cell mass develops into an embryo and forms extraembryonic
membranes.
2) Trophoblast (outer epithelium of a blastocyst) initiates implantation in the
uterus.
3) Once implantation is completed, gastrulation begins.
4) Epiblast cells invaginate the forming mesoderm and endoderm.
5) Placenta formed from trophoblast.
6) By the end of gastrulation, embryonic germ layers have formed.
MORPHOGENESIS
Changes in cell shape, position, adhesion
 Convergent Extension: cells of a tissue become narrower and longer; cell
migration is involved.
 Cell shape and movement causes tissue invagination.
 Cell Adhesion Molecules: located on cell surfaces; contribute to cell migration
and stable tissue structure.
 i.e. Cadherins- important in the formation of frog blastula.
DIFFERENTIATION
Differences in cell type = differential gene expression
 PRINCIPALS:
1. During early cleavage divisions, embryonic cells must become different from one another.
 If the egg's cytoplasm is heterogeneous, dividing cells vary in the cytoplasmic determinants they
contain.
2. After cell asymmetries set up, interactions among embryonic cells influence fate, causing
changes in gene expression.
 This mechanism is called induction and is mediated by diffusible chemicals/cell to cell interactions .
 Fate Maps: general diagrams of embryonic development.
 Dorsal Lip: Organizer
 Discovered by Hans Spemann and Hilde Mangold
 A blastopore's dorsal lip is the organizer of embryos (initiates inductions).
PATTERN FORMATION
Development of spatial organization.
 Is controlled by its positional information (axes) and determines how the cell
and its descendants respond to future molecular signals.
 i.e. chicks
 THREE AXES:
1.
2.
3.
Proximal- distal axis
Anterior- posterior axis
Dorsal- ventral axis
QUIZ
1.
What is fertilization?
2.
What are the two types of cleavage and what is the difference between each?
3.
What are amniotes?
4.
List the three stages of embryonic development in order.
5.
What are the two principals of differentiation?