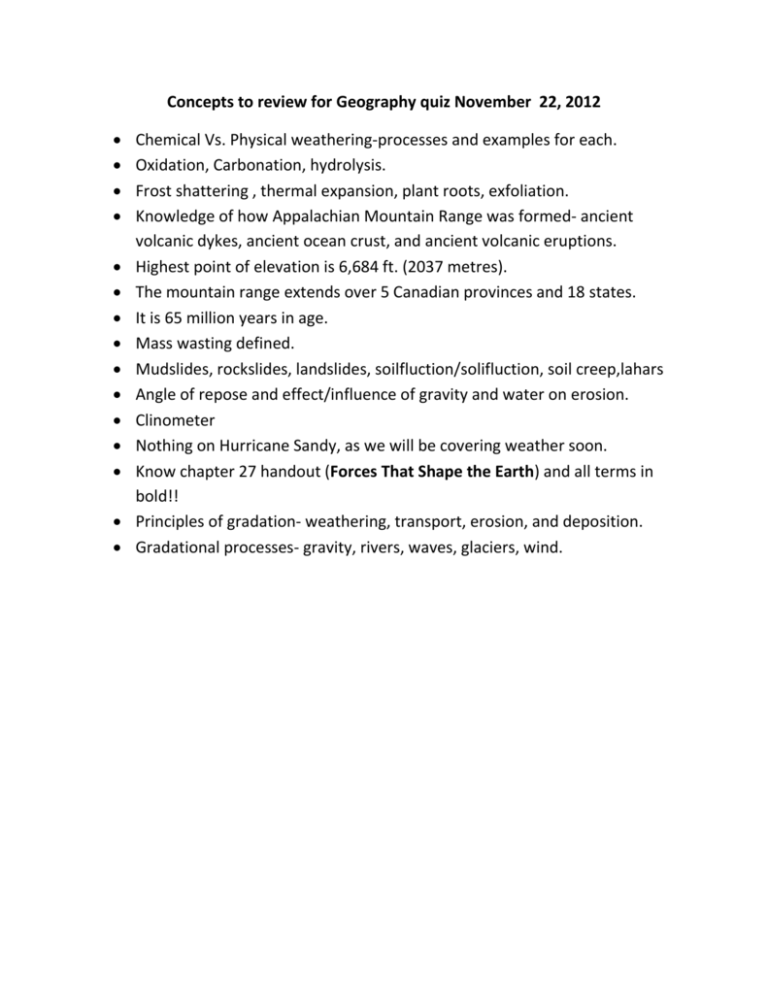 Concepts to review for Geography quiz November 22, 2012















Chemical Vs. Physical weathering-processes and examples for each.
Oxidation, Carbonation, hydrolysis.
Frost shattering , thermal expansion, plant roots, exfoliation.
Knowledge of how Appalachian Mountain Range was formed- ancient
volcanic dykes, ancient ocean crust, and ancient volcanic eruptions.
Highest point of elevation is 6,684 ft. (2037 metres).
The mountain range extends over 5 Canadian provinces and 18 states.
It is 65 million years in age.
Mass wasting defined.
Mudslides, rockslides, landslides, soilfluction/solifluction, soil creep,lahars
Angle of repose and effect/influence of gravity and water on erosion.
Clinometer
Nothing on Hurricane Sandy, as we will be covering weather soon.
Know chapter 27 handout (Forces That Shape the Earth) and all terms in
bold!!
Principles of gradation- weathering, transport, erosion, and deposition.
Gradational processes- gravity, rivers, waves, glaciers, wind.