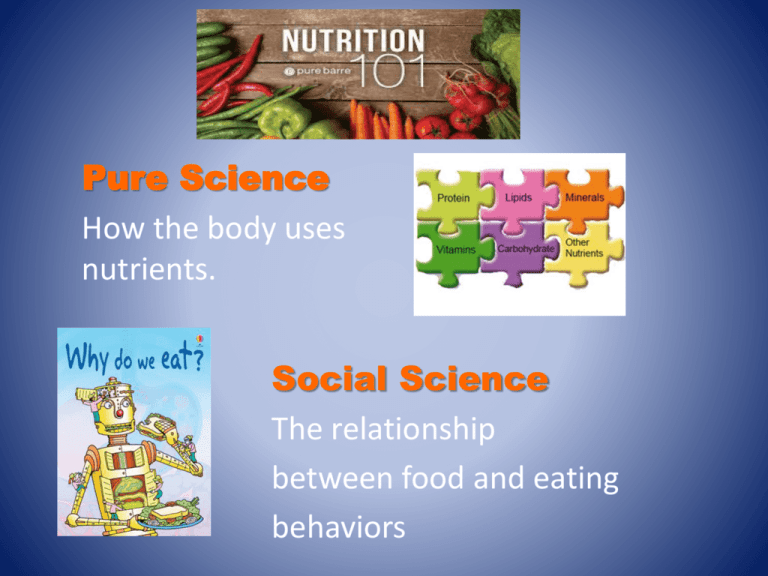 Pure Science
How the body uses
nutrients.
Social Science
The relationship
between food and eating
behaviors
A nutrient is a
compound in food that
the body requires for
growth, maintenance,
and functioning.
• Some nutrients provide energy for the
body because they contain calories.
• Some nutrients help in growth
and body functions.
Types of Nutrients
Macronutrient
nutrients that provide calories or energy.
Carbohydrates
Fat
Protein
Micronutrient
nutirents required for growth and development.
Vitamins
Minerals
Water
Carbohydrates
are macronutrients
Function in the body?
st
Body's 1 source of energy.
–4 calories per gram.
Extra is stored as fat.
Simple Carbohydrates
Definition;
• Called "simple sugars".
• Includes glucose.
• Found naturally in foods.
Examples;
• Table sugar & honey.
• Candy & soda.
• Apples, melons, berries & oranges.
• Spinach, broccoli & carrots.
• Milk & ice cream.
Complex Carbohydrates
Definition
• Combination of starch (energy) and fiber
(helps with bodily functions).
Examples
• Bread, cereals, pasta,
rice, potatoes, yams,
corn & peas.
• Beans; chick peas,
kidney & lima.
Fats (Lipids)
Function in the body?
Provides energy (2nd source used).
9 calories per gram.
Protect against injury (cushion).
Insulates body.
Carries Vitamins A, D, E & K.
Saturated Fats
"Bad fat" including Trans Fats.
SOLID at
room temperature.
• Some come from animal sources; meat, egg,
cheese, butter & milk.
• Some come in the form of plants;
coconut & palm oil.
Unsaturated Fats
"Good fat".
LIQUID at room temperature.
Food examples:
1. Vegetable oils; corn oil, canola oil &
olive oil.
2. Nuts, seeds & avocado.
3. Seafood; salmon, tuna, flounder, herring &
trout.
Protein
Function in the body?
• Body's last source of energy.
– 4 calories per gram.
• Contains amino acids; building
blocks used to repair the body.
• Builds & repairs body tissue.
• Helps body function properly.
Vitamins
Definition- A substance made by plants or animals.
Found in; fruits, vegetables & vitamin supplements.
Functions
1. Helps regulate important body functions.
-digestion, absorption & metabolism.
2. Required for growth & development.
3. Helps with overall body function.
Minerals
•Substances that come from water & soil
absorbed by plants.
•Humans absorb minerals from the
plants they eat.
•The human body can not
make mineral.
Function
• Helps body grow & develop.
• Helps hydrate the body
• Regulate many vital body processes.
Water
Most vital nutrient.
Function
Carries nutrients to your cells and
removes wastes.
• Consume 6-8 cups a day.
• Body loses 6-8 cups through urine
and sweat a day.