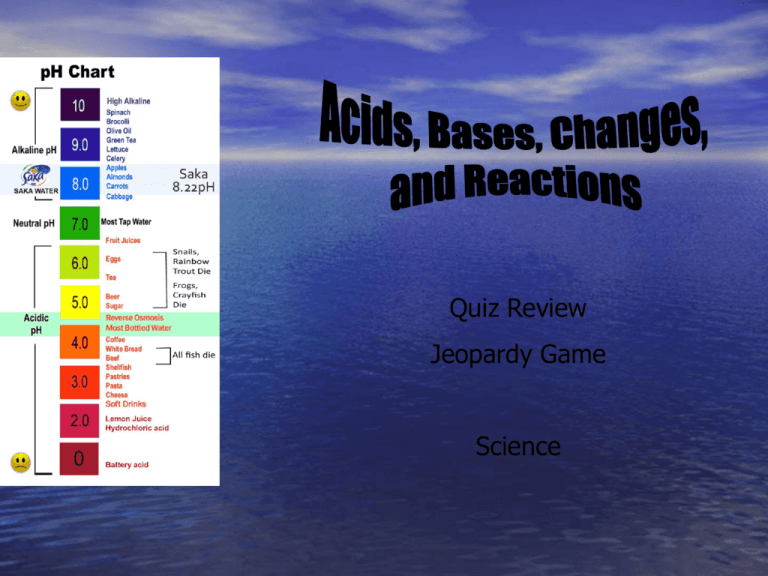 Quiz Review
Jeopardy Game
Science
Final
Jeopardy
Physical/
Chemical
Changes
Reactions
Words that begin
with the letter "i"
or "c"
Acids/ Bases
Applications/
Labs
100
100
100
100
100
200
200
200
200
200
300
300
300
300
300
400
400
400
400
400
500
500
500
500
500
Changes to the shape and
size of a substance or
changes in the state of
matter are examples of a…
Physical Change
100
Features of matter that
can be observed (color)
and measured (volume)
are a substance's
___________ properties.
physical
200
In a chemical change ,
a ____ ____________ is
formed and the properties
are different than the original
substance.
New substance
300
Name at least 3
examples of evidence
that a chemical change
has occurred.
•Temperature change
•Light/ Sound Produced
•Unexpected Color Change
•Odor Change
•Gas Produced
•Precipitate Formed
400
The combustibility of a
substance describes its
___________
_______________.
Chemical Properties
500
A reaction that absorbs
energy in the form of
heat .
Endothermic Reaction
100
An airplane burning fuel
to keep the plane moving
fast enough to fly is an
example of an
exothermic reaction
because it ___________
energy in the form of
heat.
Releases
200
Name at least 2 factors
that affect the rate of a
reaction.
•Catalyst
•Inhibitor
•Temperature
•Concentration
•Surface Area
300
2H O
2
2
2H O + O
2
2
is an example of what kind
of reaction?
Decomposition
(b/c the compound we began with broke
down into simpler products)
400
FeS + 2HCl
FeCl +H S
2
2
is an example of what kind
of reaction?
Double Replacement
(b/c the elements in one compound
"trade places" with elements in
another compound)
500
The indicator used in the
testing acids to
neutralization lab which
turned purple when neutral
was called…
Congo Red
100
We add this to a product
(as we did in our last lab)
when we want to
measure the acidity/
basicity of a substance.
Indicator
200
We add this to a reaction
when we want to speed
up the reaction time.
Catalyst
300
Many household
_________, like laundry
detergent contain OHand are considered to be
basic.
Cleaners
400
Bases contain a OH____
and Acids contain an H+
_______.
Ion
500
This is a substance that
tastes sour and turns
blue litmus paper red.
Acid
100
This type of product will
measure less than 7 on
the pH scale.
Acid/ Acidic
200
A substance with a pH of 7
is considered to be…
Neutral
300
A lemon (pH2) is
_____times more
_________ than a tomato
(pH4).
100, Acidic
400
Make a statement about the
relationship of HCl (pH 0)
and vinegar (pH3).
Make sure you include a
phrase stating "is ___times
more _______"
HCl is 1000 times more
acidic than vinegar OR
Vinegar is 1000 times
more basic than HCl.
500
How does the indicator
Phenophthalein look
when a substance is
neutral?
Clear
100
The name for the point
when a substance is
neutralized is called…
End Point
200
The process of adding acid
to a base until the base
changes color is called…
Titration
300
In the flame test lab, the
splint reigniting showed
the presence of….
Oxygen or O2
400
Antacids are bases taken
by people for what
purpose?
To neutralize acid/ help
with a stomach ailment
500
Click on the "2"
to progress to
the question.
The final
category is:
Explain the
difference..
Explain how the
concentration of an acid
is different from its
strength.
An acid's strength is the same
no matter what the
concentration. For example 1
M HCl and 3 M HCl are both
the same strength (same
amount of H+ ions produced),
but one 1M is more dilute than
3M It's concentration
changes with the amount of
water added to the substance.