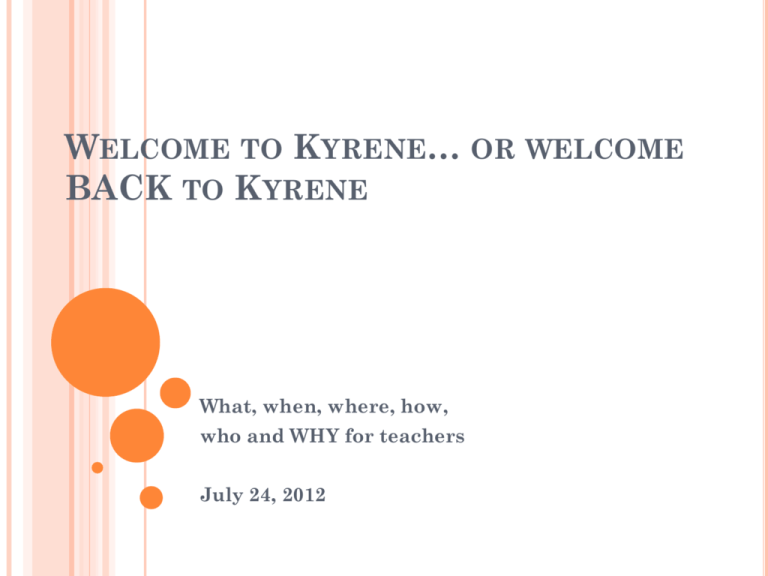 WELCOME TO KYRENE… OR WELCOME
BACK TO KYRENE
What, when, where, how,
who and WHY for teachers
July 24, 2012
INTRODUCTIONS
o
o
o
o
Your name
Your school
What grade(s)/subject(s) you will be teaching
Number of years you have been teaching
OBJECTIVES – MAKE NOTE SHEETS
By 12:30 today you will…
 understand the middle school model.
 know how to access Kyrene's technology.
 have a list of questions to ask when you return to
your specific school. They may be questions for
your pod, your administrative team, your
department chair, or others.
 know how to create an effective learning
environment.
 have a classroom management plan.
 know the daily and yearly schedule.
 have had a great morning!
MIDDLE SCHOOL - THINGS THAT ARE THE SAME

Schedules




School Improvement Plan (SIP) Math and Writing
Guest Teachers (Substitutes)







A/B Schedule and Wednesday Schedule
District Calendar
Subfinder Link
Lesson plans
Notebook with seating charts, special student notes, helpers, your
schedule, a school map, emergency procedures, helpful staff
names and numbers
Pods – same but different – Academic Lab too!
Technology (see the next slides with all the links!)
Access to your buildings – alarms will be disabled from
5:45am – 9:00pm Monday through Friday; "A" doors must
be used at all other times and you must sign in and sign
out in addition to resetting the alarm when you leave.
Kyrene Foundation Mini-Grants available!
TECHNOLOGY IS THE SAME AT THE
MIDDLE SCHOOLS









Four school computer labs – sign up/seating charts
Office products, including Outlook for teachers (calendar)
Students do not have email but there is blackboard
Equipment (doc cameras, wireless mice, wireless keyboards,
projectors, DVD/VCR, laptops, video phones with fax machines,
scanners, copy machines, printers/color printers, and IMC)
Destiny – library program (share amongst schools!)
Discovery Streaming (videos)
Student View and Parent View
Change student passwords
Drives
H – personal, only you can access
 T – the entire district can access (so be careful)
 U – Asset videos
 X – only Akimel A-al can access; each school has its own

MORE TECHNOLOGY – AFTER ALL, IT'S
WHAT KYRENE IS FAMOUS FOR!





Curriculum Resources
McDougal Littell online science books – need an
activation code to begin; no online math books
SEPUP online access – see Science Chair for links
and passwords
The website of all websites!!!
Online employee resources, including






iVisions
Print Shop – only put in one order at a time to increase the
efficiency of your order
Genesis/Synergy (see codes on next page)
Schoolnet – your 6 Traits Class is in here!
Footprints
Educational Resources


IDEAL (ADE and ASU)
Brainpop – user name is kyrene and password is brainpop
GENESIS/SYNERGY ATTENDANCE CODES
When you check over your attendance…
#1 = they were absent for a medical reason
 #2 = absent other reasons
 #3 = truant (we do not have parent call back)
 #4 = off campus suspension
 #5 = unexcused absence shows up late parent does
not excuse
 F = field trip
 C = student is on campus somewhere
 L = late to class unexcused teacher informed
attendance clerk but did not come to the office
 E = excused tardy
 I = the student is in ISI (in-school intervention)

MIDDLE SCHOOL - THINGS THAT ARE
DIFFERENT
Duty
 Showing movies
 Academic Lab
 X: Drive



Online Discipline Forms (X: Staff/@discipline but only for
Akimel A-al so check if you don't teach here)
Emergency plans
Fire drills
 Lock downs
 Emergency backpacks

Supplies
 Roll call sheets

BRAIN BREAK!
What do you Make? -Taylor Mali
A GOOD PLACE TO LEARN IS…
a place that has clear and concise rules that are
reviewed at the very beginning!
 a classroom where students' basic emotional and
academic needs are met. Students feel safe.
 a classroom where teachers have high
expectations and differentiate so everyone
succeeds. Students are praised for their
accomplishments.
 a school with courteous and joyful people.
 where teachers collaborate.
 where teachers are respectful to students,
parents, other teachers, and administrators.

A GOOD PLACE TO LEARN IS…
a place that has clear and concise rules that are reviewed at the
very beginning!
"The number one problem in the classroom is not discipline. It is
the lack of procedures and routines." - Harry and Rosemary Wong
During the first week of school you should
Review classroom rules – Respect covers it all
 Practice procedures












Obtain homework when you're absent
Obtain materials (pencils, tissues, worksheets, returned papers)
Ask for help
SALAMI
Walking in hallways
Go to the bathroom, nurse, etc.
Get a drink
Sharpen your pencil
Answer the phone
Move from chairs to tables "Get to Work!"
Answering a question or Asking a question
Discipline versus Classroom Management
A GOOD PLACE TO LEARN IS…
a classroom where students' basic emotional and
academic needs are met. Students feel safe.
You are never to insult, embarrass, or ridicule a
student. NEVER! Sarcasm doesn't always work with
this grade level so use it sparingly, if at all.
Be aware of how students are treating each other.
Report all bullying incidents to your administrator.
Be mindful of the different cultures. Celebrate them!
You and your students will benefit when people can
share their cultures and traditions because it is a great
learning opportunity.
A GOOD PLACE TO LEARN IS…
a classroom where teachers have high expectations and
differentiate so everyone succeeds. Students are
praised for their accomplishments.
Every student can learn, even the students who don't
have a supportive family, are low income, SPED, or
have a 504 plan.
 Sometimes you have teach differently.
 Sometimes you have to assess differently.
 Sometimes you have to communicate differently.
All accomplishments should be shared and celebrated:
announcements, notes to parents, notes to students,
phone calls, bulletin boards. Actively look for students
who are doing well and positively reinforce their good
decisions so that they are models for other students.
A GOOD PLACE TO LEARN IS…
a school with courteous and joyful people.
Everyone on site is responsible for the students. It is always
about the kids! You are a child advocate.
This year we will begin using a new evaluation system.
There are 60 points you can be graded on and one of them is
how you behave professionally. In addition to be profession,
you also are responsible for counteracting negativity.
How do you make your administrators happy?
 Do what you need to do.
 Be professional: show up on time, follow through, dress and
speak appropriately, address student and parent concerns
the first time, choose your battles with them also
 Take care of your own discipline problems
A GOOD PLACE TO LEARN IS…
where teachers collaborate.
Kyrene requires collaboration. You will collaborate
with:
 Your team (pod teachers)
 Your grade level curriculum teachers (ie. all 8th
grade math teachers)
 Your department
 Your school nurse and the district office nurse
 Your resource teacher(s) (SPED)
 Cafeteria supervisor
You do not have to do anything by yourself. Plus,
you have ME!
A GOOD PLACE TO LEARN IS…
where teachers are respectful to students, parents,
other teachers, and administrators.
You need to make friends with the 1. janitors, 2. office
staff and, 3. cafeteria supervisor. Know their names!
The best form of classroom management is respect! I
can make any student do anything for me and it's
because I respect them, even when they are
misbehaving and driving me crazy.






Say "please" and "thank you"
Laugh with them; laugh at yourself
Admit your mistakes and apologize
Handle discipline problems discreetly
Learn what to overlook – choose your battles (differentiate)
Greet students daily
BRAIN BREAK!
Get up and dance!
Be sure to cross over the middle of the body.
YOUR DAY

Bell Schedules



Late Start Schools – (Akimel A-al, Centennial, Pueblo, Kyrene Middle School)
Everyone else (Altadena and Aprende)
Lesson Planning



First week should include getting to know you activities; for good classroom
management you need to have relationships with your students; allow them time
to get to know you and give yourself time to get to know them! This will pay off in
the end. It's a great investment of time! This is also a great time to establish your
procedures with the students. Review them and practice them! Harry Wong says
so in his The First Days of School book.
Madeline Hunter formats are not necessary for every day!
Include the following:










Overestimate what you can do in a period



Step by step procedures
Resources and where to find them
Homework
Walk-in/Bell Work
Ticket out of Class
Objective
PO (state and common core)
Differentiation
Classroom Management Plan
Remember Wednesdays are short periods
Give yourself time to catch up at the end of the week or unit
Grading – don't grade everything
YOUR YEAR

Meet the Teacher Night – August 1 from 5-7pm





First Day/Week of School





You need one for your subject area and
One for your academic lab, which should be created by your pod so you all
show the same presentation
Parent/Teacher Conferences



Send our your newsletter
Obtain student and parent information – team effort!
Curriculum Night – August 23 from 6-8pm


Have your classroom open and ready for students and parents to walk
through
Dress code is determined by principal
Shake hands and talk with students
Speak to team about supply list, wish list, sign up sheets, sign in sheets
(capture email addresses!)
Fall and Spring
School and Pod driven
Report Cards – first, second, and third quarter are distributed in
academic lab whereas fourth quarter is mailed home
Curriculum Maps are available. Log into the Kyrene website and
then go to Departments, then Curriculum and Learning Services,
then open Teacher Resources, and then open Middle School.
BRAIN BREAK!
You Must be a School teacher if ...
 You have no time for a life from the end of August until MidJuly.
 You want to slap the next person who says, "Must be nice to
work from 8:30am to 3:15pm and have your summers and
weekends free."
 When you're out in public you feel the urge to talk to strange
children and correct their behavior.
 You refer to adults as, 'boys and girls.'
 You encourage your spouse by telling them they are a 'good
helper.'
 Meeting a child's parents instantly answers the question,
'Why is this child like he is?'
 You believe 'extremely annoying' should have its own box on
the report card.
 You know hundreds of 'good' reasons for being late.
 You don't want children of your own because there isn't a
name you can hear that wouldn't raise your blood pressure.
ACRONYMS – EDUCATION LOVES THEM!
















504 plan
SPED
IEP
ADD/ADHD/OCD/ED/DD
DO
Schools: KMS, AMS, PMS, CMS
ADE
CCR
PO (be careful – there are two of them!)
FACS
NEA/AEA/KEA
CLAS
NEO
LSU
AKPPP
KTIP
BRAIN BREAK!
You should be sure to
1. have daily informal assessments so you know
they will do well on the formal, summative
assessment.
2. include everyone in a class discussion, not just
the kids who raise their hands.
Watch this Saturday Night Live clip to see what
NOT to do!
CLOSURE
Did we achieve our goals?
Here is my contact information. Use me and abuse me!
Tara Dale – tdale@kyrene.org at x5931
What questions do you still have?
Thank you, good luck, and I look forward to working
with you throughout the year!