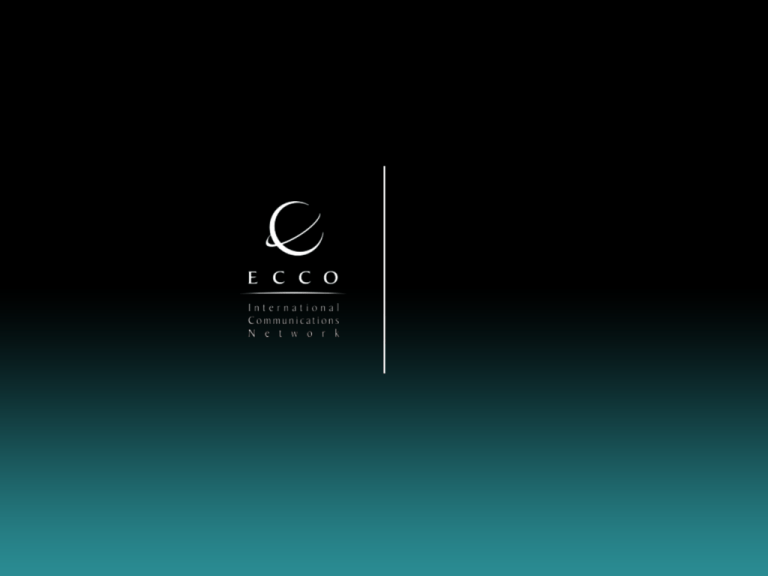 What is ECCO?
Sara Render
CEO
A smart, cost effective way of delivering an international public
relations programme.
United Kingdom
A company that combines the energy, creativity and commitment
to customer care of award winning, owner managed businesses
with the disciplines and professionalism of a large multinational.
www.ecco-network.com
2
Fast Facts
Top 20 global PR group
€60 million fee income
Carole Runser
ECCO Coordinator
35 consultancies in 40 countries
Over 700 staff worldwide
France
www.ecco-network.com
3
ECCO's clients
Technology & Telecoms
Attila Nyari
ECCO Coordinator
Hungary
www.ecco-network.com
4
ECCO's clients
Travel & Tourism
Anita Papay
ECCO Coordinator
Austria
www.ecco-network.com
5
ECCO's clients
Insurance & Financials
Michael Zuhlke
Account Director
Germany
www.ecco-network.com
6
ECCO's clients
Consumer
Stefan Reiter
CFO
Austria
www.ecco-network.com
7
ECCO's clients
Food & drink
Jennifer Fernandes
Account Manager
India
www.ecco-network.com
8
ECCO's clients
Healthcare & Pharma
Malou Rünnmark
Consultant
Sweden
www.ecco-network.com
9
History
Formed in 1989
Headquartered in Brussels
Originally a European network
www.ecco-network.com
10
History
Our first truly global programme in 1999 used a mix of leading
national independents and publicly owned multinationals.
We then married the energy, creativity and customer service
edge of the independents to the efficiencies of shared templates,
IT infrastructure, standards and training apparent in the
multinationals
www.ecco-network.com
11
History
ECCO International Public Relations Ltd created in 2000
London HQ
Regional hubs based on geography and expertise in London,
New York, Vienna, Cairo, Stockholm and Mumbai
A leader company owned by its members
www.ecco-network.com
12
Hub & spoke model
Kathryn Bishop
ECCO Operations
Coordinator
Delivers an average cost saving of 40%
London
www.ecco-network.com
13
Services
Gunnar Angeltveit
Partner
Smart 360º communications
Global Account Managers
Central budget control
www.ecco-network.com
Norway
14
Specialist centres
Nandita Parashar
Associate Executive
Communications Audit
Crisis Relations
On-line Communications
Investor Relations
Public Affairs
Corporate Social Responsibility
Website Consultancy and Build
www.ecco-network.com
India
15
ECCO products
Lars Ludvigsen
Director
Online and offline PR measurement and evaluation
On-line press office
Dark sites
Newsfeeds
On-line research tool
www.ecco-network.com
Denmark
16
ECCO believes in…
Marco Di Benedetto
Senior Account
Manager
Providing best-practice public relations consultancy to
international clients at unbeatable value for money.
An effective but low cost infrastructure to ensure that the majority
of budgets are spent on the time of experienced professionals
getting results.
Sharing best practice and learning from experience.
Transparent accounting.
Long term, open and honest partnerships with clients.
www.ecco-network.com
17
Belgium
ECCO believes in…
Flexibility in keeping with the client's own organisation,
requirements and life stage.
Larserik Johansson
Senior Consultant
Sweden
Common and consistent global messaging and brand values
delivered in a manner that reflects major differences between
geographies, cultures and audiences.
Research, evaluation and the active use of findings to adapt and
improve programmes.
www.ecco-network.com
18
ECCO Austria
Communication Matters
Christian Kollmann
Joint Managing
Partner
Established in 1999
Office in Vienna
Top 15 PR agency in Austria (Source: Bestseller Ranking 2008)
Austrian State Prize for Public Relations
Winner in the Category Internal Communications 2008
Nomination 2003, 2006 and 2008
Certified according to the CMS II Standard in 2004, 2006 and
2008
Clients include: ABA - Invest in Austria, Kapsch AG, OMV,
Infineon Technologies Austria, UNIQA, Raiffeisen evolution,
Federal Ministry: for Transport, Innovation and Technology / for
Education, Arts and Culture / for Women and Public Service
www.ecco-network.com
Austria
19
ECCO Latin America
Market Cross Company
Cristela Reyes
CEO
Established in 1996
Offices in Argentina, Chile, Mexico and Venezuela
Clients include: Novell, Gartner, Softland AG, Telefe
Internacional, Atos Origin, Softland and InterGrupo. Michael
Page, Core Security Technologies and Snoop Consulting
www.ecco-network.com
Latin America
20
ECCO Brazil
CSK Comunicação
Clea Stolear
Managing Partner
Established in 2005
Offices in São Paulo
Clients include: Carestream Health (former Kodak), ABBYY
Russia, Bladex, Pioneer, Dialogic, ESET
www.ecco-network.com
Brazil
21
ECCO Czech Republic
Czech PR
Vit Kurf'urst
Managing Partner
Founded 1995
Office in Prague
Clients include: Erste Bank, Austria (since 1999) TDC, PNS,
American Friends of the Czech Republic, Maspex Czech,
Remote Gambling Association
www.ecco-network.com
Czech Republic
22
ECCO China
Golden PR
Ming Zhang
MD
Established in 2000
Offices in Beijing & Shanghai
Clients include: Xaar, Baldwin, BBH, Heidelberg AG, KSB,
Freudenberg Group, Flowserve, AMT, Schaeffler Group, IPEX,
Bahrain Investment Wharf, PIV-Big 5, Bamboo MediaCasting
www.ecco-network.com
China
23
ECCO Denmark
PR-Partner
Lars Ludvigsen
CEO
Established in 1998
Offices in Copenhagen
Specialists in sustainable communication
Clients include: InterfaceFlor, Logitech, Connect and Aastra
www.ecco-network.com
Denmark
24
ECCO Egypt
CID Consulting
Established in 1995
Offices in Cairo
Recipient of Schwab Foundation Award for Social
Entrepreneurship in 2006
Clients include: Xerox, Citibank, government agencies,
multinational corporations, donor agencies, UN agencies and civil
society institutions
www.ecco-network.com
25
Dalia Wahba
Partner
Egypt
ECCO France
Wellcom
Established in 1981
Offices in Paris
Voted the Public Relations Agency of 2008
Among the 15 top corporate agencies*
First agency in terms of customer satisfaction*
Awards:
2008 - Wellcom, PR Agency of the Year**
2007 - Communication Strategies Public Relations Award
for Saint-Gobain HPM
2007 - Nominee for 3M in the Sabre Certificate Of Excellence
2007 - Nominee for 3M in Grand Prix UJJEF
Clients include: Regus, Easy Voyage, Interface Flor, Xceed,
ACR
Thierry Wellhoff
CEO
France
*Limelight Survey (2006, 2007 and 2008) ** www.lesagencesdelannee.com
www.ecco-network.com
26
ECCO Düsseldorf – Germany
EC Public Relations
Lutz Cleffman
CEO
Established in 1993 (as DiKom)
Offices in Düsseldorf
German network agencies in Berlin, Munich and Hamburg
ECCO Germany is 25th in Germany, among the Top 10
Consultancies in the Energy and Utilities sector and Top 20 in
Internal Communications (PR Journal 2008)
Agency QM system based on ISO 9000 requirements
Clients include: Essent, ASML, Mega and InterfaceFLOR
www.ecco-network.com
Düsseldorf
Germany
27
ECCO Munich – Germany
Relatio PR GmbH
Established in 1994
Offices in Munich and Berlin
Top 25 in Germany (Source: Pfeffers PR Agency Ranking: www.pr-journal.de)
Top 10 in Germany for Finance PR both banking and investor
relations
Clients include: DEKRA Arbeit, Francotyp-Postalia Holding AG,
MTU Aero Engines, HypoVereinsbank, ratiopharm, MercedesBenz
www.ecco-network.com
28
Anja Feuerabend
CEO
Germany
ECCO Hamburg – Germany
Bellman Gröning & Partner
Claudia Gröning
CEO
Established in 1994
Offices in Central Hamburg
Clients include: The Cherry Marketing Institute, Exradia, ACT /
Brasserie Express, Röben Tonbaustoffe
www.ecco-network.com
Hamburg
Germany
29
ECCO Berlin – Germany
PRGS
Established in 2002
Offices in Berlin, Münich and Frankfurt
Clients include: Bayer AG, B. Braun Melsungen, Coca Cola,
Continental AG, DaimlerChrysler AG, Deutsche Bank, Deutsche
Lufthansa, DIPA Bank, E.ON AG, GASAG, MAST-Jägermeister,
Kamps, Karlsberg Brauerei, K+S Group, Lanxess, Lufthansa
Cargo, Merck KG, Novartis, PFIZER Pharma, Schering Pharma,
Schufa Holding, ratiopharm, Shell Oil, STADA Arzneimittel AG,
TOTAL Oil, TUI-Group, Unilever Deutschland, Vattenfall,
Volkswagen, Wyeth Pharma
www.ecco-network.com
30
Dr. Thorsten Hofmann
CEO
Germany
ECCO Hungary
Strategic Scope
Established in 1991
Offices in Budapest
Awards: Hipnózis 2006 Creative Advertisement Competition
Best Social Advertisement, 3rd place on e-Festival 2004 with the
website Necc.hu
Achieved PR and Communications standard ISO 9001:2001.
Ranked 14th among PR agencies in the Book of Lists 2007
Among the TOP 25 pr agencies in the Figyelő TOP 200 2008 list
Clients include: Hungarian Telekom, Care Hungary, Coloplast,
Hungarian Opera, Hand in Hand Foundation
www.ecco-network.com
31
Zsuzsanna S. Takács
Managing Director
Hungary
ECCO India
Pressman PR
Established in 1968
The specialist public relations division of Pressman Advertising
Limited, one of India's largest independent agencies
Offices in 12 major cities in India: Mumbai, Kolkata, New Dehli,
Chennai, Bangalore, Hyderabad, Admedabad, Nagpur, Pune,
Guwahati, Bhubaneshwar, Coimbatore
India's only ISO 9001 certified full service agency
Clients include: InterfaceFlor, Expedia, NASDAQ, Corus
International, Hotels.com, Baring Private Equity, Sothebys, Kroll,
PSB Academy, Education UK, Lutron
www.ecco-network.com
32
Dr. Niren Suchanti
CEO
India
ECCO Ireland
Razor Group
Amanda Hynes
Director
Established in 2007
Offices in Dublin
Recognition in Public Relations
Finalist in EMEA Sabre Awards 2008
Finalist in Irish Institute of Marketing Awards 2008
Member of the Public Relations Institute of Ireland
Clients include: Hilti Group, Clear Sky Capital, DEBRA Ireland,
EIQA, Mcor Technologies
www.ecco-network.com
Ireland
33
ECCO Italy
Ad Mirabilia
Lorenza Bassetti
CEO and Founder
Established in 1989
Offices in Milan
Top 20 in Italy (11th in the 2007 Assorel ranking)
Clients include: Absolut Vodka, Adidas, Avon Cosmetics,
Cointreau, Disney, Disney Store, Eurojersey (Sensitive), Invista
(Lycra), Kenwood Electronics, Ferretti (Ferretti Yachts, Custom
Line, Mochi Craft luxury motoryachts), InterfaceFlor, Lexus
(Toyota), Lutron, Michelin, Mini (BMW), Mitsubishi Electric, Opel
(General Motors), Prologis, Polaroid, Randstad, Sensormatic,
Transitions lenses
www.ecco-network.com
Italy
34
ECCO Netherlands
Bex Communicate
Founded in 1984
Offices in Amsterdam and Eindhoven
NIMA Marketing for Care Award 2008 and several (inter)national
nominations.
Top 3 in NL market (Source: Precom - agency association)
Clients include: Regus, Philips, TNT, InterfaceFLOR, Volker
Wessels, Symantec, Visa, Rabobank, DSM, APG (Pension Fund)
Ministry of Social Affairs, Ministry of Foreign Affairs,
AstraZeneca, TNT Post, Eneco, Nyemnrode Business University,
Floriade, Uniliver, Provinces of Noord Holland, Zuid-Holland,
Noord-Brabant & Limburg.
www.ecco-network.com
35
Geerd Schlangen
Director
Netherlands
ECCO Norway
Angeltveit & Gangdal AS
Established in 2005
Offices in Central Oslo at the Parliament
Services include: Development of Business Ethics and Values,
Leadership and team building, Public Affairs, Public Relations,
Media Relations and Crisis Management.
Clients include: 3M, Mundipharma, Pergo, Fokus Bank, Oslo
Stock Exchange, Governmental Pension Fund Norway, Several
Royal Ministries, The Norwegian Police University College,
Norwegian Association of Local and Regional Authorities and The
Norwegian Consumer Council.
www.ecco-network.com
36
Gunnar Angeltveit
CEO
Norway
ECCO Poland
On Board PR
Established in 1996
Offices in Warsaw and Kiev
The World's Fastest Growing Public Relation Firms
Norbert Ofmański
CEO
Poland
(Source: Holmes
Report, 2006)
Awards: The most admired PR agency of the year 2008
(Impactor 2008), Individualities of the year – MERKURY 2006,
Sabre Award (2008), Magellan Awards (2008, 2007, 2006,2005,
2004), Golden World Award (2005), European Excellence Award
(2007), Mercury Excellence Award (2008, 2007), Złoty Spinacz
(2005, 2004).
Clients include: Adamed, Żywiec Group, Raiffeisen Evolution,
Unilever, Disney Channel, FOX International.
www.ecco-network.com
37
ECCO Russia
Publicity PR Agency
Dimitry Dorovsky
Creative Director
Established in 1993
Offices in Moscow, Saint-Petersburg
Top 15 in Russia (Source: Romir)
Awards: Silver Archer
PRCA Consultancy Management Standard
Clients include: SabMiller, Schneider-Electric, Shering AG,
Renault, Siemens, Ocean Sky private jets etc.
www.ecco-network.com
Russia
38
ECCO Spain
Marco de Comunicación
Established in June, 2002
Offices in Madrid, Barcelona and Miami
Didier Lagae
Founder and CEO
Spain
Recent awards include:
Sabre 2008 and 2009 (winner and finalist both years)
European Excellence Awards 2008 (winner and finalist twice)
European Excellence Awards 2007 (winner and finalist thrice)
Global Mercury Excellence 2009 (gold x1, silver x2, bronze x2)
Global Mercury Excellence 2008 (gold x2, bronze x2)
Estrategias Magazine – Best PR Agency in Spain
Clients include: The Economist, Panrico, The Body Shop
(L'Oreal), Tresemmé, Grupo Planeta, eBay, Monster.com,
Hotels.com, Easyviajar, Madeira Promotion Bureau, Michael
Page, Regus, Prologis, Avery Dennison, Cisco Webex, Unica,
Schering Plough Intervet and Sanofi Aventis
www.ecco-network.com
39
ECCO Sweden
Rita Platzer Public Relations AB
Established in 1985
Office in Central Stockholm
Top 50 in Sweden (Source: Resumé 2008-2009, Scandinavias biggest journal on advertising,
media and PR)
Awards: Spinn Best Campaign Fashion 2004, best use of
channel, CEO profiling, event/meeting.
Clients include: Abbot, ACCOR hotels, Allergan, Amgen, Bayer,
Colgate, De Beers, Gasoline, GSK, International Gold corp., JET,
Mc Vities, Merck, Nespresso, Poggenpohl, Shire HTG, Swatch,
Unilever
www.ecco-network.com
40
Rita Platzer
CEO
Sweden
ECCO Switzerland
Howald & Partner Public Relations AG
Established in 1996
Offices in Berne, corresponding agency in the French-speaking
part of Switzerland
Memberships: Association SPRV pr suisse, Club of
Communication Berne, Canton of Berne Trade and Industry
Association, Business Consultancy Cluster Berne, OSEC Pool of
Experts
Clients include: ABA-Invest in Austria, Everest Poker, Smoke
Free Systems, B.A.R., Ramco Systems Ltd., Vinho Verde
CVRVV, BenQ, Frama Ltd.
www.ecco-network.com
41
Fred Howald
Managing Director
Switzerland
ECCO UK
Kinross+Render
Sara Render
CEO
Established in 1987
Offices in Central London
Top 100 in UK (Source: PR Week 2008)
Top 40 Tech Consultancies (Source: PR Week 2009)
Awards: PR Week Best B2B Marketing Communications
Programme 2007 and Best not for Profit Campaign 2008;
Financial Services Forum Best Public Relations Campaign 2007
PRCA Consultancy Management Standard
Clients include: Regus, Philips, Sony Computer Entertainment,
InterfaceFLOR and VolkerWessels
www.ecco-network.com
United Kingdom
42
ECCO Ukraine
On Board PR
Established in 2008
Offices in Kiev
Top 30 PR-agencies in Ukraine (Source: Marketing Media Review 2009)
Clients include: Bank Forum (Commerzbank Group), ARDO s.a.
(Merloni Group)
www.ecco-network.com
43
Dr. Dmytro Konyk
CEO
Ukraine
ECCO Arabian Gulf
Total Communications
Tony Lewis
Managing Director
Established in 1990
Offices in Dubai, UAE
Founding member of Middle East Public Relations Association
Clients include: Hertz, Jumeirah Group, Rosewood Hotels &
Resorts
www.ecco-network.com
Dubai, UAE
44
ECCO USA
Bawden & Lareau Public Relations
Established in 2005
Liz Lareau
Mike Bawden
Partners
B&LPR
Specialties:
Brand Development and Communications Planning
Consumer Engagement Strategies
Emerging Marketing Technologies/Media Trends
USA
Clients include: Mississippi Valley Health Network; Orthopaedic
Specialists, PC; Hill & Valley Branded Products; Mrs. Wages
Branded Products; Land-O-Lakes Brand Cocoa; AgencyFinder;
Business Partnering International, Ltd.; MV Surgery Center;
Mountain Stream Group; Waste Commission of Scott Co.; Wine
Library Associates of Sonoma County (CA); Twin State Tech
Services; The World Trade Institute.
www.ecco-network.com
45
ECCO Specialist Services
Policy Action
Established in 1999
Offices in Brussels, London, Dublin, Washington DC
Leading Public Affairs agency with expertise in EU Affairs
Member of the Society of European Affairs Professionals (SEAP)
European Commission's Register of Interest Representatives
since 2009
Clients include; EDiMA (Microsoft, Apple, Google, Amazon, et
al), Zurich Financial Services, Lloyds Banking Group, Novartis
Vaccines and Diagnostics, EUCOMED (Johnson and Johnson,
Medtronic, et al), World Council of Credit Unions, SCHUFA
Holding, AG
www.ecco-network.com
46
Lucy C. Cronin
Partner
Belgium
ECCO Specialist Services
The Lounge Company
Established in 2003
Head Office in Amsterdam, NL
Specialist Digital Agency
Services include: online consultancy, web design and
development, online press offices (including social media
solutions), crisis (dark) sites, intranets & extranets, investor
relations sites, media measurement
CIPR Individual members
Clients include: ECCO International, Koninklijke Ahold NV, TNT,
Van Gansewinkel and Xerox Europe, Centro, National
Pharmaceutical Association, Schuberg Philis, Runbook
www.ecco-network.com
47
James Nunn
Managing Director
Netherlands
ECCO Specialist Services
Checkpointmedia AG
Established in 2001
Offices in Vienna
Leading member of Austria's creative industries – specialist in
multi-media and media technology
Awards: Silver Feather (2008) second prize; ARC Awards New
York (2008) silver and honors award; CCA Award (2007); two
Multimedia State Prizes (2006)
Clients include: DaimlerChrysler, Dubai Festival City, ING-Diba,
Liechtensteinische Landesbank, Linz 09 – Cultural Capital of
Europe, Mobilkom Austria, Mozarthouse Vienna, OMV, OPEC,
Austrian Parliament, Price Waterhouse Coopers, Red Bull, RWE,
Swarovski Crystal Worlds, Telekom Austria, Vienna International
Airport, Western Union International Bank, Wienerberger, Wiener
Mozartjahr 2006, Zaha Hadid Architects
www.ecco-network.com
48
Stefan Reiter
CFO
Austria
InterfaceFLOR
Challenge
Mission Zero
EMEA programme to communicate CSR strategy of the world's
leading flooring manufacturer
Re-branding of Interface as InterfaceFLOR
Communicate sustainable business means better business
www.ecco-network.com
49
InterfaceFLOR
Programme
Mission Zero
EMEA Report and Conference
Media profiling of company, country CEOs and founder Ray
Anderson
Speaker and awards programme
www.ecco-network.com
50
InterfaceFLOR
Results
Mission Zero
Sustainable Futures Report and event received significant
coverage across all markets – with 60 nationals attending press
conference and 20 million OTS in first six months
10 national and international awards – including Sabre best CSR
programme and Queen's Award for Export
No 1 share of voice in sector on sustainability and a proven key
driver in business growth
www.ecco-network.com
51
InterfaceFLOR
France
www.ecco-network.com
52
InterfaceFLOR
Germany
www.ecco-network.com
53
InterfaceFLOR
UK
www.ecco-network.com
54
InterfaceFLOR
Holland
www.ecco-network.com
55
InterfaceFLOR
Denmark
www.ecco-network.com
56
ACR Logistics
Since February 2004 Hays Logistics has been part of the US
international investment Group Platinum Equity and had to
change its brand name: ACR Logistics.
ACR, which operates throughout Europe providing outsourced
Supply Chain solutions for companies and major international
groups, needed to settle quickly its new identity and find a
positioning as a leader within the European context.
www.ecco-network.com
57
ACR Logistics
Challenge
• Settling quickly the new identity of the company
• Positioning ACR as a leader within the European
• Context
www.ecco-network.com
58
ACR Logistics
Strategy
Upstream: defining the brand and corporate values of the new
company and create a new visual identity from defined values
Downstream: building a transversal European PR program
which ensures a quick and credible visibility of the new
positioning
www.ecco-network.com
59
ACR Logistics
Tactics
• Visual identity and graphic charter
• Operational communication toward the staff
• European PR program
• Economic and professional press campaign
• Editorial and audiovisual communication
• Internet
www.ecco-network.com
60
ACR Logistics
Results
• 17,000 workers' immediate support to the new identity
• New positioning appropriation by the commercial teams
• Acknowledgement of the new dynamism by the influencers and
the various targets of the company
www.ecco-network.com
61
Austrian Business Agency (ABA)
Challenge
Position Austria as a leading industrial nation
Raise the profile of Austria as a business location
Attract business investment from Italy, Germany, Switzerland and
Japan and support Austrian companies with advice
www.ecco-network.com
62
Austrian Business Agency (ABA)
Programme
Media programme on EU enlargement, reduced corporate taxes,
R&D, innovation, bio-tech and life sciences, technology transfer
and economic research
Investor seminars, round-tables, Austria reports, brochure and
newsletter
Advertorials
Speaker engagement
www.ecco-network.com
63
Austrian Business Agency (ABA)
Results
45% increase in direct foreign investment in Austria within 3
years
8% increase in the number of overseas companies consulting the
ABA on investing in Austria year on year
www.ecco-network.com
64
Austrian Business Agency (ABA)
Results – Print
www.ecco-network.com
65
Austrian Business Agency (ABA)
Results
www.ecco-network.com
66
Austrian Business Agency (ABA)
Results
www.ecco-network.com
67
Austrian Business Agency (ABA)
Results
2004 – 2007 Results
FD Investments in Mio 
450
400
350
Mio. 
300
250
200
150
100
50
0
2004
www.ecco-network.com
2005
2006
2007
68
©The content and creative ideas within this presentation are the property of Kinross+Render Ltd. The content may not be copied or used without Kinross+Render's prior written permission.