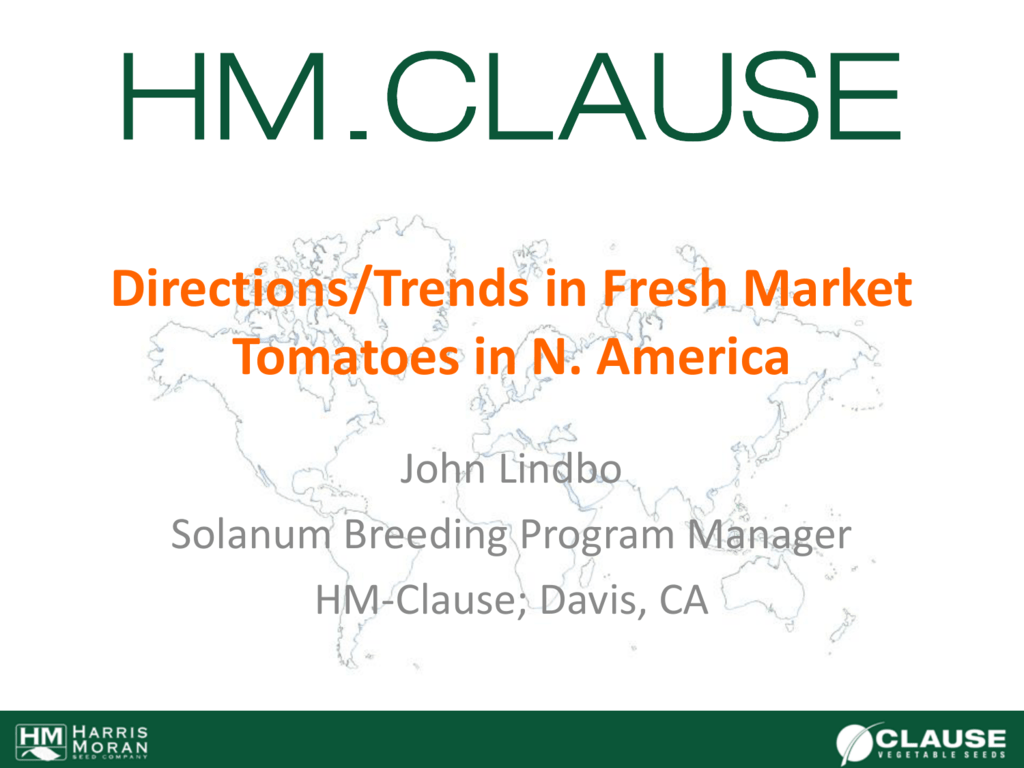 Directions/Trends in Fresh Market
Tomatoes in N. America
John Lindbo
Solanum Breeding Program Manager
HM-Clause; Davis, CA
N American Fresh Market Tomato Seed
N America Market Size: ~57M Euro (~77M USD)
– Half: Determinant
– Half: Indeterminant
Factors affecting Market Value in future:
• Seed Demand:
– Overall acreage decreasing
– Increased productivity trend.
– Politics and Policies:
• US Govt reached deal with Mexico re tomato trade.
• Agreement will raise prices at which MX tomatoes can be sold in US; Will make domestic
production more cost-competitive.
• This may decrease MX acreage for export due to new anti-dumping suspension agreement.?
• Pricing:
– Likely inflation-only or slight increase for new traits.
• Market Value…likely to be ~flat:
– Price increases offset by sales reduction.
FM TOM Production Trends: US*
• US: reduced acreage
– Both CA & FL decreased 8-10% last 3 years.
• US: Production (tons)
– FL: 20% drop last 3 years.
– CA: ~ flat last 3 years
• Good weather winter 2011/spring 2012
• Pressure from low cost tomatoes from MX
• Prices have been low.
*USDA Reports (June 2012)
Production Trends:MX
Trending to more protected culture.
Protected culture in Baja and Sinaloa
year round tomato production
yields and quality increasing
Trend of semi-/indeterminant varieties being replacing determinants.
Rounds being replaced by Saladette types.
MX prod now about 75% saladette; 25% round
• Since 2003: US Imports of Round from MX (-43%)
– Import of saladette from MX (+58%)
Production Trends: Methods
• Protected culture tomatoes now dominate retail industry.
• Vine-ripe taking away from mature green.
• Mature green still supported by food service/restaurants.
• Large growth in protected culture in MX
– Increased yields and quality
– In US Market: ~60-70% of protected culture tomatoes from MX
• Year round protected culture supply reducing shortsupply/high price periods for growers.
Consumer Trends
•
In grocery stores: Consumers avoid store interior: Shop perimeter.
•
Catch their attention with innovation, convenience & diversification of your
products.
Tomatoes on the vine
Vine ripe
small snacking tomatoes
Better quality (color & taste)
•
"Locally sourced" labelling appearing in markets.
•
US per capita consumption of FM Tom stable.
•
Articles in popular press re: tomato taste (University studies from UC Davis, FLA,
Tasti-lee story).
 More tomato niche market potential?
 Improved taste a likely area of differentiation in future.